Do you know using an SEO-friendly permalink structure for your WordPress website will help you rank higher in search results? That's because the user experience is a top priority for Google when deciding which website should rank and list on the search result page.
Having a better permalink structure and URL will help the search engine better understand your page and the content.
This blog post will explain WordPress permalink and the best structure for SEO benefits.
What Is WordPress Permalink
I'll quickly explain what a permalink is in WordPress. Permalinks are basically another word for URLs or links. In WordPress, we call them permalinks, and it is short for permanent links.
I will use both permalink and URL structures in this blog post. But you need to understand that both are the same.
Now let's learn more about an SEO-friendly URL or SEO-friendly permalink structure and how they will look.
What Is an SEO-Friendly URL
Let's put the technical part of SEO aside, and let's talk about the user experience part of SEO.
An SEO-friendly URL is precisely the same URL as any other URL type. There is no difference in the way the URL is programmed. However, an SEO-friendly URL will include your target keyword for SEO, and it will brief what the page or post is all about. Both human users and search engine bots can easily understand your URL content.
So, an SEO-focused URL will contain your target keyword, and it will be relevant and describe what the post/page is all about in a nutshell. It will not include dates or years, and fundamentally it will be HTTPS-based URLs.
Sometimes it can include custom structure like the category of your pages, posts, or products. We will use hyphens (-) between words to make the URL easy to read. That means we will not use underscores (_).
To perform SEO effectively, you must focus on and satisfy the user experience of your website visitors and blog readers. Because user experience is the top priority of Google when it shows the search result to Google's users.
So when you consider the permalink structure of your WordPress website, you will improve your chances of ranking high on the Google search result page. Don't you love to get a higher position on the Search Engine Results Page (SERP)?
I assume that you are now aware of the importance of your website's user experience and URL structure. Now let us take a closer look at the best WordPress permalink structure for your SEO advantages.
What Is the Best WordPress Permalink Structure for SEO
An effective way of using SEO focused permalink structure will help you to improve your ranking on the search result page. It will also help you to increase the click-through rate. More clicks on your links mean more visitors to your page.
You have a greater chance of achieving a much better ranking if you get a higher click-through rate.
A good SEO-friendly permalink structure will also make it easy to share your website content.
Imagine adding unnecessary and meaningless symbols, numbers, and special characters to your permalink structure. I can guarantee you that that will make it difficult for your website visitors and search engines to understand more about your page.
That is why I'm telling you to make it easy to read and more descriptive. This way, everyone will know what to expect from your page before clicking your link.
To build a perfect permalink structure, you must consider a few aspects. I will explain those factors in the coming sections.
1 – Include Your Target Keyword in the URL
A target keyword is a word or a phrase that people use to type on the Google search page. And then, based on relevancy and many other factors, Google will show your website in the search result.
See the below image for a quick understanding of a target keyword.
So when you include that target keyword in your URL structure, you can potentially rank for that keyword. Please note that the exact keyword match in your URL is still a minor ranking signal. However, it is still a ranking signal to use it.
And obviously, you want as many people as possible to visit your website and see your content. So every action you take is worth the success of SEO campaigns.
Even if you are not targeting a specific keyword, it is still good to include it in your URL. It will help the URL describe your content in the best possible way.
You tried all those expensive WordPress caching plugins and subscribed to highly-priced managed WordPress or managed VPS services. Still, you can't see your WordPress website loading within a few milliseconds? Have you lost all hope?
I have written How to Turbocharge Your WordPress Site in 4 Easy Steps guide to help you cut down your hosting subscription cost and make your WordPress website fly like a rocket.
Take these 4 easy steps and boost your WordPress website performance that it deserves. Then cut down on your hosting costs and see your SEO skyrocket.
2 – Avoid Using Dates or Years in Your URL
It is always better to avoid using dates and years in your URL structure because visitors can quickly identify outdated blog posts. The information you give in a blog post will still be relevant and technically up to date. But do you think anyone will click on a link that says it was written in 2012?
Sadly, nobody will click on such outdated links when they see them online. I don't do it. I think you also will not do it.
Your website content will appear fresh if you do not include dates or years in your URL. It will be relevant and up to date even after so many years.
Suppose, by any chance, your URL structure includes years and other time-sensitive data. In that case, you can quickly turn it off from your WordPress admin dashboard. Login to your WordPress admin dashboard and click on the Settings > Permalinks menu.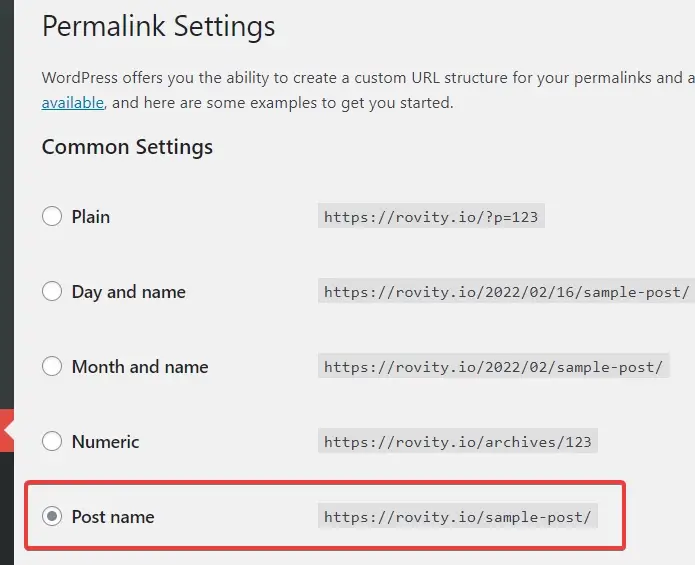 On the Permalink Settings page, choose Post name and scroll down to Save Changes.
Then your URL structure will look simple, neat, and easy to understand.
Unfortunately, Post name is not the default permalink structure in WordPress. I wish this must be the permalink structure by default in every WordPress installation. This is what search engines like Google and readers will appreciate.
But avoiding years, dates, and months is not always an advisable permalink URL structure. Suppose you are running a news website. In that case, leaving out this date will not be appropriate because you are dealing with time-sensitive information.
So you always need to categorize your news articles based on their relevancy and dates. Otherwise, your readers will get confused, and technically, you will be passing outdated information.
3 – Hyphens Are Better Than Underscores
On a URL structure, underscores will be hard to read, and hyphens will be easy. The default word separator in URL in WordPress is a hyphen and not underscores. It is better to stick with how WordPress default comes with and what search engines like Google prefer.
I will use my Rank Math SEO plugin to demonstrate this. In most SEO plugins, you will have a snippet preview option.
So in this below screenshot, we are using the default and preferred hyphens between words.
And here is an example of using underscores instead of hyphens in the URL structure.

Even if you somehow like the underscores version, I recommend using hyphens because that's the preferred structure by WordPress and Google. You see, sometimes we need to please others and sacrifice our personal choices. So, don't be shy and don't feel bad.
4 – Secure Your URLs With HTTPS
HTTPS is mainly used to secure your website and the communication between your web server and the user. But it is crucial for your SEO as well. Because Google openly admitted that HTTPS-enabled websites would have a ranking advantage because security is another priority.
So no matter what type of website you are running, you must enable HTTPS sitewide. HTTPS and SSL will help you have a better user experience, faster WordPress loading time, and gain in the SEO competition.
The HTTPS in the address indicates that your website is secured with an SSL certificate. Data communication is always safe.
If your website is hosted with Rovity, we automatically install a premium A+ graded SSL certificate for you. So you can use the HTTPS version of the URL on all of your domains.
5 – If Your Site Is Large, Include Categories
Suppose you are operating a large WordPress website like an e-commerce website. In that case, you can use WordPress-specific tags to categorize your URLs.
For your e-commerce site, you can add product categories to your URL structure. This will help your buyers see which product belongs to which category. They can search for their preferred product quickly without so much confusion.
Here is an example URL that contains product categories and other details.
https://rovity-demo.xyz/store/category/mobiles/mi/redmi/9i-coral-green
While looking at the above URL, you can understand that the main category is mobiles. It has a sub-category based on the company name. And under the Mi company name, we have then categorized it based on the brand model name, Redmi. Then the actual product details that say the model number and product color.
You see, it is so easy to understand everything by looking at the URL alone. So convenient and time-saving, and as a website owner, it costs nothing.
You can create and manage such permalink structure in your WordPress by visiting the same Permalink Settings page.
On the Permalink Settings page, choose Custom Structure. You can pick the necessary tags from the list of available tags.
Based on your pages' category and post title, I recommend choosing a custom category structure like /%category%/%postname%/.
Do you know adding a category to your URL structure will give you a better chance at ranking high on search engines?
However, when you create a category, you need to make sure that it is relevant to your post and the products that you are offering.
When making a permalink change on a live website already indexed in Google search, you will need to ensure there is no error in the settings. And later, we need to create a redirect function to redirect the old URL to your new URL structure. Otherwise, there is a higher chance that you will lose your traffic and potential sales.
So based on this, I always recommend you start working on the perfect URL structure before launching your blog or e-commerce website.
Editing the Permalink for a Post or Page in WordPress
Now you have decided your permalink structure across your website. However, you need to change the link format for a particular post or product, and you don't want to change the global URL structure just for a single URL.
What will you do? You have an option to change just one page or post URL. I will show you how easy it is to update a single URL different from your default permalink structure.
You just need to open the post or product in your WordPress admin dashboard using the Gutenberg block editor. On the right side, you will see so many settings. From there, you can see Permalink settings, which will usually be under the URL Slug textbox.
Here you can easily edit your current permalink and shorten or expand to include your preferred keyword. Once you have edited and satisfied, just click on the Update button, and your page, post, or product will now be accessible using this new link.
You can also update the permalink individually using your preferred SEO plugin.
For example, if using the Rank Math SEO plugin, click on this Edit Snippet button.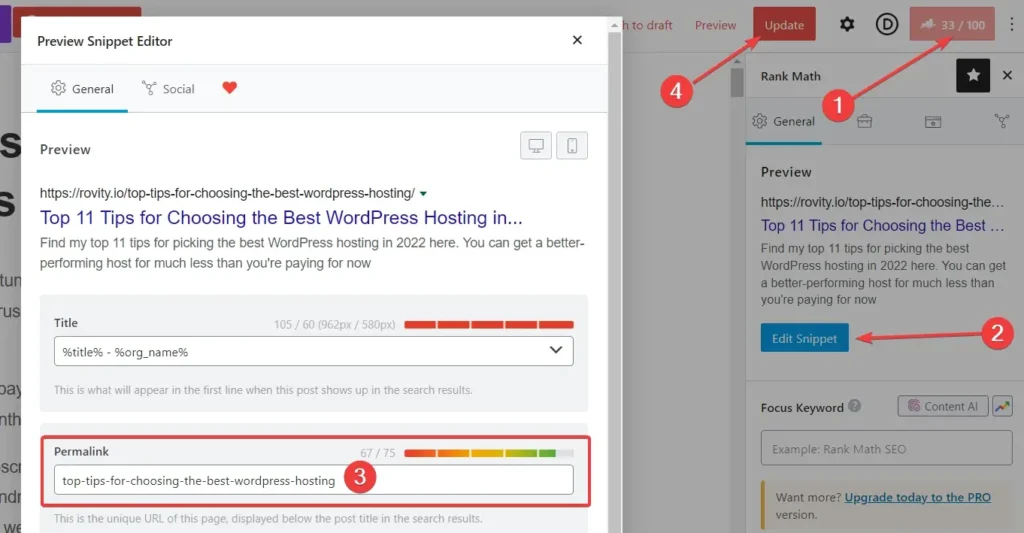 And in the Preview Snippet Editor popup window, you can adjust your permalink.
SEO-Friendly vs. Non-SEO-Friendly URL Examples
Now I will show you what an SEO-friendly URL is and a non-SEO-friendly URL. So you can make your URL structure in a much better way.
Here is an example URL that is SEO-friendly and human-friendly.
https://rovity.io/top-tips-for-choosing-the-best-wordpress-hosting/
As you can see, the URL includes target keywords, and it clearly expresses what the post is talking about. The hyphens between the words will make it easy to read, and the best parties using HTTPS.
I will give you a non-SEO-friendly URL below to compare both URL structures.
http://rovity-demo.xyz/news/ipl-won-2019bgfsdjdasbfjksb/
By looking at the URL, you can understand this is a news article, and it is talking about someone-won-something in the year 2019. It can be an IPL match or an auction, or a single ticket to one of the local IPL matches. Who knows? I have no idea what it clearly says.
It is not technically an HTTPS URL version, so it is not protected. Thus I won't usually click on it. Since the URL does not give me enough idea about it, I won't try to open it because it is not welcoming me. On top of that, I won't even try to share this on my social media feeds.
By the way, this is an example URL, and I really hope that you don't make such a mistake and publish a crap meaningless URL slug in any way.
How Safe Is It to Change Your Permalink Structure
If you have already published your blog or e-commerce site, I don't recommend you change your permalink structure. Because permalink means permanent links, and it should stay as it is.
Changing your permalink settings can hurt your SEO campaign efforts. It will cause your ranking in the Search Engine Result Pages to fall.
When you run a referral traffic campaign such as an affiliate campaign, you will lose that traffic also. And if you have managed to get some backlinks to your WordPress website, there is a chance that you will lose those precious backlinks as well.
Think about the work and efforts you need to take to recover all of that. So I always recommend you decide your permalink structure before launching your website to the public.
However, if you still wish to change your permalink structure on a WordPress website, I will show you how to redirect your old URLs to your new URLs safely.
It will be quick, so let's get to the redirection begins.
Tier 1 Network Partners. < 30ms Global Latency.
Get access to our vibrant CDN for FREE and have a blazing fast website next to your customers; wherever they live.
In India, we have PoPs in Bangalore, Chennai, Mumbai, and New Delhi.
How to Safely Redirect Your Changed URLs in WordPress
If you are already using an SEO plugin, you can easily redirect your old URLs to your new URLs. I will show you that using the Rank Math plugin.
To begin, click on the Rank Math > Redirections menu, and you will see the Redirections page.
Here click on the Add New button. Then on the Add Redirections screen, input your Source URLs and Destination URL.
You need to choose 301 Permanent Move as the Redirection Type. And then, click on the Add Redirection button to make the changes updated.
If you have changed your permalink, you don't need to edit those old links directly. Instead, you can use your SEO plugin's redirection option, as I showed you above. This redirection will help you maintain your ranking position on Google and other search engines.
Using the redirection method won't risk your website visitors ending up on the 404 error page, which would be considered a bad user experience.
Summary
Now you know how to choose the best WordPress permalink settings for your SEO advantages. I prefer the Post name as my permalink structure for my WordPress website.
I hope that by changing the correct permalink structure on your WordPress website, you will gain traffic through SEO and provide a better user experience for your visitors.
A better human-readable link structure will help you get more people to share your content, boosting your traffic quickly.
If your website is already live, you need to ensure that changing the permalink structure won't affect your existing traffic. So you need to configure the redirection correctly.
If you have hosted your WordPress website on Rovity's server, you can always contact us for Technical Support. If you are looking for a superfast WordPress hosting service, I suggest giving Rovity a try. Rovity is the fastest-growing top WordPress hosting company in India.
We have many premium features and robust cloud infrastructure to help you have a fast-loading WordPress website.