As the name suggests, blog commenting is leaving comments on blog posts. If done correctly, it's a great way to improve your SEO and rank higher in search engine results pages (SERPs). However, blog commenting can damage your reputation and online presence if done incorrectly.
In this article, I'll discuss how to do it correctly so that you can increase traffic and nurture relationships with other bloggers.
What Are the Benefits of Blog Comments for SEO?
Commenting on blogs can help your SEO in a few ways – both directly and indirectly.
Boosts Brand Awareness: If you want to become more well-known in your niche, start commenting on industry blogs. Fellow bloggers and readers will soon recognize you.
It Helps Imagination: If you want to know how people feel about a topic, exchanging ideas with them is a great way to clue yourself in. And if you're looking for topics to cover in your own content, listening to what others are talking about can give you some great ideas.
Nurture Relationships: By discussing the blog topic, you can form connections with the author and their readers. If you're lucky, you may even be invited to guest blog on the website!
Helps to Gain More Traffic: When you leave a valuable comment on an industry-relevant article, it encourages readers to learn more about you. This can lead them to your website, where they can learn even more about what you do and how you can help them.
However, if you want blog commenting to help your SEO, you need to know what to do and not do.
A Quick Note About Backlinks
So, we should mention backlinks before moving on. Blog commenting used to be a great way to get backlinks, but that's no longer the case today. Most blogs have their links in comments set to be nofollow links. But this doesn't mean that those readers can't click the link and go straight back to your website.
That doesn't mean it's not worth commenting on blogs – just that those links aren't as valuable for SEO purposes anymore. Google and other search engines typically don't take links from blog commenters as votes of confidence. However, users might very well do so.
Best Practices for Blog Commenting for SEO
Use your full name instead of your brand name or keyword when commenting on blogs and other websites. If you need to mention your brand, include your full name. Spammy comments often use a brand name, and you don't want to look like one of them!
Leave a comment on the blogs as early as possible to be one of the first! Tools like Google Alerts make finding new posts related to your keywords easy. Your comment will stay at the top and be seen by more visitors.
Mentioning the blog author by name will make your comment feel more personal.
If someone replies to your blog comments, write them back!
It's great to hear from readers who appreciate the writer's work, but that doesn't start or continue a conversation. Find a specific point in the article to discuss.
Dofollow Comments: A Word of Advice
When trying to pass link equity (link juice) from one domain page to another, comments need to have dofollow links instead of nofollow. It can be hard to find blogs that have dofollow links, but it's worth taking the time to check. There are many reasons why blog commenting for SEO is helpful beyond just building backlinks.
You tried all those expensive WordPress caching plugins and subscribed to highly-priced managed WordPress or managed VPS services. Still, you can't see your WordPress website loading within a few milliseconds? Have you lost all hope?
I have written How to Turbocharge Your WordPress Site in 4 Easy Steps guide to help you cut down your hosting subscription cost and make your WordPress website fly like a rocket.
Take these 4 easy steps and boost your WordPress website performance that it deserves. Then cut down on your hosting costs and see your SEO skyrocket.
How Can You Find Blogs to Comment On
When you're looking for blog posts to comment on, it's important to find ones that are relevant to your niche – including industry blogs and mainstream publications. But how do you find them? If you wait until you stumble across one, you won't get enough commenting done regularly.
Here is some way to be proactive about looking out for blogs that you can comment on:
Stay Up to Date With the Latest Headlines
You can subscribe to each major news source and get the latest headlines delivered to your inbox. But there's an easier way – head over to AllTop. They gather the top headlines from various sources so that you can skim through them all on one page.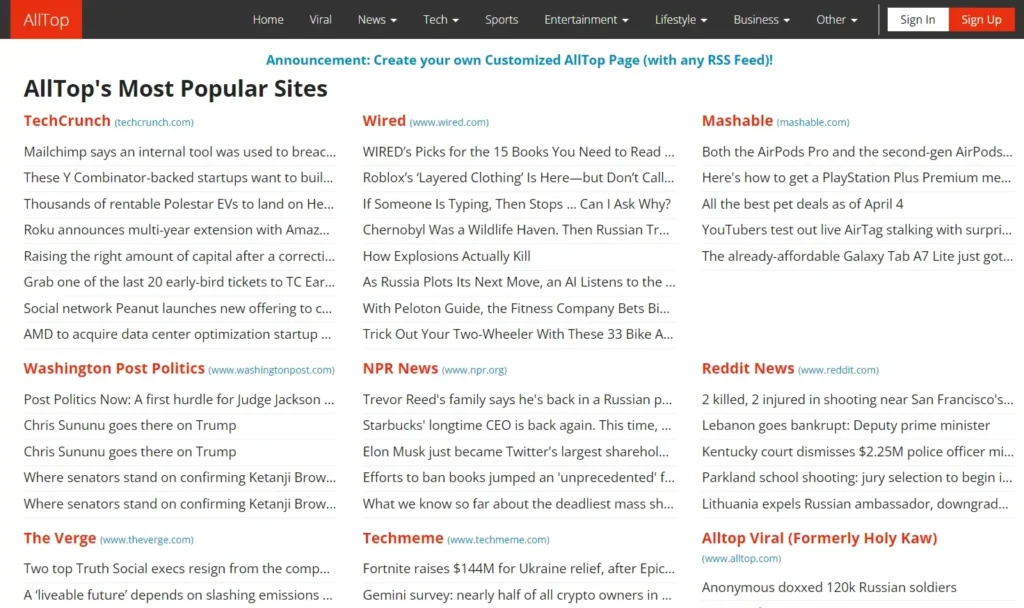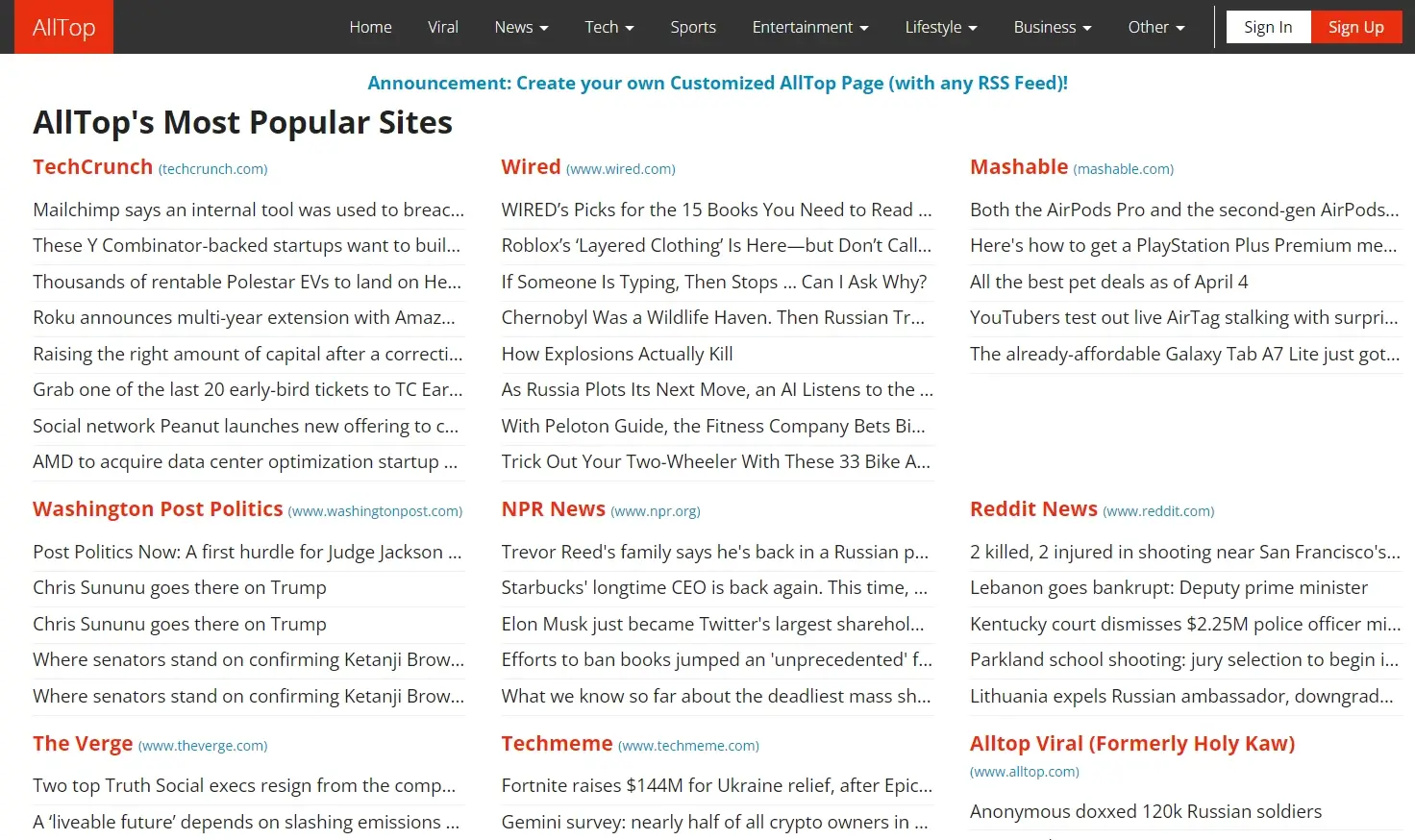 Some of the articles will be time-sensitive, while others will be evergreen – giving you a variety of popular stories to potentially comment on.
Using Google Strings to Search a Website
Suppose you want to comment on blog posts on a website that covers a lot of different subjects. In that case, an alternative to an internal search on the website is to use a Google search string. For example, suppose you were interested in finding content related to WordPress on the Rovity website. In that case, you could do a Google search for "WordPress site:rovity.io."
This would return all results from our website related to WordPress.
To check how well your website is ranking for a particular keyword or phrase, do a Google search using the following formula:
KEYWORD site:URL.
Go to Tools > Any Time and select something like Past Month on Google to filter by duration.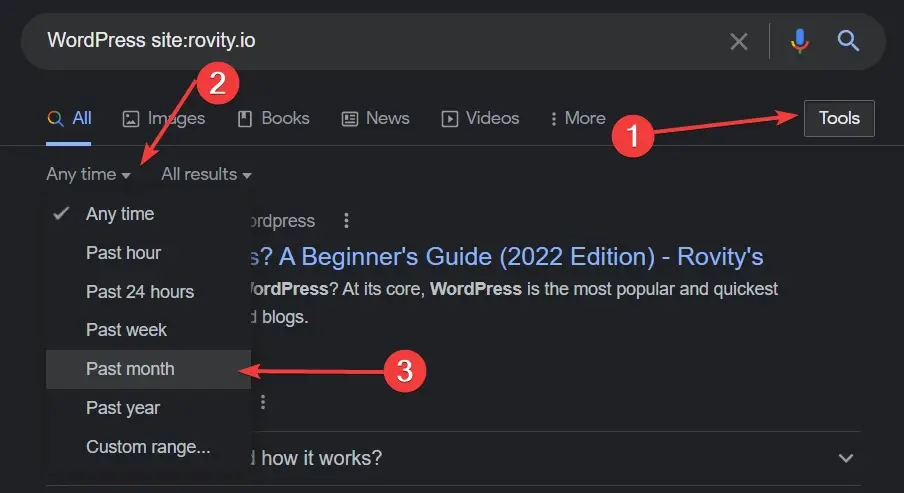 This will help you avoid older content you don't want to bother with.
Feedly Is a Good Tool for Content Curation
If you're like me, you have a lot of blogs and websites that you follow for content relevant to your interests. It can be hard to keep track of all the new published content, especially if you don't have time to check each website every day.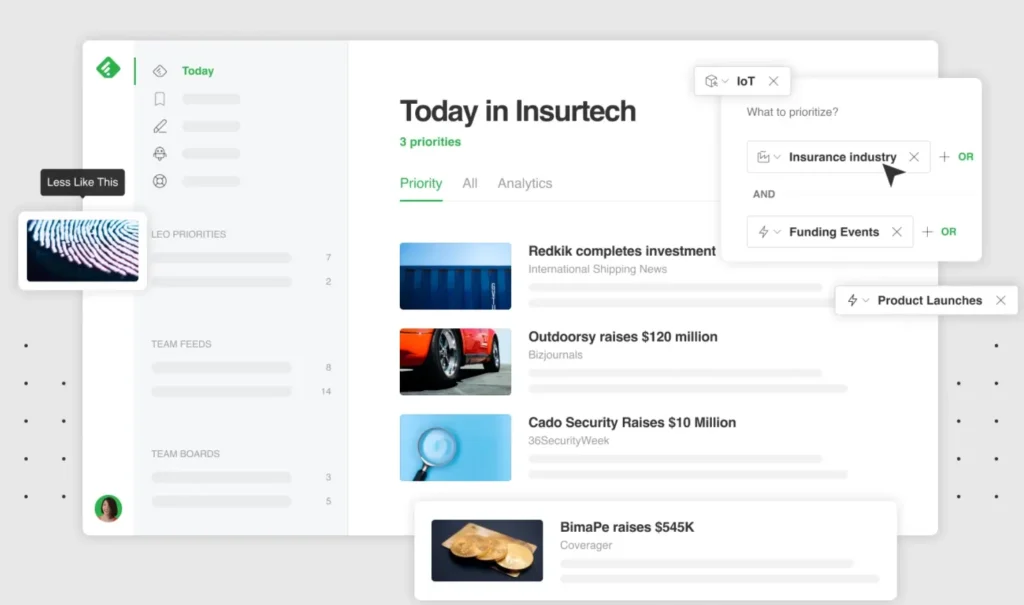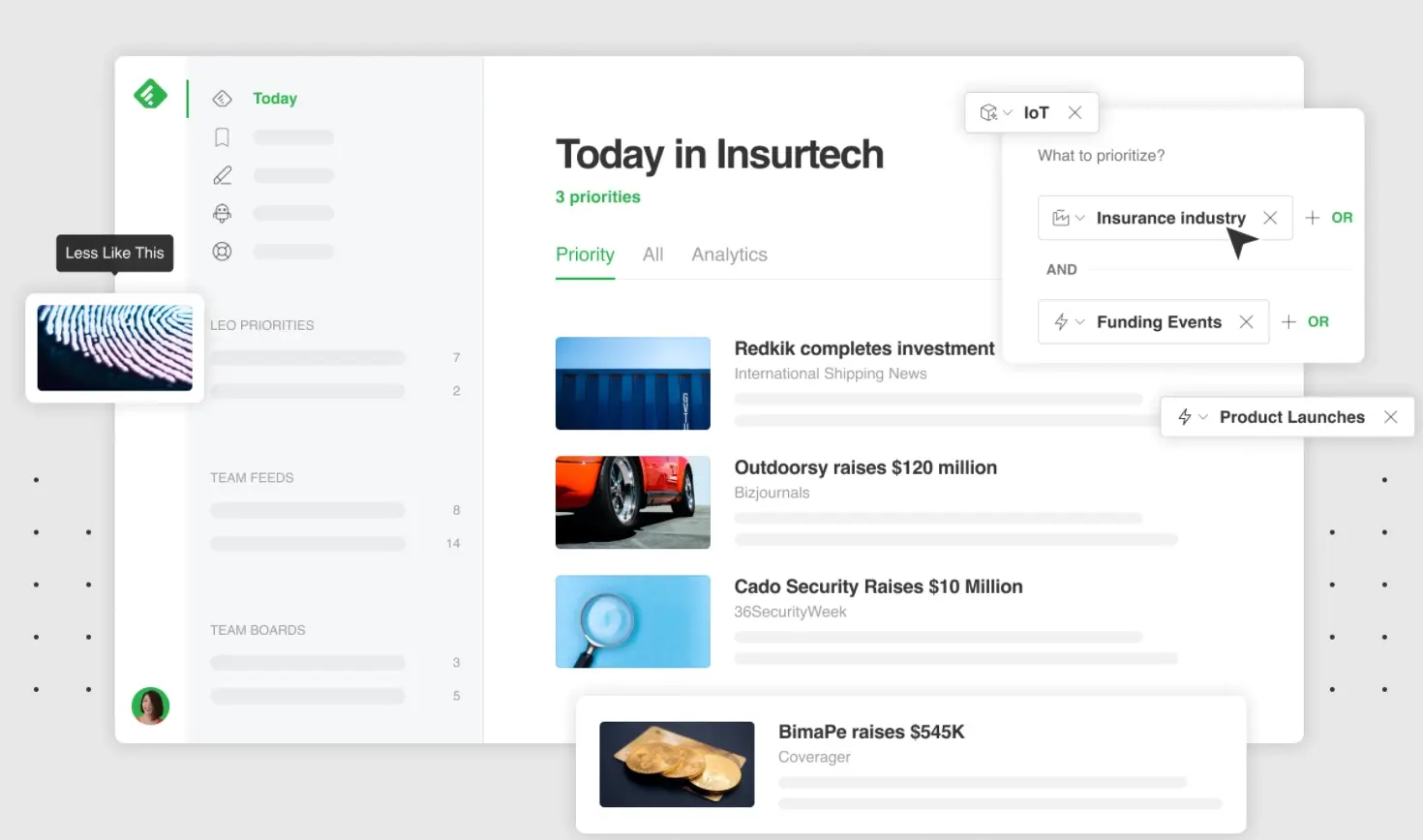 That's where tools like Feedly come in handy. Feedly gathers the content from all of your sources into one place to easily see what's new. You can add sources like specific blogs or websites that you want to follow or keywords related to your niche. Whenever something new is published, Feedly will collect and organize it for you.
Setting up Google Alerts
If you only check Feedly every once in a while, you may not be alerted to important new content as soon as it's published. But if you want to be able to comment on the latest news as soon as it comes out, Google Alerts can help.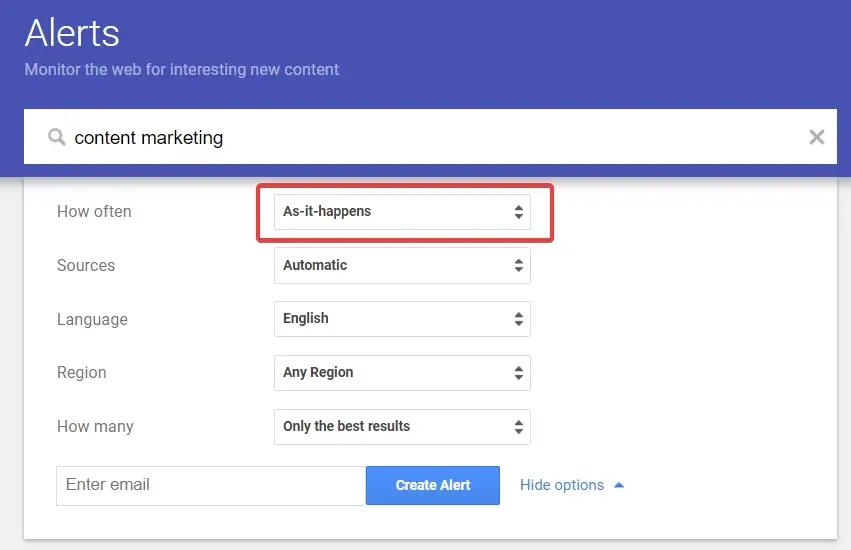 You can set up alerts to get an email notification whenever new content is posted. (You can do the same thing within Feedly, too.)
Commenting on Blogs and SEO Risks
Blog commenting was once a great way to get backlinks. However, search engines have become more intelligent over time, and people have abused the system, so it's not as effective anymore.
How Search Engines Reacted
Since companies realized that blog commenting could help build backlinks, they started selling these services. This resulted in many spammy, irrelevant comments on great blog posts. (Un)fortunately, Google made some changes that rendered these links ineffective and reduced the value of user-generated content like blog comments overall.
If you're looking to improve your website's SEO, you'll need high-quality backlinks. And today, only links from authoritative and relevant sources are helpful. If Google finds that a link is coming from a shady source, it may penalize the linked website.
So if you run a low-quality website and leave spammy comments on other blogs, Google could investigate and lower your site's ranking.
It's not all bad news; Google is still paying attention to blog comments. However, the way they prioritize them has changed, so you'll need to be a bit more strategic about how you leave comments if you want them to help your SEO efforts.
The Dangers of Blog Commenting for SEO
There are a few reasons to be careful when commenting on blogs for SEO purposes.
If you use Disqus to comment on blogs, be careful not to spam or violate the rules. You could get banned or blocked from using their service if you do.
Ruin your reputation with potential business partners and website visitors.
Don't bother leaving comments on blogs that don't get you anywhere – it's a waste of time and energy.
Commenting on blogs for SEO can be an easy and enjoyable marketing strategy. Just make sure to stick to white hat practices to remain in good standing with your audience.
Commenting on Blogs: What Not to Do
You should avoid a few things when commenting on blogs if you don't want to get into trouble. Maybe you'll get banned from the site, or maybe people will start ignoring your comments. Here are some of the big no-nos:
You Shouldn't Ignore the Website Policies
You may have come across websites with guidelines that state you cannot include a link in your blog comment. Disregarding these rules can get you banned, and your comment will probably be taken down, too. So make sure to abide by each site's policies! Many blogs even filter all comments that include links in the text and put them directly into the spam folder.
If you can't include a link when commenting on a blog post, you might choose to skip commenting altogether. But suppose you want to start a conversation or get the attention of other users, mention your business name in your comment. In that case, they might find it through Google later.
You Shouldn't Skip Reading the Blog Post
It's obvious when you haven't read the blog post if you're posting a comment without knowing it. It makes it hard to stay on topic or say something useful, and it's also a waste of the writer's time to have them read a comment that doesn't relate to the content.
Don't Just Post Generic and Short Comments
Do you think a comment like "Great blog post!" will get you anywhere?
Nope. No way.
Comments like that will just be skimmed over and might not even be approved by the blog owner. Nobody will want to talk to you or check out your website as a result.
Why not add your insights instead? Comments that add value and are insightful are more interesting than simply repeating what others have said. Share a related experience or something you found most helpful. You can even ask questions to get people talking, like, "I use tip #7 with my customers all the time! Do you find it benefits if XXX?"
Think of your comment as micro-blogging. It can be as short as a few sentences, but it's even better if it's two to three paragraphs (250 to 300 words).
Avoid Linking to the Same Page Every Time
Sometimes it's best to link directly to your homepage. But most of the time, you'll want to link back to a landing page or blog post that's more relevant to the content you're commenting on. This can increase the chances of people clicking through, and they're also more likely to stay on that page if they find what they need.
Avoid Using Scraping Tools Like ScrapeBox
If you're looking for ways to help improve your blog's SEO, you may be tempted to try using some online tools that promise to post comments on many blog posts. However, using these tools can hurt your SEO.
That's because Google penalizes websites for posting spammy comments, which most tools do. So don't use them – it's not worth the risk. Instead, focus on creating quality content that will attract the attention of real people.
Making Your Blog Inviting for SEO Comments
You can do a few things to make your blog more inviting for SEO comments. For starters, you want to make it easy for users to leave a comment. It would be best if you also created a welcoming atmosphere where they feel comfortable leaving feedback.
Write in a conversational tone: When writing a blog post, think of your comments section as the continuation of a conversation. If you want readers to feel welcome to leave comments, try speaking to them through your conversational content.
Ask For Comments in Your CTA: Why not ask for comments in your CTA? At the end of your blog post, use the call-to-action (CTA) to ask readers for feedback or share their opinions or experiences. Asking a question is especially useful, as it prompts people to answer.
Take Away Barriers: It's best not to require your readers' names and email addresses when they want to leave a comment on your website. Unless you have an exclusive community, nobody should have to log in just to say something. However, it's OK if you use Disqus as an option – people who do can log in through the comments section and add more detail to their thoughts.
Leave Comments Open for Evergreen Articles: Generally, we hope people will continue reading them as time goes on. In this case, don't automatically close the comments section on blogs that are a certain amount of days old.
Summary
It's not as effective for SEO as it used to be, but blog commenting is still a good strategy for your marketing campaign. You don't have to use every single tip at once – start with one or two and see how it goes. Then decide if you want to try another couple and track your results.
Do you have a blog commenting strategy? Let's chat about it in the comments!
You are looking for a WordPress hosting service that will take your website to the next level? Look no further than Rovity. Our cloud-based infrastructure is specifically optimized for WordPress websites, so you can rest assured knowing your site will run smoothly. Plus, our prices are super affordable – making Rovity the perfect choice for budget-minded businesses and bloggers.