A Content Management System helps users create, manage, and modify content on a website without the need for specialized technical expertise.
Yes, a CMS is a tool that assists you in creating a website without needing to code. No coding knowledge is necessary at all.
You don't need to build your system to create web pages, store images, and other functions. Content management systems handle all that necessary infrastructure for you.
Other than websites, you can use content management systems for other purposes, such as document management.
Content Management Systems: How Do They Work?
We'll take a quick tour of the WordPress interface to give you an idea of how a content management system works. WordPress is one of the most popular CMS.
Let's begin by creating some content.
Without a CMS, you'd need to write a static HTML file and upload it to your hosting server.
That doesn't sound very easy.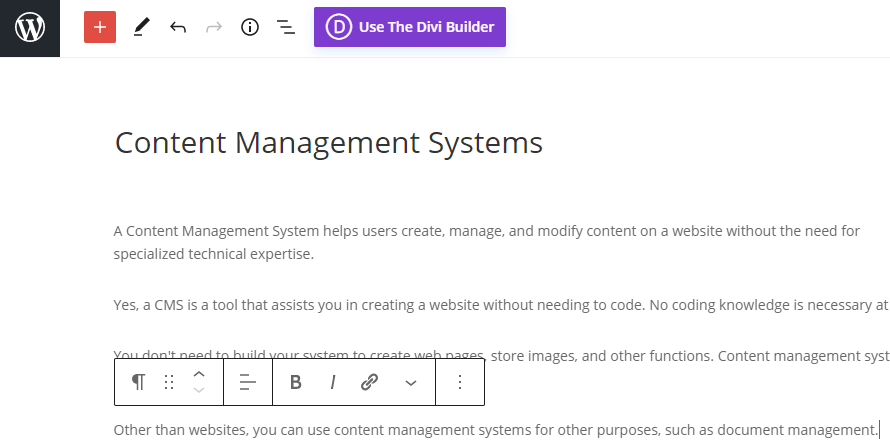 CMS like WordPress enables you to write your content in an interface similar to Microsoft Word.
That's much simpler.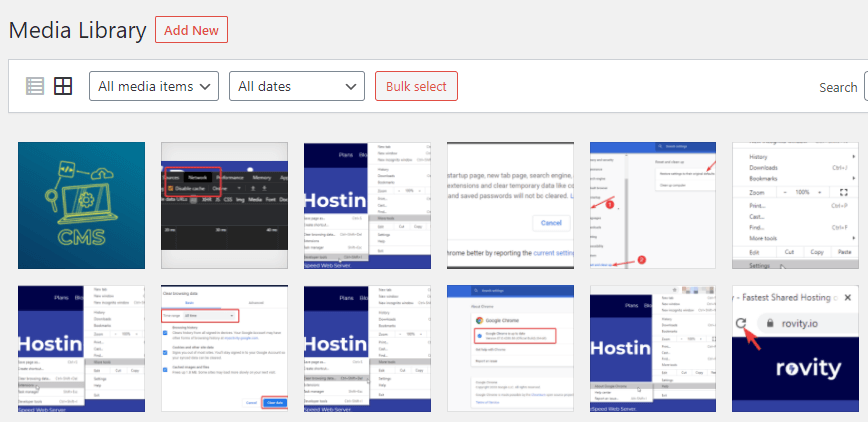 Similarly, you can browse the media library to upload and manage images instead of interacting with your web server directly.
Hang on.
The backend management interface is just one aspect of the content management system.
It makes all your content appear as you wish for your visitors too.
What Features Make up a CMS?
A content management system has two core sections:
The Content Management Application (CMA) is the actual application that allows you to add and manage content on your site.
A Content Delivery Application (CDA) stores and distributes the data you input into the CMA and makes it available to visitors.
The two systems work together to make website maintenance simple.
Some Popular Content Management Systems Examples
WordPress, which we showed you above, is one of the most popular content management systems in use today.
WordPress holds a market share of 64.1% on sites with a known content management system, even though many other content management systems exist.
Hint! We don't mean WordPress.com when we say WordPress.
Instead, we're focusing on WordPress.org, the site where the actual WordPress software is stored.
Other popular content management systems (CMS) include:
Squarespace
Wix
Magento
Joomla
Drupal
Many other, less well-known content management systems target large enterprises. They often cost a lot of money.
What Are the Different Types of Websites That CMS Can Build?
Most CMSs are somewhat flexible nowadays.
Most popular content management systems can run any website, although some focus on a specific purpose – such as Magento for e-commerce.
For example, WordPress can power:
Blogs
Portfolios
Membership sites
Online courses
Forums
Social networks
e-commerce stores
And many, many more
Which Is the Best CMS Platform?
It is like asking, what is the best ice cream flavor?.
Sure, everyone has an opinion. It isn't easy to prove that one content management system is the best for every situation.
Taking a look at the numbers, it's clear that there's a reason why WordPress has taken over the market share.
It provides the most flexible, user-friendly solution for most types of websites. WordPress is not always the best CMS, but it is the best CMS most of the time.
How to Make a Website Using a CMS?
Are you looking for a content management system to build your website? If so, it works like this:
Register a domain name and web hosting.
Install your preferred CMS on your web server.
Configure your CMS to determine how your site looks and functions.
Use the content management system's interface to create content.
It's surprisingly easy.
Hosting companies like Rovity can help you install the content management system easily.
We offer one-click WordPress installation. So you don't have to worry about technical setup.
Are you interested in installing WordPress like CMS on your web server? We'll take care of it. Try Rovity.