When you are searching for a domain name, you will see many different terms. I am sure that all of this can be a little overwhelming when you are just getting started.
I understand that all you need to do is launch a website as fast as possible. You will get significantly more comfortable by spending the time to understand a bit about the technical aspects of your website. This knowledge will help you to develop, maintain, and troubleshoot your site.
You know, the journey to set up a website begins with picking a domain name.
Here you will understand the differences between a domain vs a subdomain. So that you can decide on your next online project; however, domains and sub-domains both serve different purposes on the web.
Domains and subdomains are correlated, and you will shortly read about it later in this article.
What is a Domain?
You are going to need a domain name to have a website that lives on the internet. Without a functioning domain name, there is no way for your visitors to reach your website!
Now, domain names serve as a placeholder for the complex series of numbers known as the IP address. That means, instead of you typing a set of numbers like 3.7.1.160, you could input rovity.io into your browser.
This flexibility makes things much more comfortable, and the consumer feels the internet is a very user-friendly resource.
When you are trying to get the domain name, you have to come up with the perfect name and a domain extension.
The extension means the .com, .net, .org, which is a portion of a domain name. The domain name extension you decide will impact how your visitors recognize your domain, so choose it carefully.
When Do You Use a Domain?
Fortunately, this question is simple to answer.
You will need a domain name if you want to have a website that is accessible on the internet.
Choosing a domain name you like is the most challenging part of the process. Getting the right domain name extension or top-level domain (TLD) is another challenge.
Sometimes, you can get away from these challenges by using a subdomain; and building a website. For example, when you create a free website using WordPress.com, you would be doing it with a subdomain.
If you are experimenting with a new platform, then this approach might work. But, if you are serious about your site or building an online store, you need to register your domain.
Overall, a domain is a reasonable investment that represents your slice of virtual real-estate on the internet.
What is a Subdomain?
In short, a subdomain is an add-on to your primary domain name. For example, when you are using the site RentAHouse, you might be using a subdomain like bangalore.rentahouse.in, or pune.rentahouse.in.
Your server will automatically forward your visitors to the subdomain that matches their city.
A subdomain is a separate section of your website that functions under the same primary domain name.
Imagine your primary domain name is bestphotographer.com. You may add a subdomain to that domain as wedding.bestphotographer.com to showcase your wedding photos.
It would be best to have a primary domain name registered; then only you can create a subdomain under that domain.
Subdomains give you the freedom to design a new website while still using the same domain. Usually, you can create an unlimited number of subdomains for every domain you own.
There are a few situations when using a subdomain makes sense.
When to Use a Subdomain?
There are so many different purposes to utilize a subdomain. Though, here are the most popular situations where using a subdomain sounds good.
1 – Creating a Site Resource or Support Page
You might find a subdomain beneficial when your website requires separate sections like support, documentation, or tutorials.
Are you attempting to create and structure much different content? Then it would be best if you thought about how you can organize this content. If you arrange it well, your visitors find it easy to access and understand.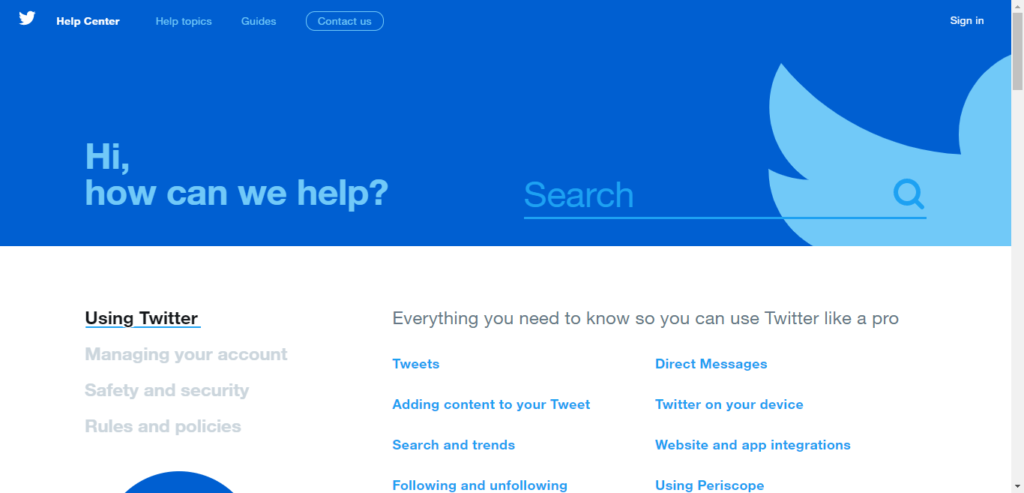 For example, you can see a separate support section at Twitter that is using a subdomain https://help.twitter.com.
Another type is to have a knowledge base, a separate tutorials section, or any other phase of your site. This type demands extensive content management facilities outside of a regular blog's scope.
2 – Hosting a Company Blog
Some site owners may want to separate their business blog from the rest of their website. Usually, people choose this method when the main website is not equipped with the right tools to run a blog efficiently.
For example, perhaps your main website is developed around trying to urge people to download your app. But for content marketing purposes, you wish to create a business blog. Here, the only issue is that you don't want to redesign your website with a different framework.
Using a subdomain will work here. All you need to do is to create the subdomain of blog.myapps.com. Then you can install a CMS like WordPress on your new subdomain. Your only goal would be to try and imitate your existing design as similar as possible.
Many startups take this as a standard approach.
Let's take, Grammarly app as another example. Their primary domain hosts their main website, and their grammar checker uses a subdomain.
3 – Creating an Ecommerce Store
To protect sensitive financial and personal information, e-commerce stores require more strict security guidelines and protocols. This situation might expect that you install specific software for various purposes.
You may not need these additional tools and security measures for your whole site; instead, you can operate your online store from a subdomain. Subdomains like "store.mydomain.com" or "shop.mydomain.com" are examples.
You also allow yourself to design a high-converting storefront by hosting your e-commerce store on a subdomain.
Mostly, you will install an e-commerce specific theme for your online store. This setup helps you have an online store built from the ground up to help you sell more products and services.
4 – Redesigning Your Site
You can make a subdomain that allows you to develop a new website entirely from scratch and host this new site. During your website redesign time, it can be helpful to test a live version of it.
By doing this, you can embed links, images, videos, and more and see how your website works in real-time.
You can even send some test traffic to your subdomain to test how users interact with your new site.
Collecting real-time user feedback can be priceless and improves the website. You can avoid launching a new site that doesn't align with your user's needs and expectations.
You can transfer over your redesigned site to your primary domain once you are ready to make your new website live.
Protecting the subdomain, you are using to redesign your website is also the right approach. So your customers won't see your incomplete site unexpectedly.
Subdomain Vs Subfolder
You need to understand the difference between a subdomain and a subfolder/subdirectory. Now, you know what a subdomain is; but a subfolder is a little different. With a subfolder, you are adding a directory or folder to your existing domain.
Instead of forming a new subdomain for your blog like blog.mywebsite.com, you can use a subdirectory like mywebsite.com/blog.
For example, here at Rovity, you can reach the blog by navigating to rovity.io/blog. Our blog is not at blog.rovity.io.
While you are considering using a subdomain, you should view it as building a separate site. Subdomains are part of an existing domain name. However, they do take more work to build, grow, and sustain.
A subfolder is a technique to categorize your site more efficiently. Assume it as creating sections of your products or services.
Imagine your website is a restaurant website; you could create subfolders for each food type you offer.
So, you may end up with a URL structure, something like the following: myrestaurant.com/breakfast, myrestaurant.com/lunch, myrestaurant.com/dinner, and on and on.
Each page could function as its separate food-specific section — every page filled with a unique menu about that type.
Domains, Subdomains and URL Structure
You now have a better understanding of what domains vs subdomains. Let us check how they function together.
Whenever you are building your website, your URL structure should be something you take into consideration.
You will make it much harder for your site to rank in the search engines if you choose the wrong URL structure.
You will also make it more difficult for your visitors to navigate as well.
Let's say you want to start a new travel blog. You have three different options for your domain name.
Create a new website: wandergirl.com
Use a subdomain: blog.wandergirl.com
Use a subfolder: wandergirl.com/blog
If you prefer the first option, you have to register a new domain name and build your website from scratch.
Are you creating a blog that is part of your existing website? Then it may don't make sense to utilize a new domain.
Options two and three left with us. We can host our blog on a subdomain, or we can use a subfolder.
We will get more freedom to design the blog's layout, install a preferred CMS, and more if we choose a subdomain.
Using a subfolder is the third option. A directory helps to organize your site better and make it simpler to navigate. When it comes to SEO, the subdirectory will help to establish more trust from your primary domain.
The strategy you choose will depend on the purposes you are creating a subdomain.
How Domains and Subdomains Work Together?
The domain name ecosystem has many different parts. To know how it all fits together needs more time. But it would help you with the rest of your game.
By now, I assume that you have a better knowledge of how domain names and subdomains work. As well as the situations when you use a domain or subdomain.
Make sure you do your research whenever you are taking a new domain name.
A great domain name is a critical part of your online brand.
Once you have done brainstorming the perfect domain name, check if it is available for you to register here at Rovity. Rovity offers free domain registrations if they are available.