Being a Cloudflare Optimized Partner, Host My Website Online is excited to offer the Cloudflare Railgun technology to all our customers for FREE.
Railgun is Cloudflare's latest performance optimisation technology that gives you significant improvements in site load times.
This technology will ensure that the connection between Host My Website Online's network and the Cloudflare's network is as quick as possible. Railgun gains a 99.6% compression ratio for previously uncacheable web objects by using methods similar to those used in the compression of high-quality videos. An average website can expect a 1.43x performance boost.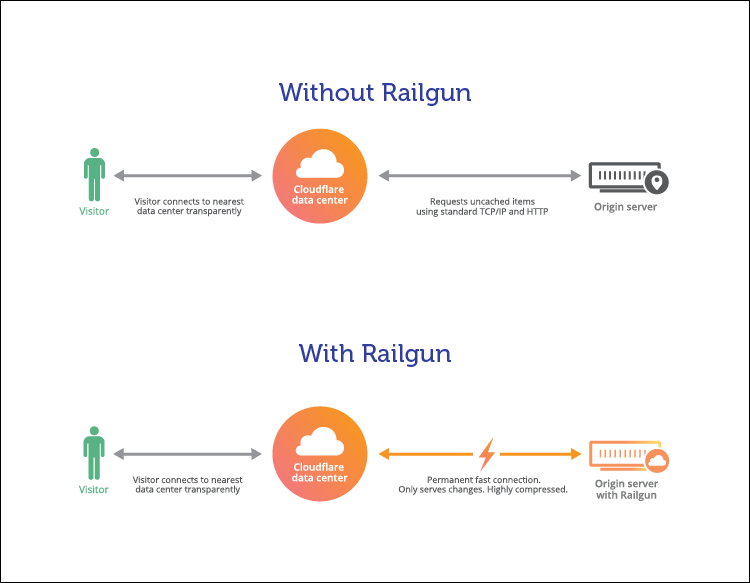 When Cloudflare server receives a request for a web page that is not in Cloudflare cache, then Cloudflare will make an HTTP connection to the origin server to request the page. Railgun will accelerate and secures that HTTP connection.
Even Highly Dynamic Websites Change Slowly
CloudFlare Railgun works by understanding that uncacheable web pages do not change very often. For example, during an experiment, the CNN.com homepage HTML was captured once, and then again after 5 minutes and then again after one hour. The page sizes were 92,516, five minutes still 92,516 and one hours later 93,727.
CNN sets the caching on this page to 60 seconds. After one minute, it is necessary to download the entire page again. However, looking inside the page, not much has changed. The change between versions is on the order of 100s of bytes out of almost 100k.
Cloudflare's experiments have revealed similar change values across the web. For example, reddit.com changes by about 2.15% over five minutes and 3.16% over an hour. The New York Times homepage changes by about 0.6% over five minutes and 3% over an hour. BBC News changes by about 0.4% over five minutes and 2% over an hour.
Although the dynamic web is not cacheable, it is also not changing quickly. That means that from moment to moment there's only a small change between versions of a page.
Railgun uses this fact to obtain very high rates of compression. This technique is very similar to how video compression looks for changes from frame to frame; Railgun seems for changes on a page from download to download.
Cloudflare Railgun Technology
Railgun consists of two components: the sender and the listener. Cloudflare installed the sender at every Cloudflare data centre around the world. The listener is a software component that Host My Website Online has installed on our network for customers. So, you don't need to install or connect anything to make your website Railgun activated.
The sender and listener establish a permanent TCP connection that's secured by TLS. Railgun protocol will use this TCP connection. It's an all binary multiplexing protocol that allows multiple HTTP requests to be run simultaneously and asynchronously across the link. Or in other words, a persistent connection is opened between Cloudflare's network and ours and eliminates the overhead of TCP.
We have made it simple for our customers to get the advantages of Railgun with one click.
How Much Does Cloudflare Railgun Cost?
Railgun is an expensive technology which costs $200 per month per domain, but it is FREE for you from us through the partnership between Host My Website Online and Cloudflare.
Because we are a shared hosting service provider who specialises in performance and stability, it is our hard work to bring you such cutting-edge technology for your website. Please make sure you utilise it by activating Railgun and let your website's loading time decrease even more.
How To Activate Cloudflare Railgun
Activating Railgun is pretty easy. There are two ways to enable Railgun through us. Within your cPanel or Cloudflare Dashboard. Both are just a click away.
How To Activate Cloudflare Railgun in cPanel
If you have already enabled Cloudflare in your cPanel, then it is even easier. First, log in to your FREE cPanel account. And click the Cloudflare icon.

In the Cloudflare's Home page, scroll down a bit. Here you will see Railgun™, with a toggle On/Off button against Connected to Website option. If it is Off, click on it and it will toggle to On. That's it.

How To Activate Cloudflare Railgun In Cloudflare Dashboard
You can enable your FREE Railgun from your Cloudflare Dashboard as well. But please note that, if your website is not hosted with Host My Website Online or you don't have an active Cloudflare subscription, you may not have this feature available in the Cloudflare dashboard.
If you have multiple domains under your Cloudflare dashboard, only the domains hosted with Host My Website Online will have FREE access to this technology.
Once you logged in to your Cloudflare dashboard, go to Speed section. Scroll down where you will find Railgun™. Like in our cPanel activation, here also, the activation is just a click away.
Toggle the switch and start experiencing the power of Railgun technology right away.
How To Confirm Cloudflare Railgun Activation
Though we have enabled Railgun easily; we should know if it is activated correctly and working as expected. We can quickly test and verify the activation from Cloudflare dashboard or by using a browser add-on.
Test the Activation in Cloudflare Dashboard
In your Cloudflare dashboard go to the Speed section once again where we have enabled it.
Here, right next to the toggle button, you will see another button called Test. Click on this Test button to test if your configuration is working as expected. You will see the test result in a popup.
Test the Activation With Claire
You can see if a website including your website is proxied through Cloudflare or relying on their origin host server. You need to install Claire, a handy browser extension. You can install Claire from Google Chrome web store or Mozilla Firefox Add-Ons.
Once you installed Claire, you can see if a website is using Cloudflare and if yes, other information like the activation of Railgun, HTTP2 etc.
How To Deactivate it?
We understand that, for some reason, you may need to disable Railgun, mostly rarest case. To disable you need to toggle Off the same checkbox which you used for activating Railgun. It is just that simple.
If you have any questions related to Railgun, feel free to comment below.
Please Note: We have temporarily stopped offering Cloudflare Railgun.