Domain Name Servers (DNS) are required for a website to be accessed. During the process, you may receive a message such as a DNS Server Not Responding.
This error means that the decentralized name servers that turn hostnames into IP addresses aren't responding.
This type of DNS error can occur for various reasons. Fortunately, most of these problems are easy to resolve.
A computer restart or a browser change could resolve the problem.
This blog post will explain what the DNS Server Not Responding message means and why it occurs. Next, we'll walk you through several solutions you can try on a Windows computer.
Let's do this!
DNS Server Not Responding – What Does This Mean?
The Domain Name System (DNS) is a system that converts alphanumeric domain names to numeric IP addresses. So, in short, DNS servers are essentially translators.
When you enter a web address into your browser, it is forwarded to a DNS server, resolving it and returning it as an IP address.
However, suppose the DNS server is unable to complete this name resolution process correctly. In that case, the result is usually a message indicating that the DNS server is not responding.
DNS server not responding means the browser was unable to connect to the internet.
Typically, DNS errors are caused by user-related problems, including network and internet connectivity issues, incorrect DNS configurations, or the use of an outdated browser.
They may also be caused by a short server blackout that makes the DNS unavailable.
Therefore, switching browsers may be all you need to solve the problem. Some cases may require disabling connections, changing DNS servers, or flushing the DNS cache.
How to Fix the DNS Server Not Responding Error in Windows
Now you know what the message means and know some potential causes, it's time to start fixing it.
Here are ten ways to fix the DNS Server Not Responding error on Windows machines.
1 – Change Your Browser
The first step is to troubleshoot the problem by testing your DNS connection. Switching or updating your browser might solve the problem.
Let's try using another web browser to access the web. For example, if Firefox or Chrome is your default browser, visit the website using Microsoft Edge instead.
Suppose switching browsers works, updating your default browser or reinstalling the browser may be necessary. Despite this, if you still get the DNS Server Not Responding message, you can rule out your browser as the source of the problem.
2 – Boot Your PC in Safe Mode
When your OS is not working correctly, a DNS Server Not Responding error message may appear. It may be worth trying to boot your Windows machine in Safe Mode to resolve this issue.
Safe mode will reduce the number of files and resources for running Windows. It can be an efficient way of troubleshooting problems.
To boot Windows 10 in Safe Mode, click the Windows logo and then the Power icon.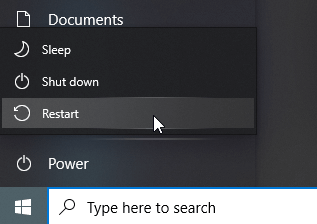 Now, hold the Shift key down and click on Restart.
You then need to click on Troubleshoot > Advanced from the window that appears.
Choose the Start-Up Settings option under Advanced options. Then Restart.
Now, you will see more options. Then press either 4 or 5 to Enable Safe Mode or Enable Safe Mode with Networking.
Your computer will then reboot in Safe Mode.
If you're running Windows 7, you can start it in Safe Mode by selecting Power > Restart. And then, while the computer is starting up, press and hold the F8 key.
Once Safe Mode has been enabled, try to re-access the website.
Suppose there is no network connection issue. In this case, a third-party application, such as an antivirus application, may be causing the problem.
3 – Disable Your Antivirus and Firewall Software Temporarily
Suppose switching browsers doesn't resolve the DNS issue. In that case, temporarily deactivating your firewall is the next step.
Firewalls and antivirus software are crucial for protecting your devices. They may, however, occasionally produce issues that conflict with network connections.
These can be disabled in Windows through the control panel.
Navigate to Settings > Update & Security.
From the left menus, click on Windows Security and navigate Virus & Threat Protection > Manage Settings.
And here toggle it Off.
After deactivating the firewall, try revisiting the website in your browser.
If this solves the problem, you may wish to switch to a different antivirus program or adjust your existing application settings.
No matter what, be sure to reactivate your firewall and antivirus once you're done.
4 – Disable the Secondary Connection
If disabling your antivirus software or firewall didn't work, you could try disabling any secondary connections on your computer.
You need to ensure that only the connection you're currently using is active.

In Windows, type Network connections into Windows' search box and then click on View network connections.
Your OS will then take you to the Network Connections page. Connections that aren't being used will have a red X next to them.
Right-click on the one you don't use, and then click Disable.
Repeat these steps for every non-active connection. Once you have finished, restart your browser and revisit the website.
5 – Disable the Peer-to-Peer Feature in Windows
Suppose your DNS server is not responding after disabling your firewall or secondary connections on Windows. In that case, there is one more option you can try.
We need to disable the Peer-to-Peer (P2P) feature in windows. Note: This P2P feature is only available in Windows 10.
This feature helps you save download bandwidth on your device. P2P allows you to download Windows updates just once. Then share the updated version from your PC to all computers within your local network.
Unfortunately, sometimes it interferes with DNS processes as well. Therefore, it's worth trying to disable P2P to see if you eliminate the error message.
For this, click on the Windows icon and then Settings (gear icon).


Then click Update & Security.
On the left-hand side of the window, select Delivery Optimization.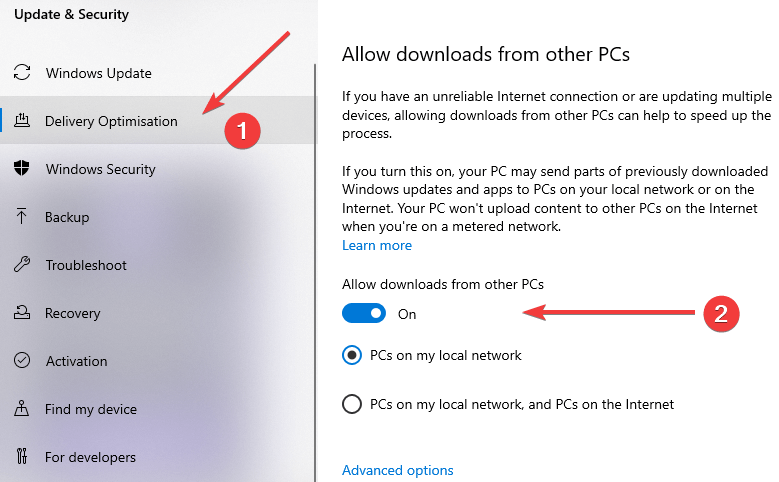 Toggle the switch beside the Allow downloads from other PCs option to turn it off.
After that, restart your computer and try to re-access the website.
If it does not work, do not worry. There are still more solutions we can try.
6 – Reboot Your Router
The next troubleshooting step involves restarting your router. Rebooting will flush the router's cache, and this may resolve the DNS Server Not Responding message.
Most internet modems have a power button you can use to shut them down quickly. After a minute or so, turn on your modem and wait for the connection to re-establish. Once it does, check to see if the internet is accessible.
Note that sometimes a simple reboot of the router isn't enough. You might want to reboot the modem by unplugging it entirely and then waiting for at least 30 seconds before plugging it back in.
7 – Update Your Network Adapter Drivers
Your network adapter driver may be outdated and causing the DNS Server Not Responding message. If this is the case, you may need to get a new adapter driver or update your existing one.
You can update your network adapter driver in a couple of ways. The manual method requires you to at least be somewhat familiar with working with device drivers.
Another option is to use a driver installation program like Driver Easy or Snappy Driver Installer.
Either of these solutions will locate the necessary drivers for your system based on its specifications. You can avoid human error risks by using this method, such as downloading and installing the wrong driver on your device.
Once you have downloaded SDI and installed the updated drivers, restart your computer. Then open your browser to see if this resolves the problem.
8 – Reset Your IP Address and Flush Your DNS Cache
Suppose you've ruled out your browser, antivirus, and router as sources of the problem. In that case, it's time to look at your DNS settings.
It may be necessary to clear the DNS cache of your router before connecting to the internet well. Or maybe your IP needs to be reset.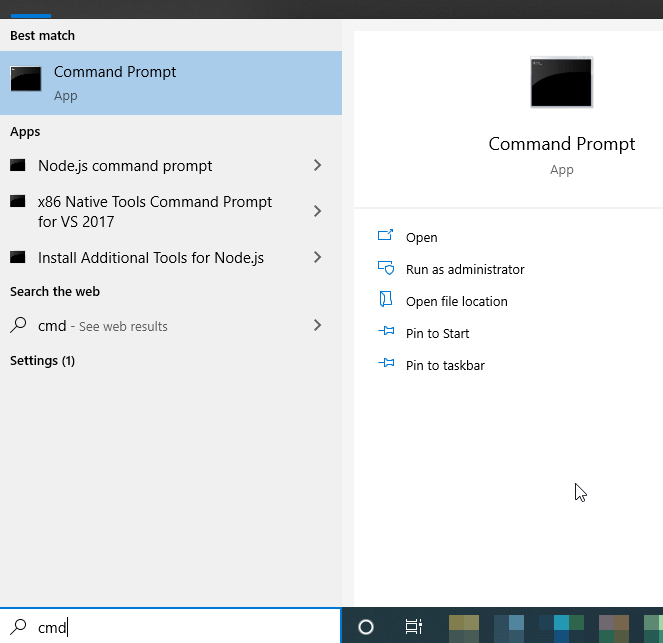 Windows users should type cmd into the taskbar search field and then select the Command Prompt app.
ipconfig/flushdns
Enter the above command into the Command Prompt window that opens and press Enter.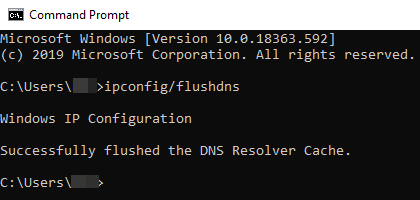 When the process is finished, CMD will display a message informing you that Windows successfully flushed the DNS cache.
After that, run the following commands as well.
ipconfig /registerdns 
ipconfig /release 
ipconfig /renew
9 – Turn off IPv6
IPv6 is the most recent version of Internet Protocol, which helps networks communicate with each other. Unfortunately, IPv6 could also be causing the DNS Server Not Responding error you're currently experiencing.
Therefore, another possible solution would be to disable IPv6 on your computer.
Open the Network Connections control panel in Windows. Next, right-click on your current connection.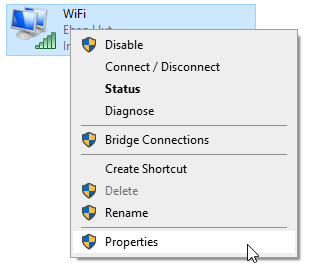 From the dropdown menu, select Properties.
You can scroll down until you reach Internet Protocol Version 6 (TCP/IPv6) under the panel's Networking tab that opens.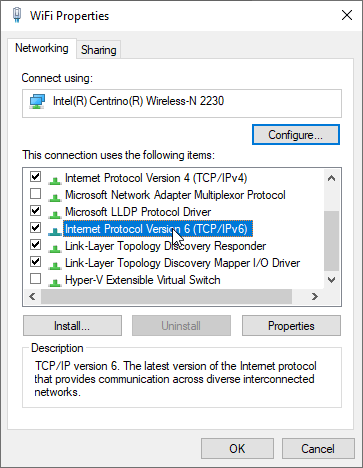 If it's checked, uncheck the box and click OK.
Now, try refreshing your browser and connecting to the internet to see if the issue is resolved.
10 – Switching the Default DNS Server on Your Windows
Another option for fixing DNS Server Not Responding problems in Windows is to use a different DNS server. To do this, first access your network connection properties in Windows 7, 8, or 10.
Click on the Windows logo in the bottom-left corner of the taskbar.
Type Network Connections in the search field, then select View network connections from the menu.
Next, select your current internet adapter.
Right-click the internet adapter and select Properties.
Choose Internet Protocol Version 4 (TCP/IPv4) in the window that opens. Next, click on the Properties button.
Choose the Use the following DNS server addresses to assign a different DNS server address manually. And input the address of another DNS server.
For example, under the Preferred DNS server field, you can type 1.1.1.1 for the Cloudflare DNS server. Then you can add 1.0.0.1 to the Alternate DNS servers and click the OK button.
Now, restart your web browser, and access the website you were trying to reach. This should resolve the DNS Server Not Responding issue.
Summary
Accessing a website and then being met with DNS Server Not Responding messages can be both concerning and frustrating.
While there are many possible causes of this error, it's good to see that most are fixable easily.
This article discussed ten potential solutions for fixing the DNS Server Not Responding error in Windows.
Change Your Browser
Boot Your PC in Safe Mode
Disable Your Anti-Virus and Firewall Software Temporarily
Disable the Secondary Connection
Disable the Peer-to-Peer Feature in Windows
Reboot Your Router
Update Your Network Adapter Drivers
Reset Your IP Address and Flush Your DNS Cache
Turn off IPv6
Switching the Default DNS Server on Your Windows
That's it. Happy Fixing!
If you enjoyed this tutorial, then you'll love Rovity and our fast-growing premium shared hosting on the cloud. Check our subscription plans.