Adding a live chat feature to your WordPress website might seem complicated. But it is simple and takes only a few minutes.
You can solve your visitor's questions instantly if you have a live chat on your website.
And there is a better chance that they will likely convert into customers.
Woohoo!
This article will learn how to add live chat to your WordPress website – Step by Step.
But first, let us discuss the benefits and why you should add a live chat tool to your website.
Advantages of Adding a Live Chat to Your Website
"The customer is king"; I am sure that you have heard this a million times this mantra.
And that's true!
When your visitors see a live chat facility on your website, they will feel more comfortable engaging.
Here are some of the interesting Live Chat Statistics by 99firms.
79% of consumers prefer live chats because they offer instant responses. Live chat has the highest consumer satisfaction rate at 92%.
For 41% of consumers, live chat is a preferred channel for contacting support teams.
63% of consumers who used live chat on a website are likely to return to that site.
More than half of all conversations come from mobile.
Do you know, 80% – 95% of total internet visitors are in research mode?
That means these visitors are looking for an answer to their questions.
Even if you have an extensive list of FAQs on your website about your products and services or within your blogs, your visitors may still have some questions.
Here is where live chat gets in and helps your visitors get answers instantly without leaving your website.
Your excellent and fast interaction via live chat can effectively help your visitors to make the buying decision.
In short, adding the live chat will:
Raise customer satisfaction
Improve problem resolution
Grow customer loyalty
Extend market reach
Identify customer pain points
And many more
How to Add Live Chat to Your WordPress Website?
Hundreds of live chat plugins are available online – free and paid tools.
But you have to pick the best tool to grow your online business based on your requirements and budgets.
For this tutorial, I am going to cover Crisp, a free customer messaging experience tool.
Step 1 – Create an Account on Crisp Chat
Okay. Now let us visit the Crisp Chat website and get a new free account.
If you wish to go for a paid plan, you can upgrade anytime.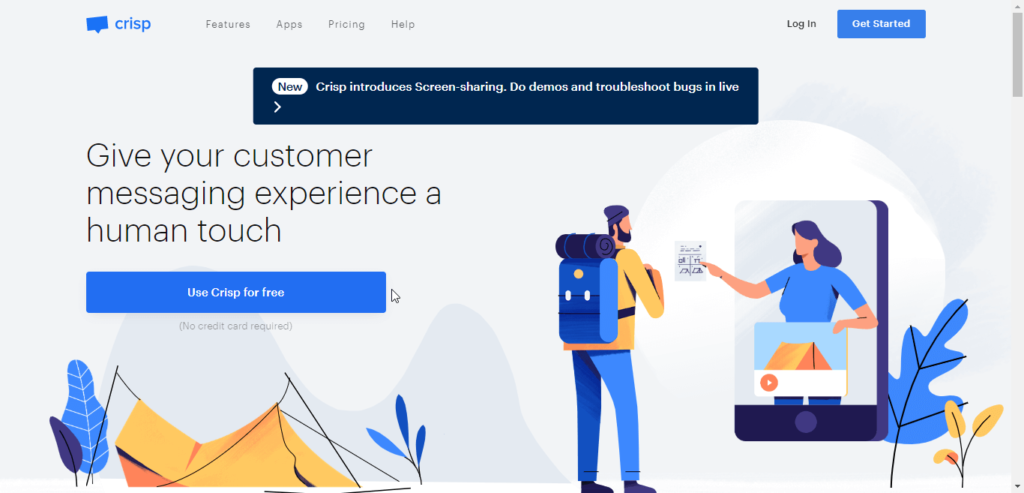 And now click on the Get Started or Use Crisp for free button on this landing page.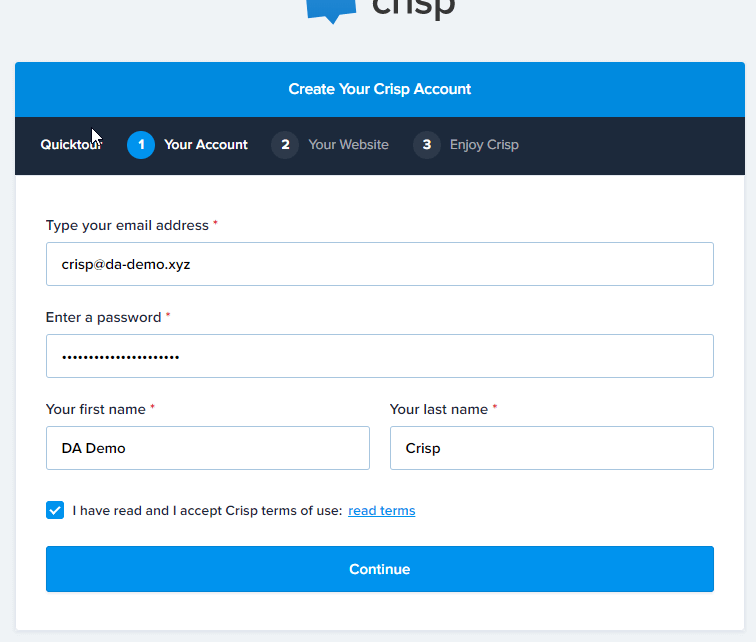 On the Signup page, you will have to fill up the details.
Once you have filled in all the necessary details, click on the Continue button.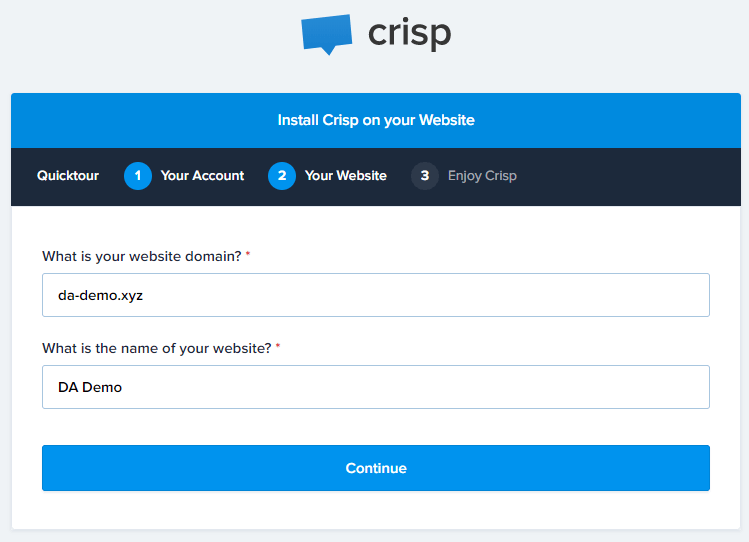 In the next screen, enter your domain and the name of your website.
Then Continue.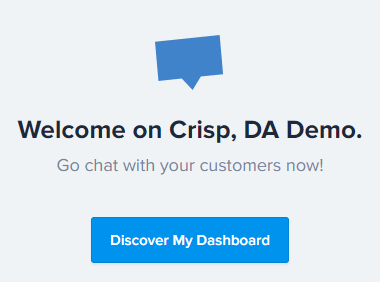 You will now see the, Welcome on Crisp message.
If you see this message, click on the Discover My Dashboard button, and you will be redirected to your Crisp Dashboard.
That's it. Your Crisp account is ready by now.
It is time to connect the Crisp Chat with your WordPress website.
Step 2 – Connect Crisp to Your WordPress Website
Once you have created your free account on Crisp, our next step is to connect Crisp Chat to your WordPress website.
Let us now login to your WordPress Admin Dashboard.
From this WordPress Admin, we are now going to install Crisp Chat WordPress Plugin.
For that, click on the Add New link from the Plugins menu.
And search for Crisp Chat.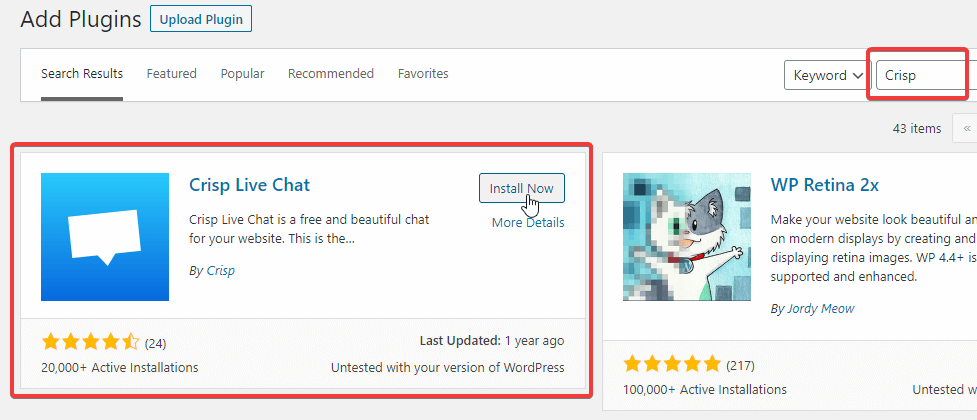 Once you have seen the Crisp Live Chat plugin listed, click on the Install Now button.
Once the installation is completed, click on the Activate button.

Post activation, click on the Connect with Crisp button.
If you haven't logged in to your Crisp account, you will see a login screen.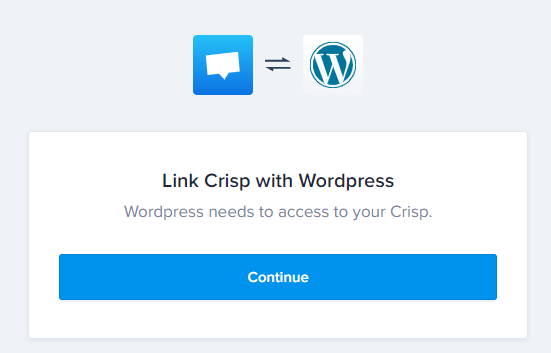 If you are still logged in, you can see Link Crisp with the WordPress screen.
Now, click on the Continue button.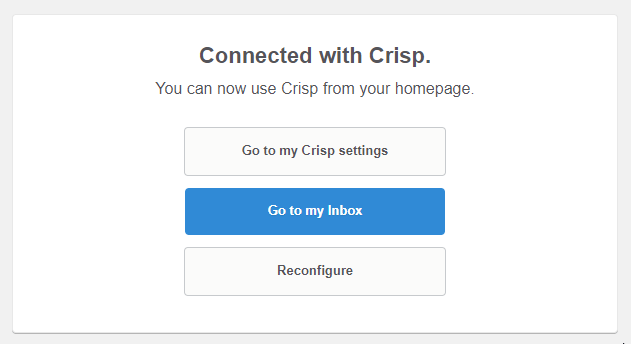 Well, once your WordPress website establishes the connection with your Crisp account, you will see the Connected with Crisp confirmation screen.
How to Verify Crisp Chat is Working on Your WordPress Website?
As you now have seen, configuring Crisp chat with your WordPress website is indeed simple.
Now visit your website.
You can see a blue-colored chat widget on your website at the bottom-right corner.
Woohoo.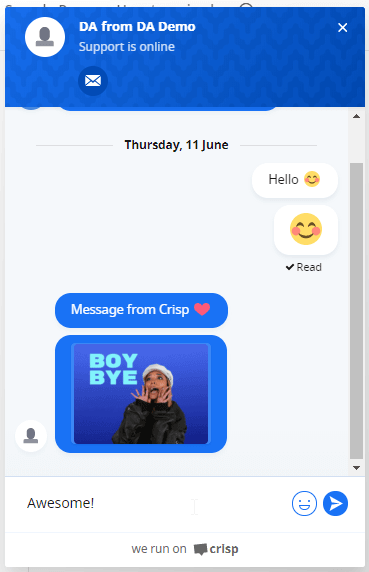 That's it! You can now talk to your website visitors instantly.
Crisp offers apps for iOS and Android so that you can use Crisp on the go and talk to your customers anytime.
Have you tried Crisp Chat on your website? How was your experience with the features?
Write them in the comment box below.
If you enjoyed this tutorial, then you'll love Rovity, and our fast-growing premium shared hosting on the cloud. Check our subscription plans.