Do you want to speed up your website by preloading links?
Do you know about this browser technology called link preloading? It loads links in the background before a site visitor clicks them, making your website seem faster.
This article will show you how to preload WordPress links for faster loading speeds easily.
Why Should You Preload WordPress Links?
Link preloading is when your web browser loads the link in the background before the user clicks it. That way, they'll get to the page quicker!
Speed and performance are important for your WordPress site – they make the user experience better. Faster sites can also help your blog traffic by improving your WordPress SEO. When internal pages are preloaded, visitors are more likely to stay on your website longer and view more pages.
Preloading links can help speed up your website, and it's a simple process.
Be careful how you set up preloading- if your settings are too aggressive, it could have the opposite result and even crash your server. For example, if all your internal links are preloaded, that could be a problem.
So, how do you preload links in WordPress? Just follow these simple steps.
Add Preloading Links to Your WordPress Site and Make It Loads Instantly
If you want to make sure your website's links are preloaded quickly and smoothly, use the Flying Pages plugin. It intelligently ensures that preloading won't crash your site or slow it down. And this plugin will stop if any problems are detected – it makes you worry-free to use this clever plugin.

First, you need to install and activate the plugin. Once activated, navigate to Settings > Flying Pages in your WordPress admin dashboard to configure the plugin settings.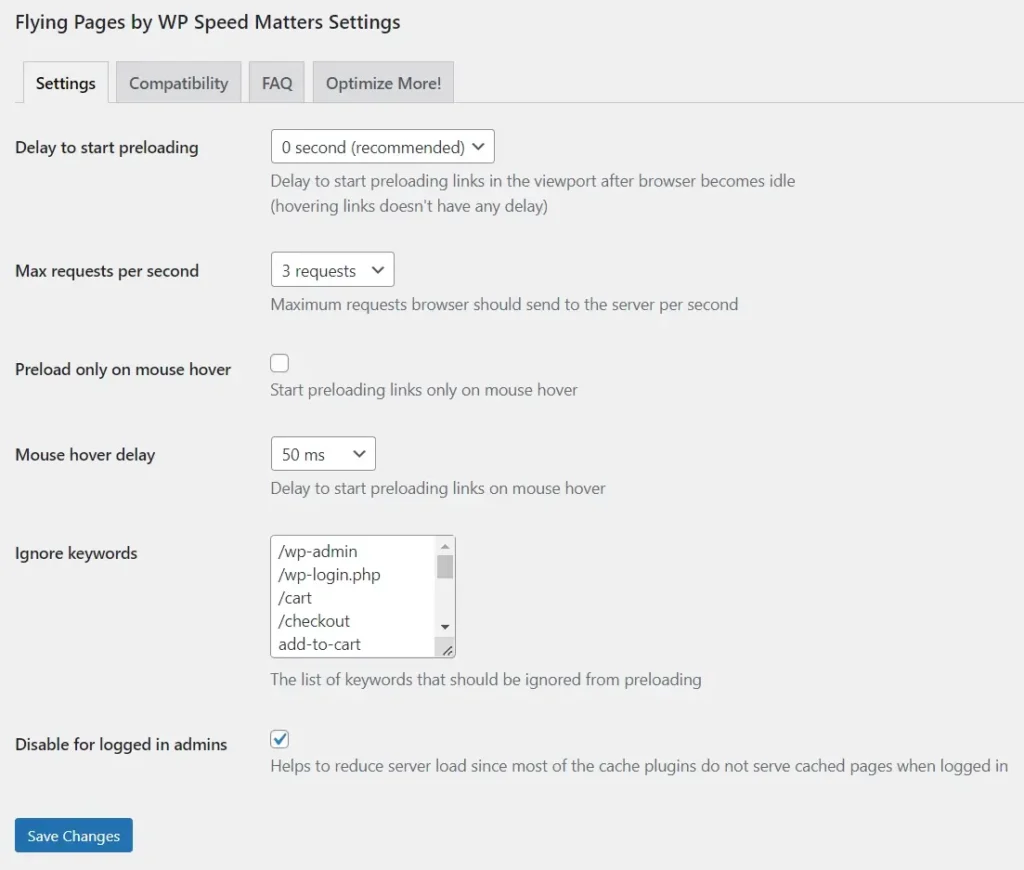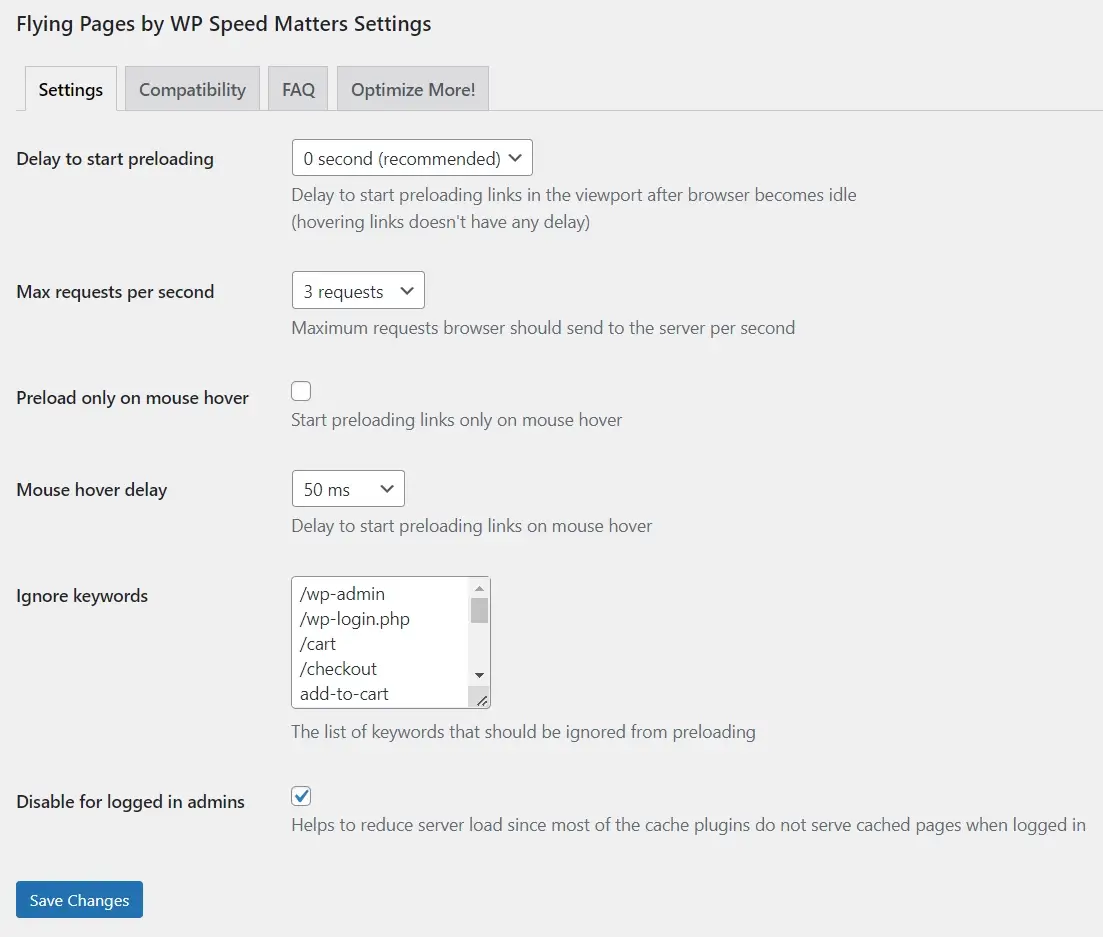 Then, you'll need to set the Delay to start preloading time in the drop-down. If your mouse isn't moving in the browser window, this is the delay to start preloading links. You can change this, but the default recommended setting is 0 seconds, so let's keep it.
You can change the Max requests per second setting to lessen the impact on your server. The default of 3 requests should work for most WordPress hosting setups.
After that, you can tick the box to Preload only on mouse hover. This setting will ensure that the plugin only preloads links if a user hovers over them – which means the page will be preloaded just before they click.
This intelligent technology makes the perceived load time nearly instant. There's a delay when users bring their mouse over a link and click it. For example, move your cursor over a link. Typically, there will be about 400 milliseconds of lag before you actually click it.
You can also set the Mouse hover delay. This is how long it will take for a user to hover over a link before preloading starts.
You can leave the list of keywords or add more if you like. When preloading your site, the plugin will ignore these standard login pages and image files.
If you're running an online store, add pages like /cart and other dynamic pages to your list of excluded URLs. Otherwise, they'll preload and slow down your site.
If you're using affiliate marketing, you must add your affiliate prefix to this Ignore keywords list. Otherwise, it can break the affiliate link tracking feature.
You could disable preloading for admins if you want. I think it's a good idea to do that. This will help reduce your website's server load overall. Just check the box if you only want to preload for visitors who aren't logged-in admins.
Done? Great! Just click the Save Changes button at the bottom of the page, and you're good to go.
You tried all those expensive WordPress caching plugins and subscribed to highly-priced managed WordPress or managed VPS services. Still, you can't see your WordPress website loading within a few milliseconds? Have you lost all hope?
I have written How to Turbocharge Your WordPress Site in 4 Easy Steps guide to help you cut down your hosting subscription cost and make your WordPress website fly like a rocket.
Take these 4 easy steps and boost your WordPress website performance that it deserves. Then cut down on your hosting costs and see your SEO skyrocket.
Conclusion
If your website speed test score doesn't improve after configuring the preloading feature, that's normal; you shouldn't worry. Preloading links only speeds up the time it takes when your site visitors click on them, not how quickly your site loads the first time.
I hope this article helped you learn how to preload links in WordPress for faster loading speeds. If you liked this tutorial, we're sure you'll love our WordPress hosting service – it is very affordable and fine-tuned for performance! Check out our cloud-based WordPress hosting servers! They're really fast and reliable.