WordPress has a massive selection of highly customizable themes for your content management system needs. There are a variety of themes that can help you get the style and feel you want for your website, whether you're looking for a more formal look or a more casual one.
There are two types of WordPress theme providers: free and paid. Premium theme vendors are the ones who charge a fee. Those who have worked with WordPress for a while are aware of the numerous free theme providers available.
That being the case, what's the point of purchasing a premium theme?
Premium themes have many advantages over their free counterparts. The most significant advantage of premium themes is the number of features that are just unavailable in free versions. Premium themes have better and cleaner code, more functionality, and more outstanding customer service than free themes.
The most significant component of a Premium theme is its documentation, which explains its features and choices.
After you've decided to go with a premium WordPress theme, the next challenge is where to purchase it. You can get a wide variety of premium themes from various studios and development agencies. I've compiled a list of the industry's best developers and service providers to make things easier.
This is a carefully picked collection of suggestions. This is not, under any circumstances, a ranking list.
1 – Elegant Themes
Elegant Themes is the creator of the Divi theme and drag and drop builder. Do you know, 806,875 customers have already used Divi to create stunning websites.
You've never done something like this with WordPress before. More than simply a WordPress theme, Divi is an entirely new website development platform that replaces the regular WordPress post editor with a much improved visual editor. For both experienced and novice designers alike, it provides the ability to produce stunning designs with surprising ease and speed.
At Rovity, we are offering Elegant Themes utterly free along with our subscription. Even our website is built using the Divi theme.
2 – StudioPress
StudioPress, a company founded in 2007, has grown to become well-known for its sleek themes and cutting-edge functionality. You can filter the catalog by categories like business, enterprise, magazine, photography, real estate. Or you can filter based on features to help you find what you're looking for (color styles, custom header, HTML5 markup, responsive).
For every StudioPress template, the foundation is the Genesis Framework. Since they made this decision, consumers may enjoy advanced coding and innovative design architecture, which helps in Search Engine Optimization (SEO). The framework also helps to keep websites secure.
3 – MyThemeShop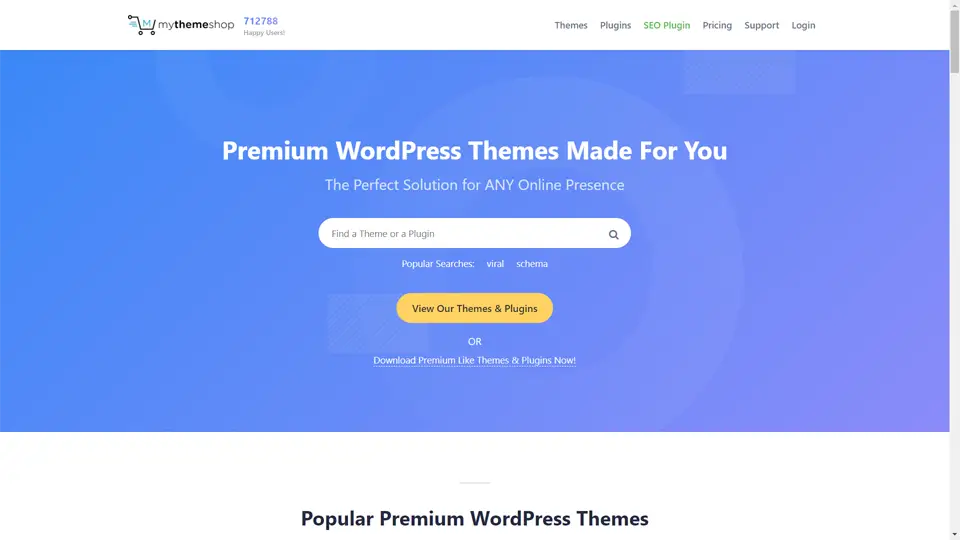 In the world of premium WordPress themes, MyThemeShop is a reputable name. They create high-quality, well-designed premium themes that you can use on a wide range of different websites. MyThemeShop provides consumers with a wide range of gorgeous and easy-to-use designs.
They are mobile-ready and responsive, providing outstanding customer service. Not only that, but it also provides website owners with exponential SEO visibility and rapid, scalable performance.
MyThemeShop is the creator of Rank Math, a widely used SEO plugin.
4 – TemplateMonster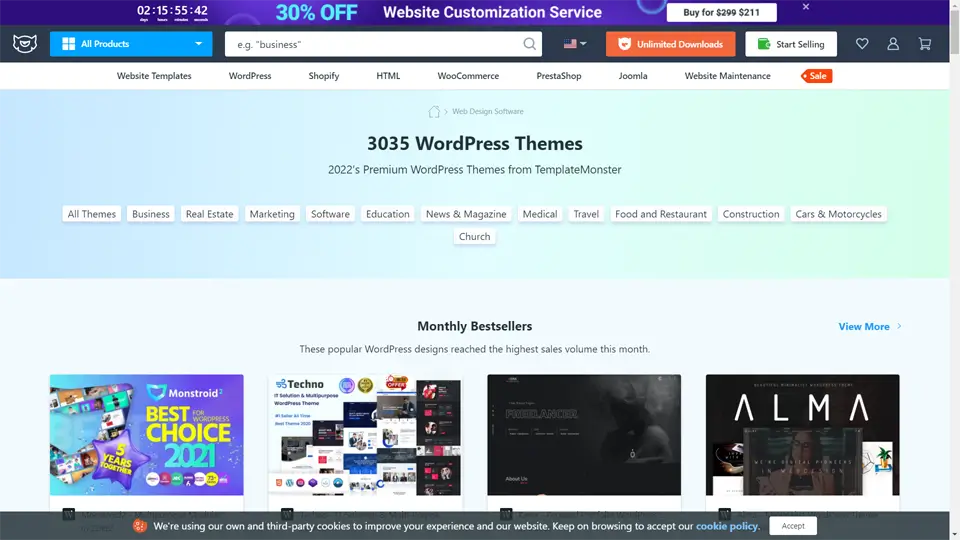 WordPress themes have been available from TemplateMonster since 2006. However, although it has been there for a long time, it is well-known for its trendy designs and excellent customer service
It has around 3,000 WordPress themes to choose from. Finding a theme that meets your needs in terms of functionality, aesthetics, and color scheme is a snap.
You may find high-resolution stock pictures in many of the themes offered by TemplateMonster.
5 – iThemes
iThemes give customers the ability to design their theme layouts. You have the option of using a pre-made style template or creating your own from scratch. Themes such as Parker, Klein, Anderson, Carter, and Jackson are worth trying.
iThemes categorizes its themes into four categories: mobile responsive, exchange, classic designs, and allure. You can customize the look and feel of your website with the theme of your choice.
6 – WPMU DEV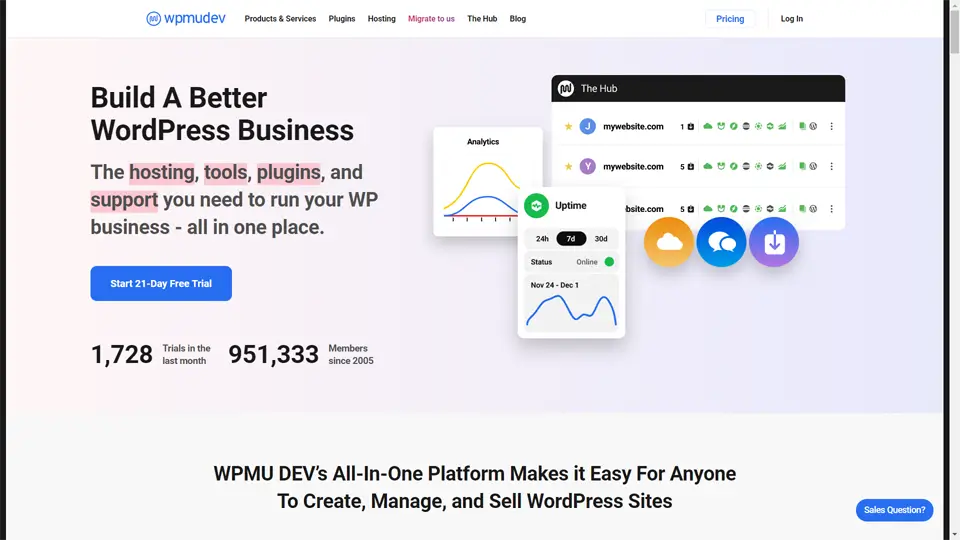 It's been ten years since WPMU DEV joined the WordPress family. It's a well-known name in the WordPress premium theme market because of its long history.
Their premium themes come with high-quality designs, easy-to-use features, and engaging layouts.
The innovative Upfront Theme Framework is the most popular product with many WordPress themes and plugins. This framework allows you to adapt theme templates to meet your specific needs.
Edits could be dragged around, scaled, and positioned in real-time as you made them. It's no secret that WPMU DEV is an expert in setting up WordPress multisite and integrating BuddyPress into the platform to boost your online presence.
7 – ThemeGrill
It's hard to miss ThemeGrill, a premium WordPress theme supplier known for its bright, eye-catching designs. Their themes are ideal for startups and businesses in the high-tech industry, and they'll leave a lasting impression on visitors. This includes responsive, configurable backgrounds, HTML5/CSS3 coding advancements, and more.
8 – aThemes
Since 2013, aThemes has been creating themes. More than 100k+ users have downloaded and installed their themes from a 10-person team that started out releasing free ones. To date, the Sydney theme from aThemes has been installed more than one million times, making it one of the most popular free WordPress themes in the world.
9 – CommerceGurus
Since 2014, CommerceGurus has been creating high-quality eCommerce and business themes that are attractive and functional. Fast WooCommerce theme Shoptimizer is their most popular product at the moment. From the Baymard Institute, the design is based on the most up-to-date eCommerce research. It's a fantastic choice for your next WooCommerce business because of its unique features, exceptional speed, and helpful support.
10 – WPExplorer
WPExplorer is an online retailer of premium WordPress themes that you may use for various purposes. WPML-compliant and WooCommerce-ready themes are available for purchase. They've broken the themes down into categories like business, e-commerce, environment, education, gaming, music, news, religion, etc. This will help make it easier to find what you're looking for. The majority of WPExplorer's themes are mobile-friendly.
11 – Theme Bullet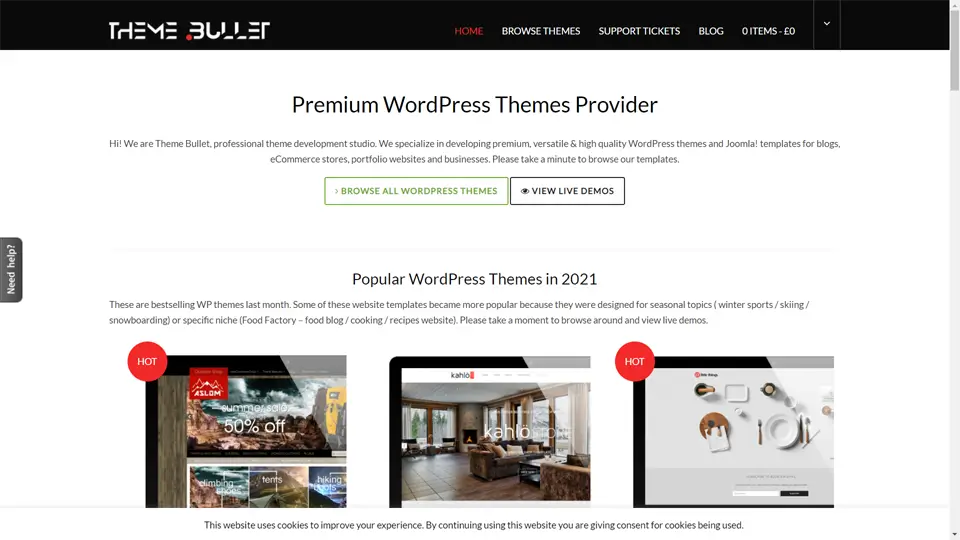 Theme Bullet's rise to prominence in the market hasn't taken long. They developed theme templates for blogs, e-commerce stores, portfolio websites, and enterprises. For example, Cattleya, Aslom, and Food Factory are all known for their adaptable designs or niches. It has a comprehensive theme options panel, unlimited customization, and unique designs.
12 – ProteusThemes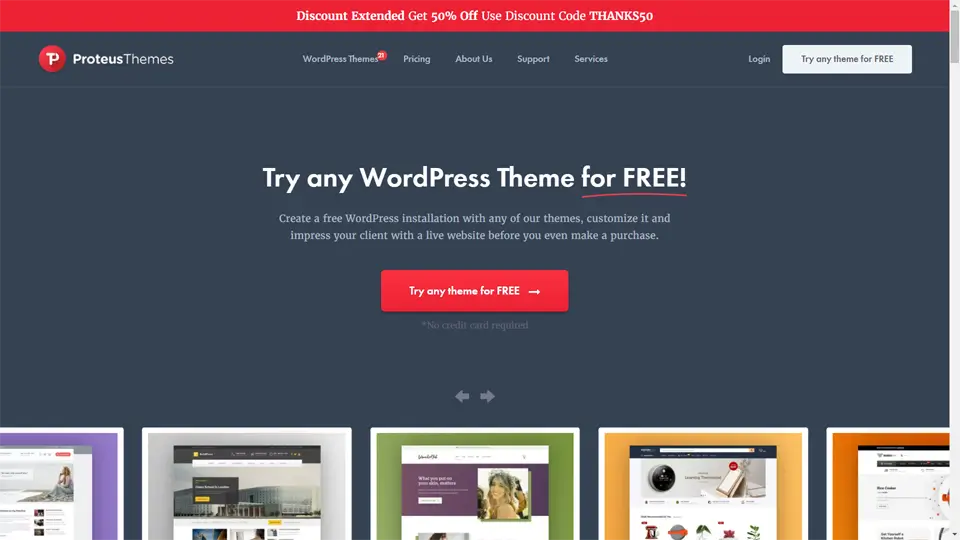 ProteusThemes is a WordPress theme developer for small businesses specializing in niche markets.
Their WordPress themes have a minimalist design that puts the user's needs first. They offer timely expert support and One-Click-Content-Import for a more straightforward start if something goes wrong. ProteusThemes' WordPress themes are some of the most SEO-friendly and fastest available in the market.
ProteusThemes is an excellent option for WordPress freelancers and aspiring web design businesses because of its low membership fee and more than 37,000 delighted clients.
13 – Colorlib
Colorlib is the WordPress theme for you if you want a well-documented, basic, clean, and responsive theme. With more than a dozen theme options, Colorlib's WordPress themes are among the most flexible on the market. They have been coded to the highest standards by WordPress specialists. Colorlib provides you with speed, ease of use, and error-free results.
14 – Themify
Themify entered the WordPress theme market in 2010. As a result, it has gained a reputation as a leading provider of high-quality premium themes. You may get a high-quality design for a blog, magazine or portfolio, or any corporate and e-commerce website here.
Their drag-and-drop builder is one of the many benefits of utilizing the theme, allowing users to create stunning page layouts and real-time previews. You don't have to touch a line of code to make changes to Themify themes. Instead, the website's appearance is being rebuilt using a styling panel that allows users to make all the adjustments they want.
15 – MysteryThemes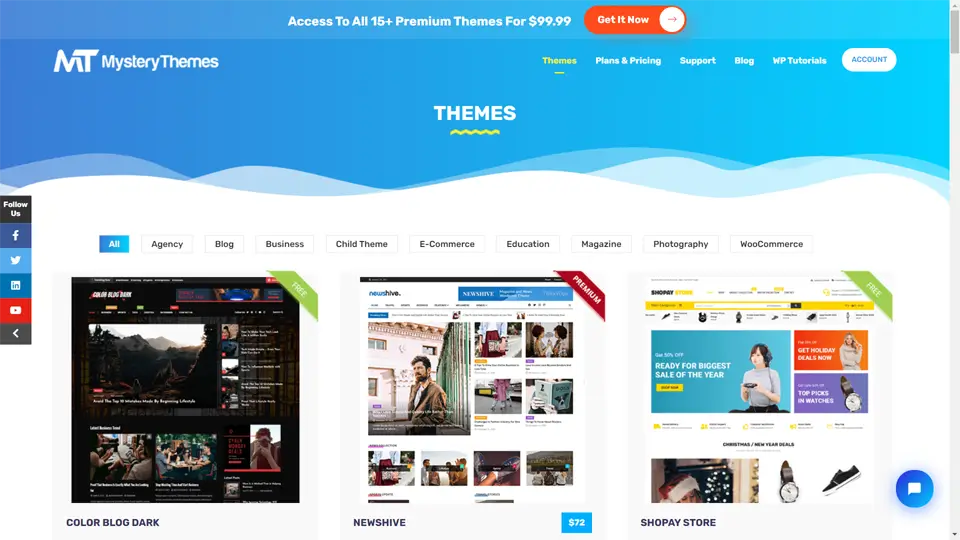 MysteryThemes is a theme creation company specializing in various niches, including business, magazine, and blogging. There are multiple themes available, with bespoke layouts, responsive design, and different additional functionalities to choose from.
16 – Theme Junkie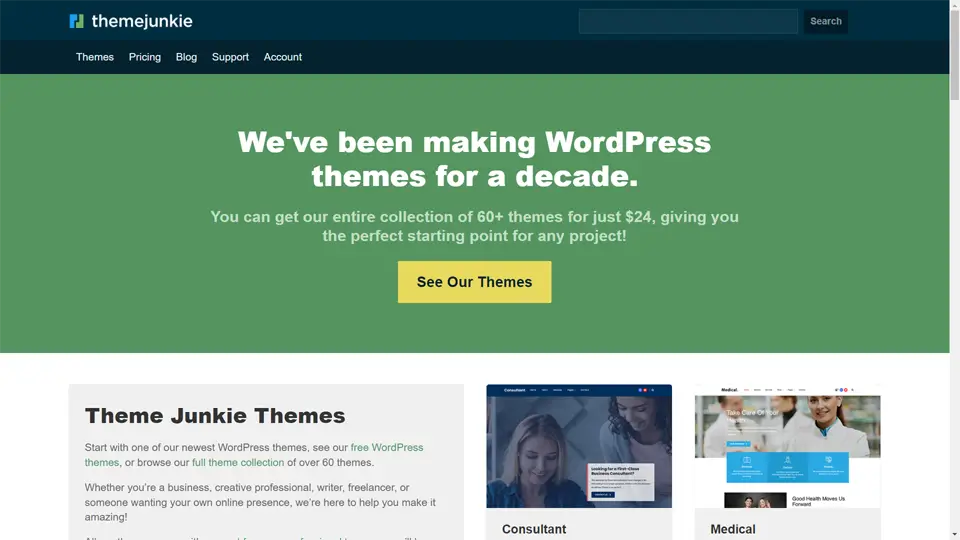 Business, creative, e-commerce, magazine, mobile responsive, and free themes are just some of the subcategories available at Theme Junkie. The best option for you will be determined by the type of website you need. You have the option of purchasing a single theme, which is more expensive, or a bundle package, which is less costly and more beneficial.
17 – Press75
Press75 provides high-quality WordPress templates that are incredibly user-friendly. Blog/Magazine, business, photo, portfolio, responsive, and video make up the Press75 WordPress theme library. It is possible to alter the background style, color palette, fonts, etc., of any theme to create a unique website. All Press75 themes have comprehensive documentation to make setup and customization a breeze.
18 – WPRealEstate
With WPRealEstate, you can choose from more than 60 premium WordPress themes that perfectly suit your needs. WPRealEstate is a modern WordPress theme and plugins crafted mainly for real estate professionals. You can enjoy a library of beautiful designs and manage property listings and agents.
19 – PremiumCoding
There are a lot of great WordPress themes to choose from at PremiumCoding, a well-known theme directory. There are many beneficial features and customization options available with PremiumCoding themes, primarily due to their clean codebase and extensive documentation.
A wide range of WordPress plugins is available from PremiumCoding. They keep their products up-to-date and regularly improve with frequent releases.
20 – Dessign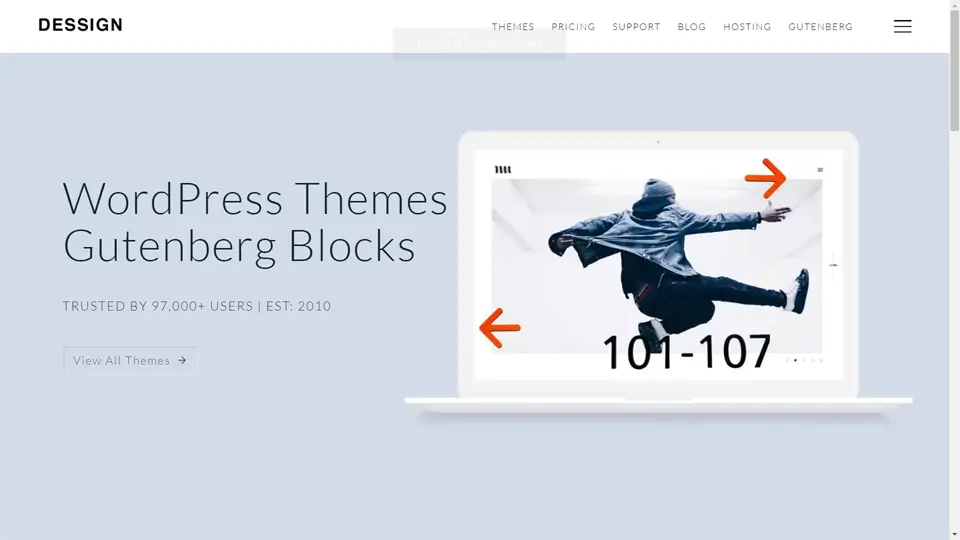 Since its inception in 2010, Dessign Themes has offered both free and premium themes to the creative community. In addition to SmashingMagazine, Mashable, Creative Bloq, Awwwards, and many others, design has over 97,000 users globally.
Simple and clean WordPress themes that are fast and optimized for search engine results are the main emphasis of this portfolio. It's much easier to make layout changes and additions with Gutenberg-compatible themes today than in the past.
21 – ThemeIsle
A total of ten different theme categories are available on ThemeIsle for customers to browse through. It was created by the same team who made the CodeinWP website. They prefer to refer to themselves as WordPress pirates in search of diamonds.
It would be best to go with ThemeIsle, the most outstanding alternative for a theme website with a solid WordPress foundation and good customer service. A high-quality WordPress theme with the exact appearance and functionality you desire can be created by uploading Photoshop files of your design.
22 – InkThemes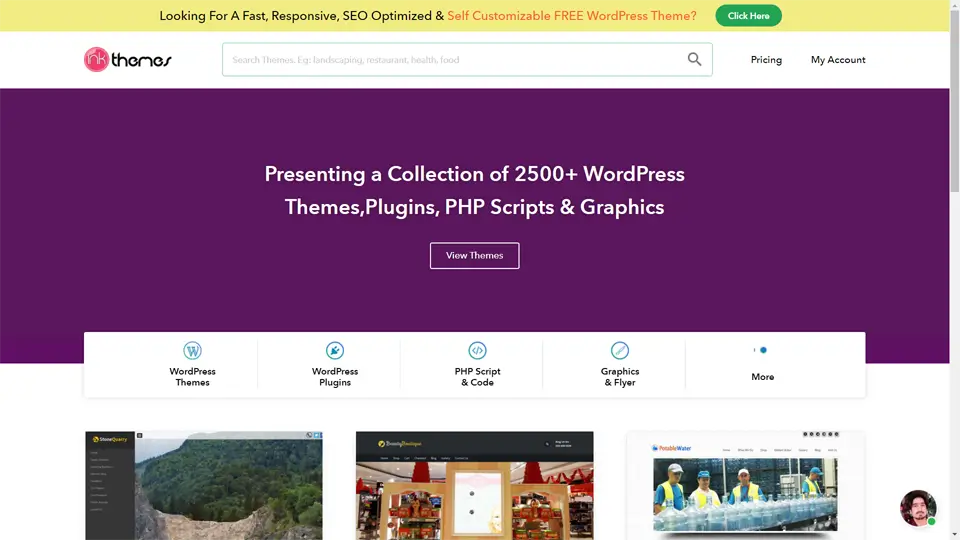 InkThemes is one of the most advanced marketplaces available for WordPress themes and more. There are more than 2500 premium WordPress themes available here. Their themes have become synonymous with high-quality and enticing designs over the years. The Colorway is their best-known theme.
If you're looking for a quick and lightweight Elementor theme, Colorway is your best bet! You receive 37+ fully customizable templates that allow you to customize every aspect of your website. SEO Optimization, WooCommerce Integration, Responsive Layouts, Advanced Addons, and more exciting features are also included in this package.
In addition to themes, InkThemes provides users with over 600 plugins and PHP scripts. The InkThemes directory has everything you need to create a robust website for any business.
23 – CyberChimps
Premium and free themes are available from CyberChimps for WordPress users, including the well-known Responsive Pro. You can purchase these WordPress themes from the site individually or as part of a Club Bundle. Small and large businesses alike can benefit significantly from using this WordPress theme.
24 – Brizy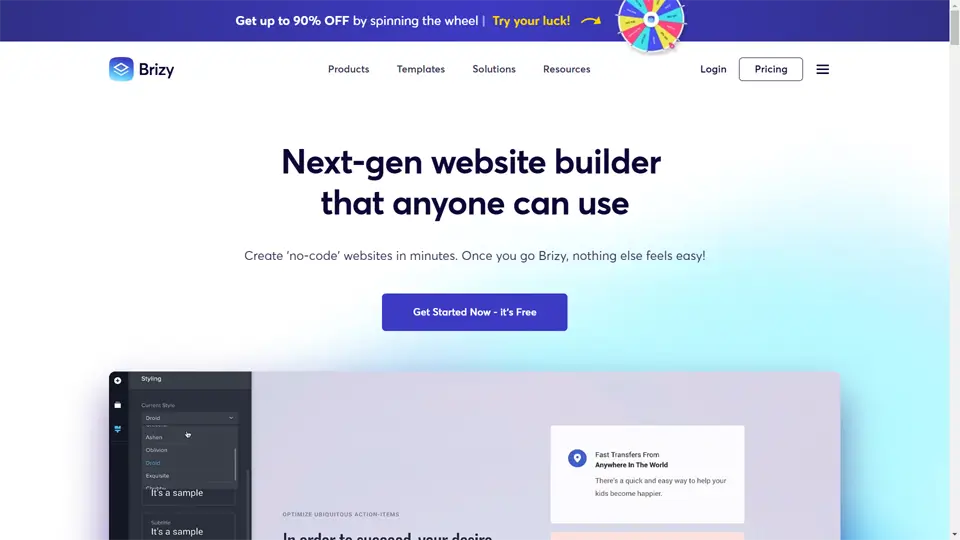 Brizy provides WordPress users with eye-catching designs. At Brizy, all themes have extensive features and a wide variety of usability options. There is a lot of power and ease of use in these features.
The TestLab feature of Brizy lets users test the WordPress backend admin to see if the theme matches their needs. This is a great tool. To have full support for your website, you need to purchase the premium package.
25 – Pixelgrade
Pixelgrade has been a design studio specializing in basic WordPress themes for bloggers, photographers, restaurants, digital agencies, and other small businesses for the last 11 years. Style Manager, an easy-to-use feature included with all of their themes, lets you change your website's colors and fonts with a single click.
Various pre-defined color and font palettes are accessible in the basic WordPress customizer. Still, you can also create your custom palettes using the tool. 60k people have purchased their products because of their unique designs.
26 – Catch Themes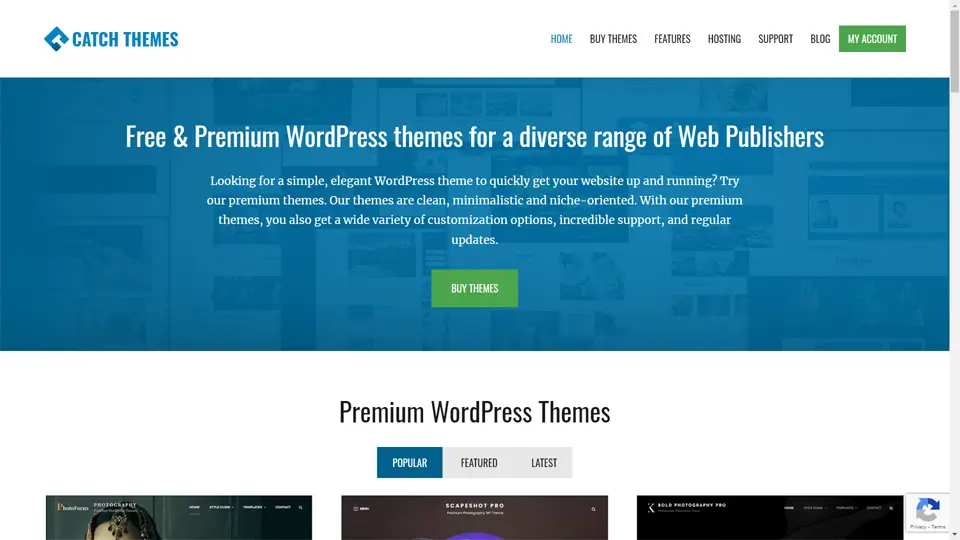 One of the most popular premium and free WordPress theme providers globally, Catch Themes is known for its minimalistic and content-rich WordPress themes. All themes are available, from clean and minimalist to rich and expansive, at Catch Themes, including corporate, blog, magazine, photography, music, and more.
In addition, it offers a wide variety of visually appealing themes with clean coding, excellent support, and modern web designs that are sure to capture your attention. A live Theme Customizer is included in every theme to make changes to your site and see how they look in real-time before you publish them. Regardless of whether you're using a premium or free theme, you'll be able to customize it to your heart's content.
27 – AccessPress Themes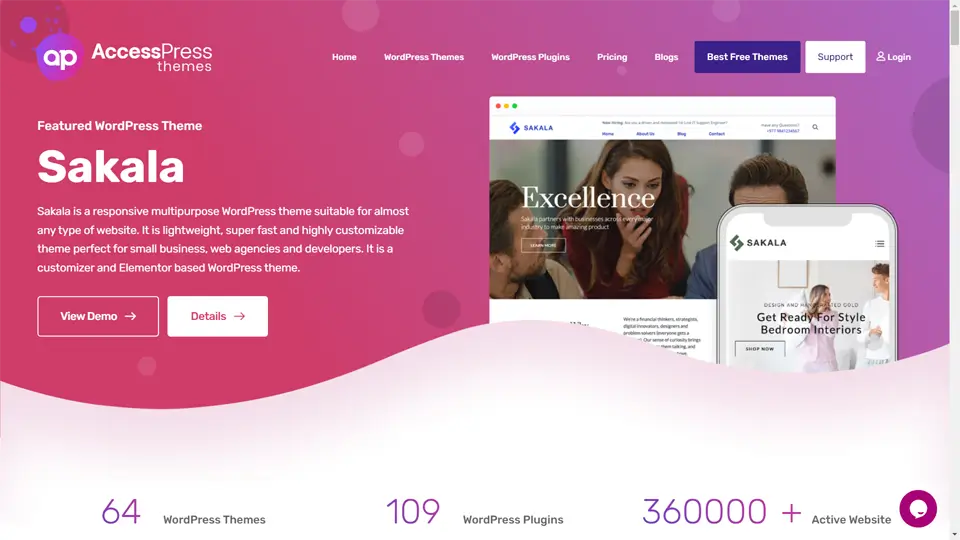 More than 50 free and 25 premium quality WordPress themes are available from AccessPress Themes. All themes are highly functional and feature the most up-to-date design trends and excellent performance and Search Engine Optimization (SEO) features.
AccessPress themes are known for their clean coding, compatibility with a wide range of plugins, responsive design, gorgeous and trending design, innovative layout and elements, etc. Many other aspects make them stand out.
There are 50+ free, and 50+ paid WordPress plugins to choose from, so you may customize your site to your liking!
28 – Obox Themes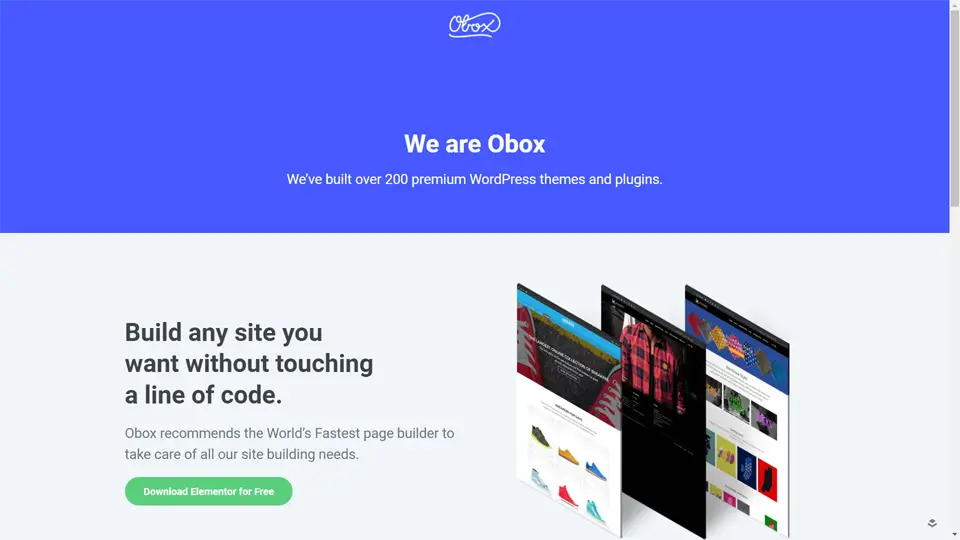 One of the best places to find premium WordPress themes is Obox Themes. This WooCommerce-ready template provider, founded in 2009, has built a reputation for providing sites with easy-to-use e-commerce designs. From e-commerce sites and blogs to personal portfolios, it provides services that go beyond the realm of e-commerce.
As a result of Obox's concentration on web development standards, the themes are extensively customizable. These themes have a visual appeal and may be utilized for a wide variety of purposes, making them appealing to a wide range of people.
29 – WPZoom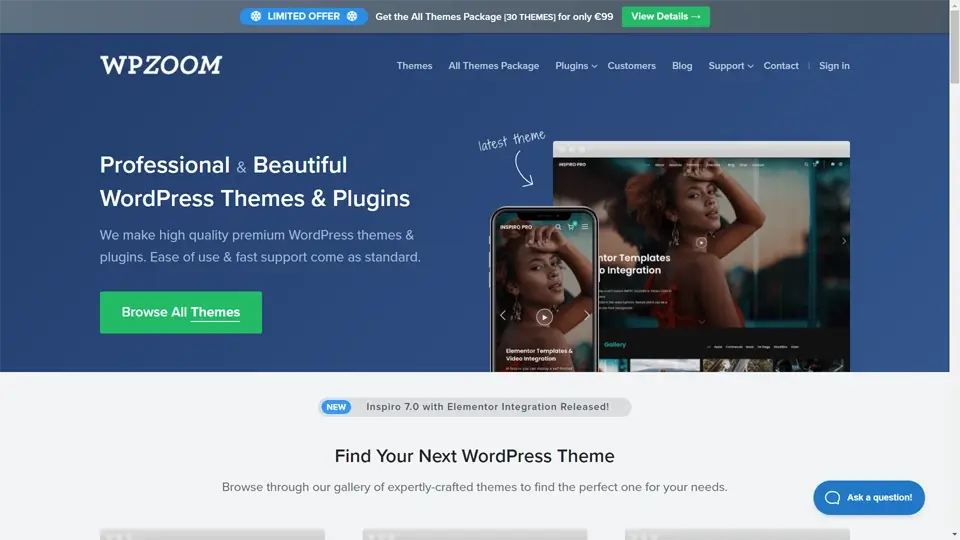 WPZoom is our final pick for a respected WordPress theme provider. 2008 marked the beginning of its existence. To narrow your options, you can sort by responsive, business, e-commerce, magazine/news, portfolio, or video, among other things. This makes it easy to find what you want.
Each theme is powered by the ZOOM framework and has an HTML5 & CSS3-based codebase, making it SEO-friendly. The options panel makes it simple to make changes to the design without writing or testing any code. One-click is all it takes to make changes.
Conclusion
Starting a blog is a huge decision, and choosing the correct WordPress theme for your site from the beginning is critical. It's often difficult to make a choice when it comes to WordPress-based websites because there are so many alternatives.
If you use the list provided above, you should find a premium WordPress theme that meets your needs while keeping up-to-date. Please leave a comment if you think I've missed your favorite premium WordPress theme developer.
If you like Elegant Themes and are interested in hosting your WordPress site on Rovity's cloud servers, then you can get it for free. We offer a Free Divi theme builder with all of our subscription plans.