This tutorial will learn how you can let anyone access your WordPress account quickly and safely.
You don't need to provide your admin username and password.
They can access securely with a simple self-expiry link.
Why Do I Need to Provide My WordPress Admin Access to Someone?
There are many situations when you need to provide your WordPress login credentials to an external person or company.
You have installed a WordPress plugin or theme. But this theme or plugin is not working as expected. So you have contacted the WordPress plugin developer. They asked you to give the admin access to your WordPress dashboard.
You hired an SEO agency to validate your Content Marketing strategy. And they need to access your WordPress dashboard to perform their SEO audit.
A copy editor wants to access your WordPress and edit your pages and posts.
You hosted your WordPress website with us. You wanted to install the Divi Theme Builder and the Rovity CDN.
See, there are many use cases.
A Painless and Secure WordPress Login
But we have the fastest way to solve this problem. Easy and Secure login with a unique link!
How? Temporary Login Without Password plugin to the rescue.
Temporary Login Without Password WordPress Plugin
This Temporary Login Without Password is an excellent plugin for WordPress to solve this use case.
This plugin can create self-expiring, automated login links for your WordPress.
When your web developers ask for admin access to your site, you can give these links.
You can decide when the login expires, as well as the Role of the temporary account.
Login authorized just by opening the link. No password or username is needed.
Sounds interesting?
How Temporary WordPress Login Without Password Works?
Let us first install Temporary Login Without Password from the WordPress plugins directory.
For that, log in to your WordPress Admin Dashboard.
Click on the Plugins > Add Plugins.
In the Search field, type Temporary Login Without Password.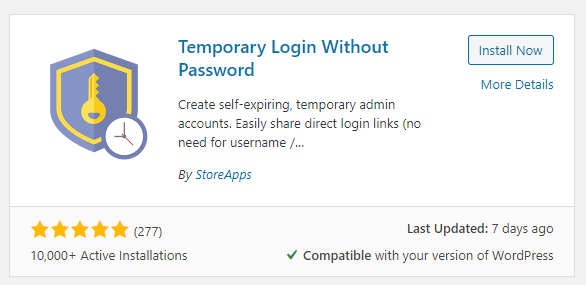 You can see Temporary Login Without Password by StoreApps listed.
Install and activate this plugin.
Once the installation finishes, you can access this plugin from Users > Temporary Logins.
Here on this Temporary Logins page, click on the Create New button.
I will take Rovity's Support Team as an example.
Let us now fill out the details.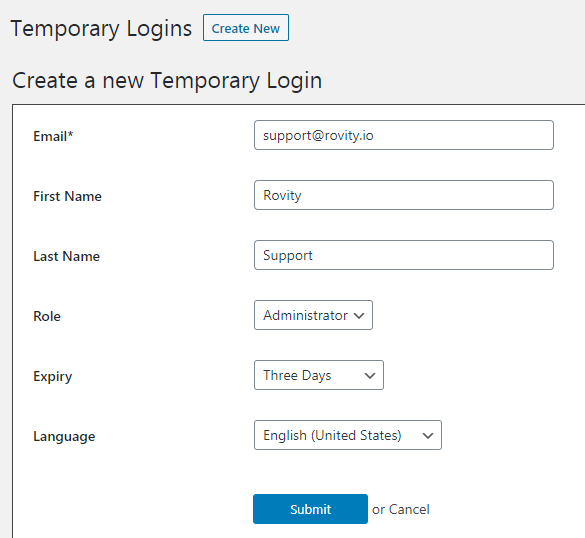 The Email Address, in this case, is support@rovity.io.
Type the First Name and Last Name as per your contacts.
Select the sufficient Role from the drop-down. The default selected option is Administrator.
For Content Editing work, the Editor access is enough. So choose the Role as per the necessity.
Set Expiry as per your requirements. Even if you give a short period or more extended period, you can always edit the access later.
You can terminate the link manually at any time.
Now click the Submit button.
Once the link is generated, you can see this screen.
Click on the Click To Copy button, and then you can share this unique link with anyone you wish to share the access to.
Once they logged in, then the Last Logged In data and Count get updated.
Under the Actions column, you have the options to Disable the link, Delete and Edit it.
Excellent, it is.
Have you tried this Temporary Login Without Password plugin?
Please share your experience with us in the comment box below.
If you enjoyed this tutorial, then you'll love Rovity, and our fast-growing premium shared hosting on the cloud. Check our subscription plans.