For your WordPress website, the theme you choose is essential to make your site more beautiful, highly customizable, and fast.
Are you bored with your current WordPress theme? Are you looking for a new awesome theme for your website?
Don't worry.
In this blog post, I will help you choose the best theme that your WordPress website deserves.
A great WordPress theme is highly optimized, reliable, and tuned for best-in-class performance.
That means more than bulky shiny elements, colorful patterns, and animations, a well-written code base, and performance-optimized features are also critical.
A visually appealing WordPress site theme is good enough to attract your visitors and their attention. However, it will have to perform better on Google search engine results pages. Otherwise, the Google algorithm will pull down your website into the internal pages of the SERPs.
There are thousands of well-written and well-designed WordPress themes available in the market. You have free WordPress themes and paid themes based on your customization requirements.
From these many themes available, choosing a perfect theme for your WordPress website can be very challenging.
In this blog post, I will explain the features you need to look for in your next WordPress theme and the factors you should avoid when choosing your theme.
So, let's look at 10 tips to help you find the best WordPress theme for your website. It will help you build a strong and beautiful foundation for your WordPress site.
Tips to Select a Perfect WordPress Theme
1 – Identify Your Priorities
Before looking for a new WordPress theme, you must understand your requirements.
So, please ask yourself and discuss with your team to understand the requirements of your website and business. This will help you better describe what kind of theme to look for on your site.
You can start by answering basic questions like your target audience and their intent on your site.
Are you looking to sell products and services using your website? Or are you building a simple blogging-type website? These questions serve as a starting point for defining your website requirements and its goal.
Once these relevant questions are answered, you can create a checklist for your website requirements. You can then prioritize your theme's potential features and other customization capabilities.
I recommend you visit your competitor's website and analyze how they designed it and what theme they used for the website.
As a starting point, this will help you list the best sections of your site that you like the most and brainstorm improvements you can make.
You will also have an overall idea of ​​adding features to your site.
Now add all these points to your checklist and make it more comprehensive.
2 – Which Is Better – A Free or Paid WordPress Theme
There are many WordPress themes that you can download for free from the official WordPress themes repository.
Suppose you need more than the free versions of those themes for your customizations and website requirements. In that case, there are thousands of premium WordPress themes that you can purchase from various marketplaces.
Often these paid WordPress themes have a high-quality code base and visually appealing design sets.
Generally, they are trustworthy as they have years of expertise in theme development and a reputation in the WordPress community.
However, you must understand that paid theme developers are sometimes not as good as they describe themselves. Their claims might be more false than what they intended to deliver.
Believe it or not, some free WordPress themes are much better than expensive paid themes.
Sometimes, you might not get the correct value for the money you spent buying a paid theme.
However, if possible and your resources permits, choose a paid theme. You will get better management features, trained technical support for theme-related issues, and primarily well-coded and ready-to-use layouts and templates.
On the other hand, even if you choose a popular free theme, you can still be happy because they are generally in sync with the latest coding standards. The code base is always up-to-date with security patches.
However, using a free theme will give you limited options to customize your website and make it your own.
Whether you are going with a paid or free theme, I recommend choosing the one that best suits your website needs.
3 – Responsive WordPress Themes Are a Must
Did you know that over 61.52% of all internet traffic comes through mobile phones globally? India has 76.82% mobile internet usage.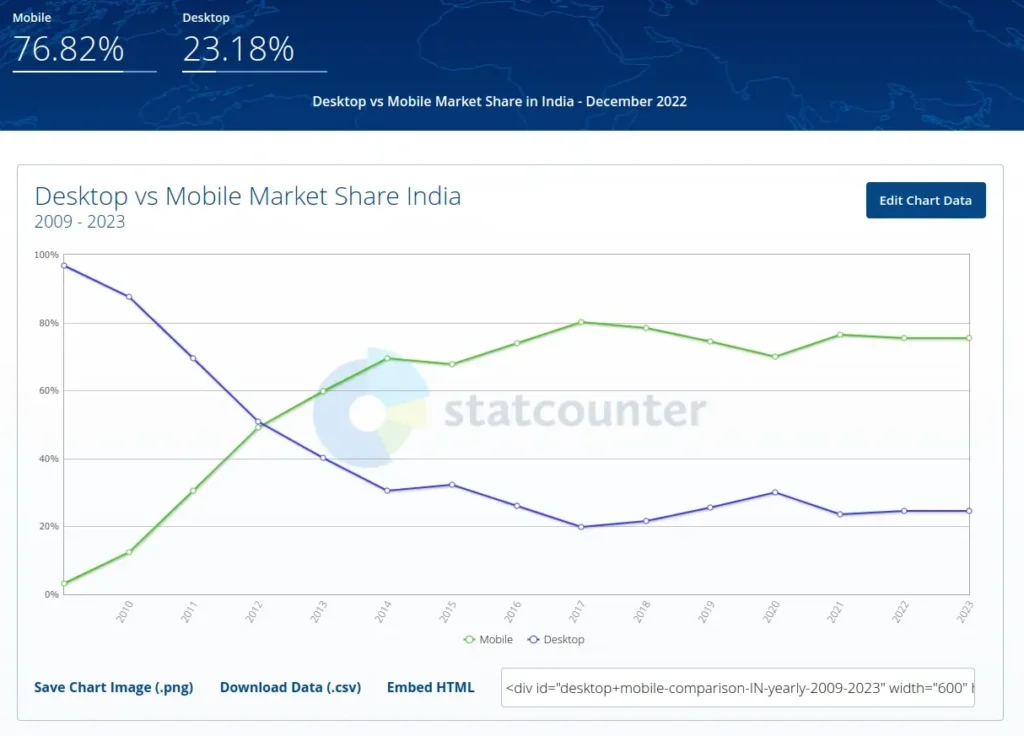 I hope most of your website visitors are using their mobile phones to visit your website. You have to consider this massive traffic and worry about your website's responsiveness and mobile friendliness.
So you must ensure that your WordPress website is optimized for mobile devices and computers.
Most WordPress themes generally offer built-in responsive design features that automatically adjust layouts based on the user's screen size.
However, I don't suggest you blindly trust the default settings and configurations of the theme and rely on it without checking things.
Whenever you make any configuration or layout changes to your website, you must ensure everything is working correctly. For this, you need to check the site comprehensively.
You can test your new WordPress theme on different browsers and mobile phones to ensure everything works well across different screen sizes.
Google uses its mobile-first indexing strategy for all websites by default.
This means that Google will use the mobile-first version of your website for crawling and indexing rather than going directly to the desktop version to fetch and index it.
This will help Google understand your mobile-first preference and the data published on your website. Unfortunately, imagine your WordPress theme needs to be more responsive; it is not fluid enough to adapt to any screen. In that case, your domain name's search engine results page position will drop dramatically.
4 – Choosing a Customizable Theme Is Important
If you've searched deep and you're lucky, you might have found a WordPress theme that looks perfect for your website. This theme may contain almost all categories, layouts, templates, and other visual elements.
Even if you have found the perfect theme you are looking for, you need to customize the layouts to make the website unique and yours. It would be best if you unleashed your creativity to make your site stand out from similar websites that look identical to yours.
If that's you, choose a WordPress theme with maximum customization.
An excellent customizable theme will always allow you to customize the templates the way you want. You can change the color scheme, adjust the layout, choose your font family, enable custom widgets, and perform hundreds of other customization possibilities.
Depending on your niche and customer base, you can go even further by enabling a dark mode feature for your website.
This will help your visitors choose their preferred mode between dark and light. Your customers and website visitors will thank you for this delightful addition.
5 – Plugin Compatibility Is a Must for Your Theme
WordPress plugins can play a significant role in the features and functionality of your website by adding tons of extra components.
So when you choose your WordPress theme, you always make sure that this particular theme will work with the WordPress plugins you already run and plan to use in the future.
Yes, most of today's WordPress themes are compatible with the most popular WordPress plugins. Still, some themes may have restrictions or compatibility issues with specific plugins.
For example, some WordPress plugins don't work directly with themes that use page builders. Please ensure that these plugins are compatible and work with the theme and builder.
6 – Look at the Theme's Support and Policy Section
Even if you are a skilled WordPress user who knows the ins and outs of plugins and themes, sometimes you need to contact the plugin or theme's support team.
Imagine you find an error in the theme and need to contact the theme's customer support for a solution. Then later, you came to know that they do not provide any support for their themes!
Most paid themes offer 6 to 12 months of free support and upgrades. Sometimes some theme authors provide an option to extend this support and upgrade validity for an additional fee.
However, you should check their support policy before purchasing a theme.
Free WordPress themes do not have official technical support from the developer. Some free themes offer technical support through the official WordPress community forum, which is very helpful.
However, you need to understand that most of the time, this is free community support.
Apart from that, if you want more features for your website that are unavailable in your theme, you will have to install any plugins.
As I said in the previous section, you must ensure that these plugins are compatible with the theme you are actively using.
7 – Read the Reviews and Ratings
Multi-star ratings and positive reviews are always strong indicators of any good product. The same applies to WordPress themes as well.
These ratings and reviews will help you, as a user, to understand the pros and cons of the theme you are about to install and use.
Fortunately, you can easily find reviews and recommendations for any WordPress theme. The repository of official WordPress themes and plugins offers a dedicated review section.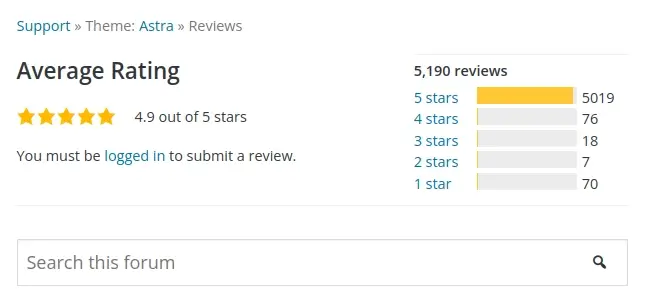 This will help you make an educated decision when looking for a theme or plugins. You'll always want to avoid low-rated themes and plugins and opt for higher-rated ones instead.
8 – An SEO-Optimized Theme Is Important
Sadly, many people need to consider this feature and select a theme based on it. However, it can help and add tremendous value to your marketing efforts.
Did you know that your WordPress theme can significantly affect your digital presence?
If your WordPress theme is well-coded, it will help search engine crawlers to identify the content and to know about your overall website. It will help you rank better on search engine result pages.
I understand that it is complicated for you to analyze the theme's code base, mainly to check if the theme is SEO-friendly and highly optimized.
Many theme developers will list these features in their information section. So, always check and choose a lightweight, SEO and mobile-friendly theme that can load quickly.
Speaking of SEO friendliness, you can improve your SEO scores and further optimize your WordPress website with a dedicated SEO plugin like Rank Math.
9 – Review the Theme's Update History
It is always crucial that you choose a constantly updated theme. The WordPress core team is always releasing new features and security patches.
So if your chosen WordPress theme is not up-to-date, it will not be able to help you get these latest security and performance improvements. If so, you're inviting security threats and performance bottlenecks to you and your website visitors.
A best practice is to look for a theme that receives security and performance updates at least once every three months.
This three-month time limit is a perfect sign and gives you more confidence that you are not using anything that has outdated.
10 – Simplicity Is the Key to Success
When choosing a WordPress theme, you might come up with a theme that has flashy, stylish elements. This may seem like the answer for your website.
Remember that more animations, jumping layouts, and heavy design elements can make your site slow and laggy.
So, always make sure that your theme is simple and allows you to do a lot of customizations so that you can play around with the theme configurations and settings. Again, this will enable you to unleash your creativity to stand out.
However, I am not saying that you should limit your creativity and look for a minimal theme that can be less customizable. Always look for something that is lighter and offers more customization features as well as performance optimizations.
Imagine if your website is loaded with heavy elements, animations, and other fatty media assets. Then your audience may need more aid and time to take the action you wish. They will wander back and forth on your site without taking action.
So make it simple, accurate, easy to understand, easy to read, easy to navigate, and easy to take action on.
What You Should Avoid When Choosing a WordPress Theme
You should know what to look for in a perfect WordPress theme.
But do you know what to avoid? I've got you covered and have some tips to help you avoid falling into traps.
Avoid Bloated Themes
A bloated theme has many unnecessary features that you will never use but are part of the theme's core files.
With so many components and features, it might look good, and you might like it. But this will definitely harm your site's user experience and overall performance.
By now, you know that a poorly optimized website will definitely affect your speed, and that will lower your ranking. This will also negatively affect your conversions.
Avoid Themes Without Tech Support
Imagine you installed your theme and found a bug or technical issue that messes up your design and other aspects of your website. You need to contact the official customer support team to help you out.
What if the theme author doesn't offer you tech support? You are helpless. You can't do anything else now.
So, avoid themes that do not provide technical support – no questions asked. Don't even think about it.
Of course, you can always get help from the official WordPress community forum and other community groups. But that might not help with the bug you found in the theme file. It's unfortunate for you.
Avoid a Non-Accessible WordPress Theme
Choosing a WordPress theme built with accessibility in mind is crucial. An accessible website can help your audience with special needs and make their journey through your website more memorable and enjoyable.
Although the theme developer may have tagged the theme as accessible by default, I recommend you check it and verify it.
Optimized for screen readers, a color picker with contrast ratio, keyboard shortcuts, and dark and light mode switching are some of the accessibility features.
Summary
Slow-loading, bloated and unpredictable themes are a huge problem for your website and visitors.
Poorly coded website themes can be very destructive regarding cost, user experience, and site functionality. That can make it challenging to test them without breaking your site.
You can now search for a perfect WordPress theme for your website, business, and customers by reading the tips I mentioned in this blog post.