Do you need a simple, easy-to-use hosting control panel to manage your websites? DirectAdmin could be the right solution for you.
Here in this article, I am going to discuss everything you need to know about Directadmin.
Before I jump into the details, let me tell you.
The best hosting platform for a site offers reliability and performance. It can be configured to meet the website owner's needs.
Directadmin is one of the most popular web hosting control panels available for web hosting servers. It has been a popular web hosting control panel among many hosting companies.
Let's now take a deep look at DirectAdmin, a feature-rich, easy-to-use, and highly customizable hosting control panel.
What Is DirectAdmin?
DirectAdmin is a modern, robust web hosting control panel that you can use to manage your shared hosting or dedicated server. DirectAdmin is an excellent tool, and it's fast and easy to use.
It has many features that make it an excellent solution for all kinds of hosting environments, from shared hosting to VPS and dedicated servers.
The software gives you access to all the features you would expect to find in web hosting control panels. Features such as phpMyAdmin, MySQL, SSL, web server configuration, SSH, and email server configuration are readily available.
It gives you complete control over your server. It's simple, spontaneous, and easy to use for both Admins and Users. The DirectAdmin hosting control panel is considered to be one of the best among its competitors.
Directadmin Features
DirectAdmin is a web hosting control panel that allows you to manage all aspects of your website. It's built on solid LAMP stack technology. You can use it to manage user accounts, databases, email accounts, domains, DNS records, security, and more.
It's packed with incredible features. Let's now dive into the highlights of DirectAdmin.
DirectAdmin Is Easy to Use
When you manage many websites and domains, it's crucial to have a control panel that is simple to use.
DirectAdmin is the perfect control panel because it is easy to use and provides a clean, efficient interface that accommodates both beginner and advanced users.
The interface is highly customizable to fit your needs. It also gives you a lot of flexibility and provides options for users of all levels.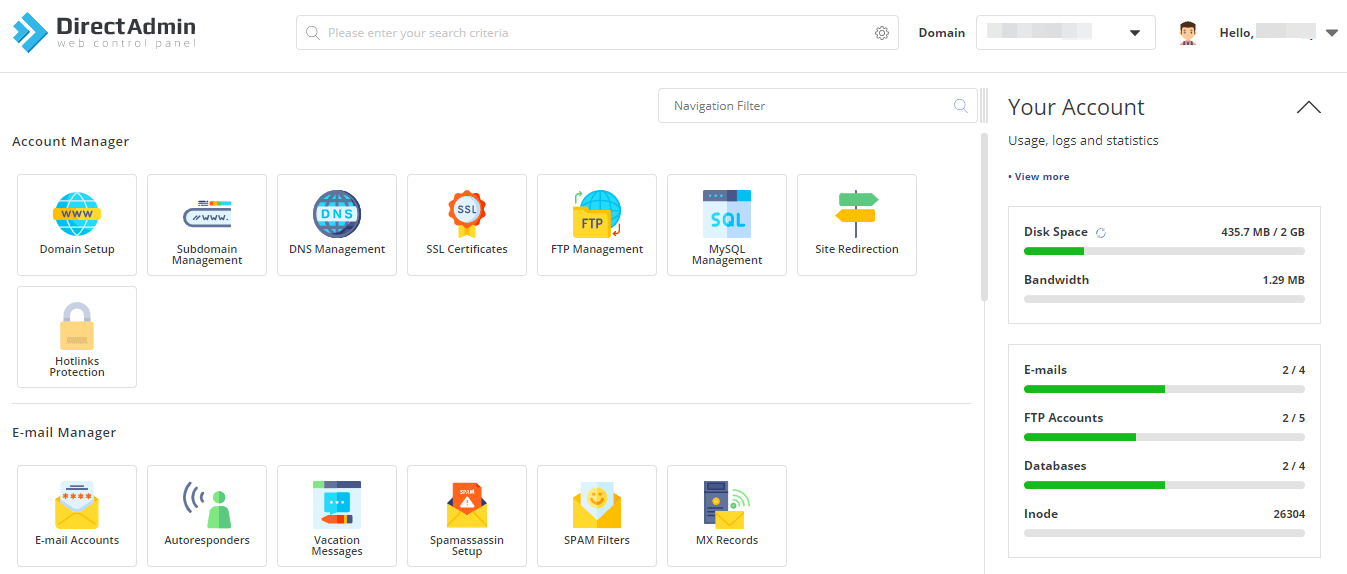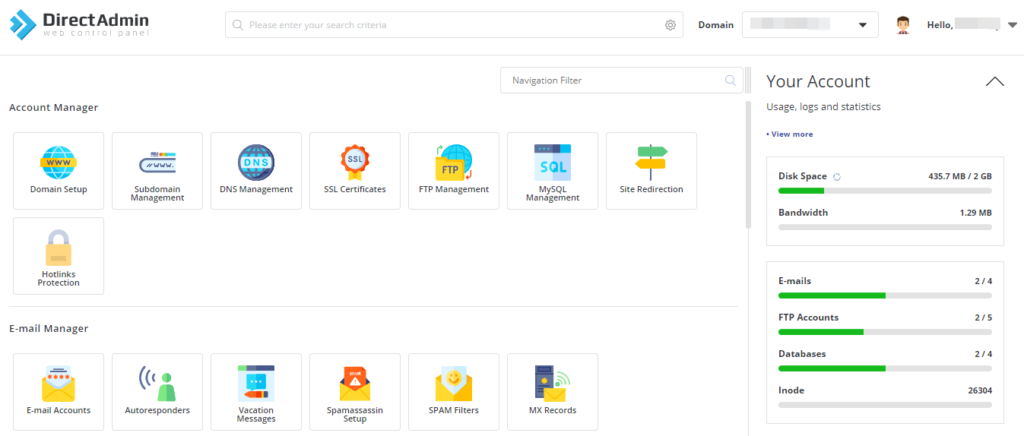 Beginner users will find the interface easy to understand, while advanced users will appreciate the backend's flexibility and control.
The User Interface is clean and efficient and provides a great deal of flexibility for everyone from beginner to advanced users. The UI helps you to manage the hosting server, websites, email accounts, and many more.
Directadmin Is Faster
DirectAdmin is simply an extremely efficient control panel that requires the bare minimum of system resources to host your website. That makes managing your web hosting accounts a breeze.
DirectAdmin is the fastest and most efficient control panel you will ever use. It's ideal for low-end VPS units to heavily-loaded dedicated servers.
Unlike some other control panels, DirectAdmin doesn't require any particular configuration or dependencies to work, making it perfect for hosting environments of all shapes and sizes.
It's one of the reasons why Rovity can offer such high-quality hosting. Yeah, Rovity uses DirectAdmin to manage all of our servers. And we are so proud of that.
Directadmin Is Reliable and Stand-alone
DirectAdmin was developed with reliability in mind. It automatically restarts services if they crash or freeze, so you don't have to worry about whether or not your server will be down in the middle of the night.
DirectAdmin also has a built-in monitoring system that will send you email notifications whenever something goes wrong with your server.
DirectAdmin is an entirely stand-alone control panel. That means you can install it on your server without having to modify any of the server's configurations.
Administrators are free to upgrade/downgrade services, libraries, etc., without fear of breaking the control panel. This is a significant difference between DirectAdmin and other hosting control panels.
Unlike other control panels, it doesn't have the extra bloatware that most other control panels include. I've been using DirectAdmin for years now, and it's easy to use and set up.
I have used both cPanel and Plesk in the past, but both are full of technical jargon and complex configurations.
This makes DirectAdmin a good option for anyone who needs more control over server permissions or needs a more secure control panel.
Directadmin Employs Cutting-Edge Technologies
DirectAdmin uses cutting-edge technologies to deliver the best possible hosting experience. It takes advantage of PHP's latest advancements, databases, and web server, to provide us with the fastest and most reliable hosting available.
DirectAdmin also has a flexible API that allows you to create custom scripts that work seamlessly with your hosting account.
I will now list a few technologies and software DirectAdmin utilizes.
Database Servers
MySQL 5.5/5.6/5.7/8.0
MySQL is an open-source relational database management system used by many companies and organizations for storing and retrieving data. It is the world's most popular open-source database system, with users running it on the web, in private clouds, and on-premise.
MariaDB 5.5/10.x
MariaDB is the fastest-growing open-source database in the industry. It's a drop-in replacement for MySQL and was built by the original developers of MySQL.
Performance is increased tenfold with added encryption support and master<->master replication.
WWW Servers
Apache 2.4
Apache is the world's most widely used web server software. It's also a massive open-source project that includes more features than any other web server. It is an excellent software for companies looking for a solid, scalable back end for their sites.
Nginx 1.15
DirectAdmin supports Nginx as a stand-alone server or as a reverse proxy of Apache. Nginx developers put the most effort into providing high concurrency, high performance, and low memory usage.
LiteSpeed Enterprise 5.x
LiteSpeed Web Server is a proprietary web server software developed by LiteSpeed Technologies. It is one of the fastest web servers in the world.
It also supports HTTP/3 and comes with advanced built-in caching tools that can boost your e-commerce business. At Rovity, we use LiteSpeed Enterprise Edition.
OpenLiteSpeed
This open-source edition of LiteSpeed Enterprise is another popular web server in the world. It benefits from all the same core speed, security, and stability features.
PHP Versions and Modules
For PHP, DirectAdmin has built-in support from PHP version 5.x to 8.x. Various PHP Modes like mod_php, PHP-FPM, FastCGI, and LSPHP are available to use.
Web Applications
phpMyAdmin
phpMyAdmin allows you to manage your databases via a web browser, which is great because you can work on your databases from anywhere you have an internet connection.


It can execute SQL queries and perform many administration tasks. It is cross-platform and cross-database management software.
Roundcube Webmail
Roundcube is a great webmail client that you can use to send and receive emails from your domain. It is modern, mobile-friendly, and easy to use. You or your users won't have any trouble figuring out how to use it.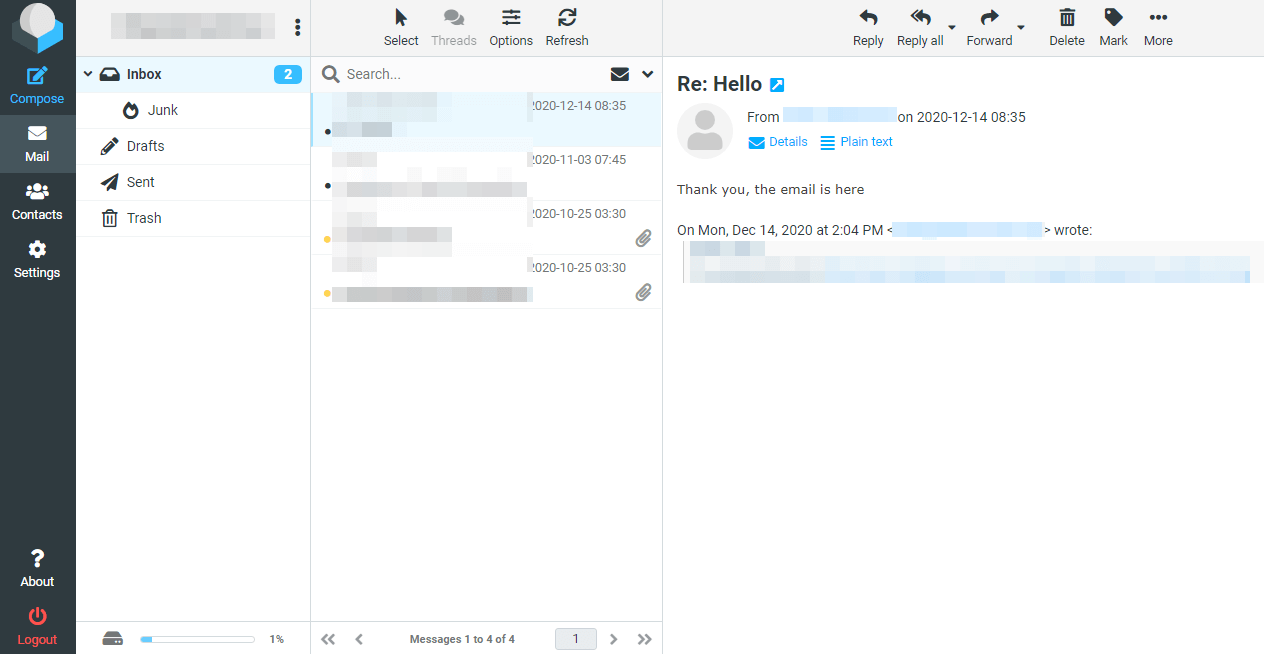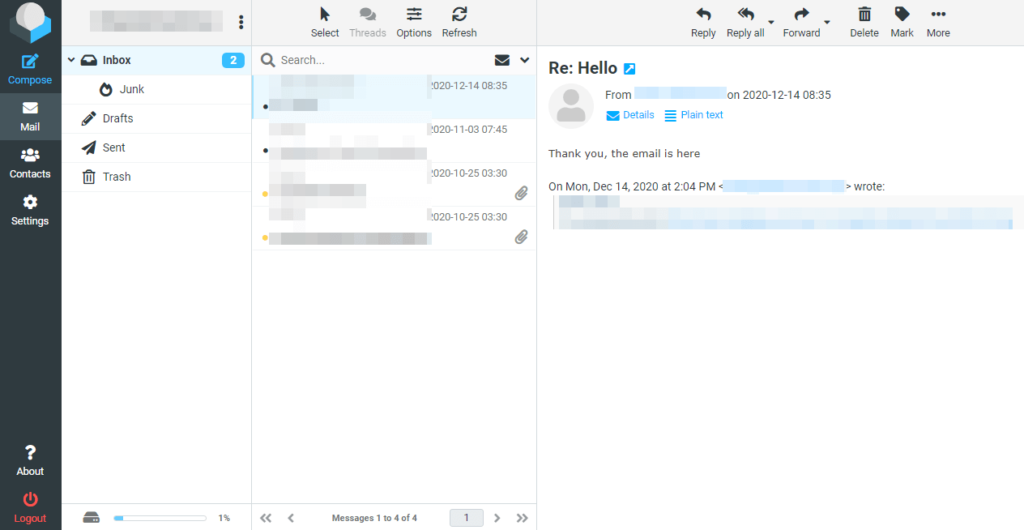 IMAP/POP3 Server and Mail Transfer Agent/SMTP Server
DirectAdmin uses Dovecot 2.x as its IMAP/POP3 Server. Dovecot is an email server developed with security at its heart.
Exim4 is a mail transfer agent (MTA). It is responsible for receiving and routing mail messages from one server to another server. In this case, it is receiving email from the internet and routing it to your internal mail server.
Anti-SPAM Solutions
Email spam is a huge problem, and it's getting worse.
To help your customers protect themselves from spam, you will need to use Anti-SPAM tools. You can use popular Anti-SPAM solutions such as SpamAssassin, Pigeonhole, Easy Spam Fighter, BlockCracking, and Rspamd to scan your incoming and outgoing emails.
Antivirus Software
ClamAV
ClamAV is an open-source antivirus engine that provides a high detection rate for viruses, trojans, malware, etc. It's a complete antivirus suite and can be used as a stand-alone scanner or a virus filter driver.
ClamAV is a low footprint tool, which makes its use in low-end machines as well.
FTP Server
It's crucial to have a highly configurable FTP server software because FTP allows you to control access to your site's files and folders.
Suppose you're dealing with a lot of files. In that case, you probably need a highly configurable FTP server software to keep everything organized.
DirectAdmin has two built-in FTP servers you can use; ProFTPd and Pure-FTPd.
File Manager
DirectAdmin has a built-in File Manager to manage all your files within the control panel. You can upload, download, create, delete, rename and edit files just as you would in your Operating System.
The GUI of the File Manager is modern, fast, and well designed. Thus, I often suggest to Rovity's customers to use File Manager instead of traditional FTP or SFTP.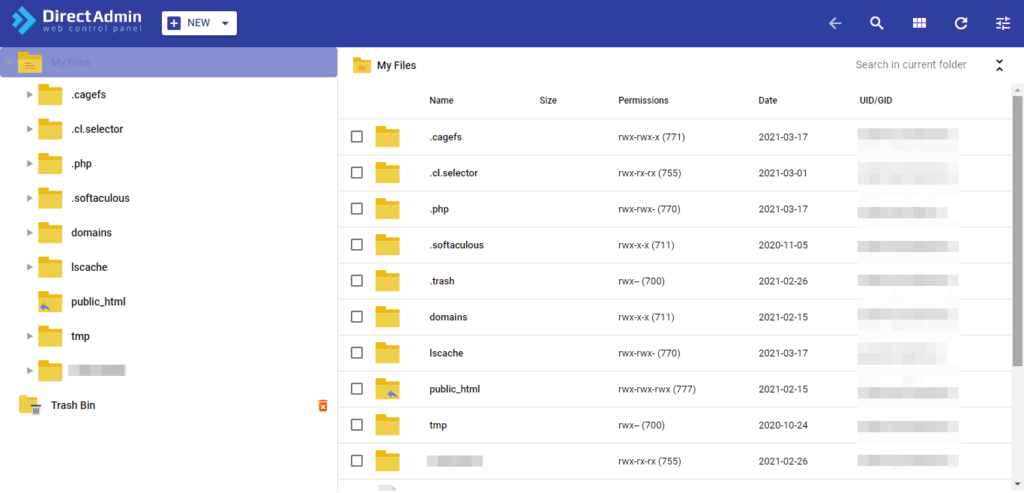 The File Manager also comes with a powerful editor. With this editor, you can directly edit your website files like HTML, CSS, JS, PHP.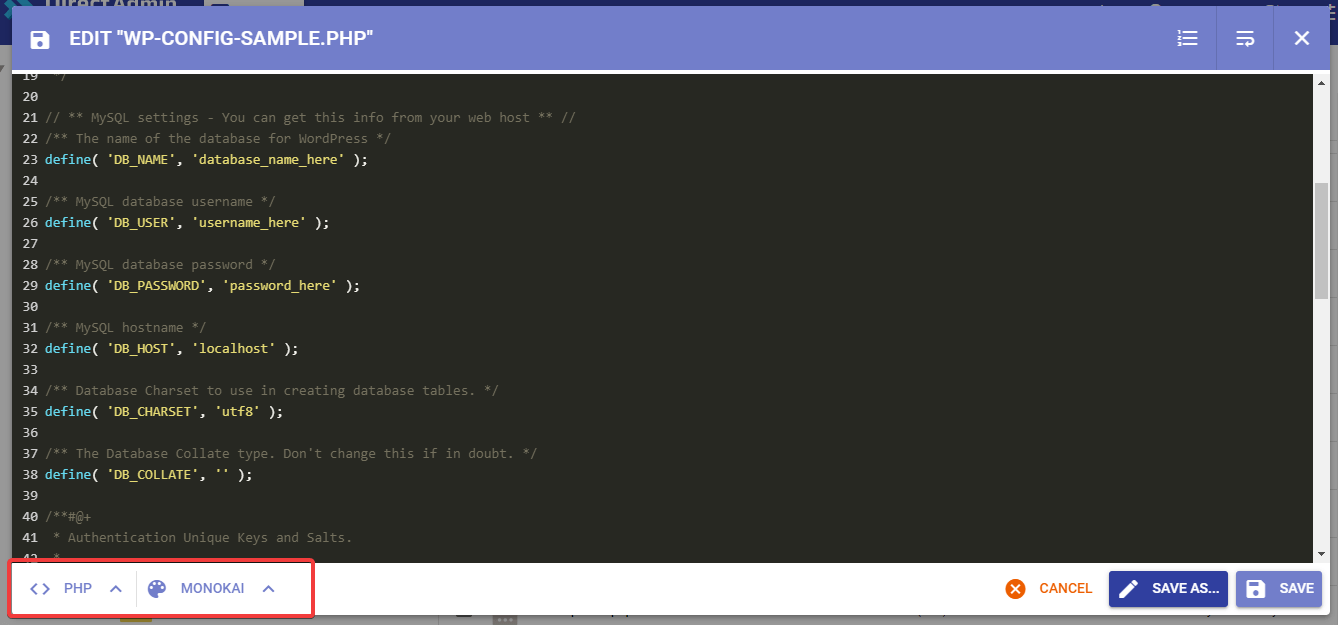 You can even have a dark mode and color scheme within the editor.
How to Access Directadmin Technical Support
Let's talk about the support system of DirectAdmin.
DirectAdmin is for everyone. As I said, you can use it as your own; you can be a reseller of any service provider. Or you can even have a shared hosting account with a company you choose.
Getting assistance for DirectAdmin-related issues is related to what service you are using.
Suppose you are subscribed to a Managed VPS. Then the VPS provider will most likely assist you with any issues related to your DirectAdmin account or the entire box itself.
If you are a reseller, the best option is to reach out to the reseller support team. I am sure you know where to knock.
If you are a shared hosting subscriber with Rovity, you can reach out to Rovity's friendly and knowledgeable staff. We will take care of you.
Anyhow, DirectAdmin's Forum is very active and friendly, where you can get help with your questions. The forums are always a great place to start looking for answers.
Otherwise, you can directly ask your questions to the DirectAdmin team and get help to troubleshoot your technical issues.
I have had to get support a few times from DirectAdmin, and the support team is excellent. They are friendly, responsive, and helpful.
They were very knowledgeable about the product. Unlike many other SaaS companies, you won't get canned responses from the DirectAdmin team. Their messages are always on point.
Summary
The features above I mentioned are high-level features. There are many options like Domain Management, DNS Management, Cron Jobs, which I did not list here.
DirectAdmin is the control panel we use at Rovity because of the excellent features I listed above.
If you are subscribed to our premium shared hosting plans, you will get a free DirectAdmin account. With that, you can manage every aspect of your domains.
Have you used DirectAdmin? Are you planning to switch to DirectAdmin? Or are you missing any features that are not available in the DirectAdmin? Let us know in the comments section.