What is Your WordPress Loading Speed?
Are you looking for a performance booster to see your WordPress websites loads in less than a second?
We are here to help you to achieve it.
Why Does Website Load Speed Matter?
Nobody wants to wait — that's the most sincere answer.
When the loading takes longer than three seconds, 40% of visitors abandon a website. – Kissmetrics.
The bounce rate on mobile devices even climbs up to 53%. That means half of your readers leave the site if it doesn't load fast enough.
If dropping visitors sounds dangerous already, wait until you see the other results affected by a slow website.
Decreases Website Traffic — as people don't like waiting, a slow loading site lower your overall traffic.
Creates a Wrong First Impression — slow loading time shows that you are not sincere in managing the site and the brand it serves.
Decreases Conversion Rate — Are you managing an e-commerce site? Bad user experience can discourage customers from ordering your products and services.
Hurts Search Engine Ranking — search engines don't prefer websites with slow loading time. There's a chance your site won't be ranking high enough in SERPs.
Make sure to take care of your site if you want to avoid these problems.
Factors That Affect Website Speed
There are so many internal and external factors that affect page speed.
Some of them you can optimise, some of them you can do nothing except pray.
Let us see some of the factors which we can control and optimise.
The Performance of Your Web Hosting Server.
If your web host performance is poor, there are not many things you can do. PHP version, hardware and network quality, server OS, web server software and other apps installed and a few others play a vital role here.
Optimise Assets Such as JavaScript, CSS, Images.
The more you optimise it, the better. These assets are responsible for 95% of the total weight of the page.
Themes and Number of Plugins Installed in Your Web Application.
If your WordPress website crowded with many plugins, then it will significantly impact the performance of your site.
Remember, one poorly written theme or plugin is enough to spoil the fun.
DNS and Latency.
The distance between your visitor and your origin server is critical for the fastest webpage delivery.
Are the most majority of the visitors to your website from India? But your server is in the USA. Then you are wasting much time in Time To First Byte (TTFB).
Closer your server to your customers the more faster it would be.
External Resources.
Third-party resources like tracking snippets, live chat modules would be a bottleneck to your overall page speed.
Now let us see how client-side factors that affect our website's performance.
The Internet connection speed of the customer will primarily affect the website loading time.
Installed tools like anti-virus, browsers and installed add-ons, the performance of the computer or mobile the visitors uses. These are a few factors that determine the speed.
How to Check the Page Speed?
There are many free popular performance analysis tools.
GTmetrix, Lighthouse, WebPageTest, Pingdom Tools are quite popular.
However, remember that these are tools designed to analyse various aspects of your website.
These tools help you understand the problems your website is having and how you can fix it.
These tools can simulate real-life scenarios, but checking a truly real-world test is something we must consider.
How to Check the Actual Page Speed?
Let us now check how fast is a website load to you.
To see this in action easily, we can use Page load time, a browser extension available for Chromium-based browsers.
Head over to chrome web store and install Page load time.
Once this extension finished the installation, you can see this tiny clock icon with the total time took to load any web page.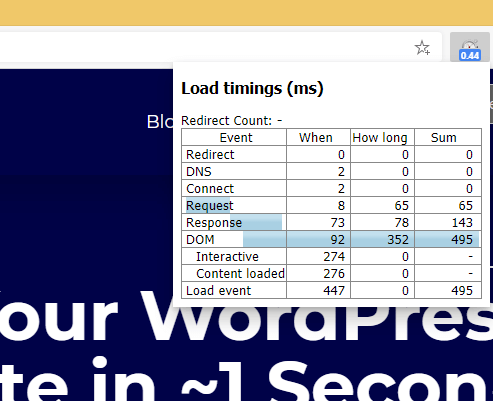 If you click on the clock icon, the extension then shows more about the load timings.
Here is video proof.
How Rovity Helps You to Load Your Websites in Less Than a Second?
You read it right. Rovity almost guarantees you a ~1 second loading time.
Here is how we make it real.
Rovity – WP Booster Plugin (FREE)
We offer a free Cache and Performance plugin for WordPress. Rovity – WP Booster Plugin can help you dramatically increase your WordPress website performance.
Our Rovity – WP Booster provides an intelligent, advanced caching system. You can even cache dynamic pages, AJAX request, and you can add exceptions (URL, page or content-based rules).
Page caching is working out of the box. It is compatible with WooCommerce and Cloudflare.
Page caching boost your performance, better SEO scores, and create a better User Experience.
Keeping your database clean is extremely important for speed. Rovity – WP Booster has a built-in Database Optimiser to maintain WordPress database.
It detects and clear expired transients, orphan and duplicated terms, metadata and attachments. Rovity – WP Booster also handles spammy/deleted comments.
You can also schedule every task. It has never been easier to keep your WordPress database clean.
Optimise the delivery of static resources is a crucial task for performance.
Rovity – WP Booster not only combines and minifies the CSS files but generates the Critical CSS for each page automatically.
Also, JavaScripts, including inline scripts, can be combined, minified, and move to footer without any conflict.
Large combined JavaScript files may still be a render-blocking.
This feature provides incredibly fast JS execution, improves SEO scores and User Experience.
You have to optimise your images to achieve the best performance. We provide a highly customizable, unlimited Image Optimiser.
You can set the desired quality, including lossless for each optimisation process.
And you also can resize and optimise uploaded images automatically.
We have an option to keep original images and compare them with the optimised ones.
You can also automatically generate WebP for every image and serve WebP for compatible browsers.
With Plugin Organizer, you can disable plugins on individual pages, and let plugins run where it is essential.
Plugins are a big part of WordPress. However, sometimes, not well-written plugins can cause performance issues.
With Plugin Organizer, you can set URL match, Frontend, Admin Pages to get the best results.
And Many More:
Browser Cache
Advanced Caching
Cache Preloading
GZIP Compression
Mobile Support
Intelligent LazyLoad
Robust Global CDN With 39 PoPs (FREE)
We have a robust CDN spread across 39 Data Centers globally.
We have carefully selected infrastructure providers in top tier datacenters for the best reliability and performance.
In most areas around the world, Our global network is reachable at less than 30 milliseconds away.
Get access to this vibrant network for FREE and have a blazing fast website next to your customers; wherever they live.
In India, we have PoPs in Bangalore and Mumbai.
How Can You Get Started With the Rovity – WP Booster Plugin and CDN?
You have to open a support ticket with us, and we will then install WP Booster Plugin and enable the CDN for your website.
Once we enabled both of these performance boosters, your website will start flying instead of loading; GUARANTEED.
So, what are you waiting for? Give it a try and see the real magic in action. If your pages don't load faster than your current shared hosting plan, don't worry. We offer 30 days money-back guarantee.
Dramatically Increase Your WordPress Website Performance
Outrank Your Competitors in SEO and Surprise Your Visitors With This Incredibly Fastest Experience.