I don't know about the rest of you, but I find the WordPress login page to be a bit tedious. It's understandable if you're asking yourself, "Does it matter how the login page looks?" All you need to do at this point is log in. What does it matter?
Allow me to demonstrate how wrong you are.
As you probably already know, WordPress is an open-source publishing platform and content management system (CMS). Almost anything can be altered, personalized, and refined down to the tiniest of details.
Regardless of whether you're working with WordPress's frontend or backend, changing themes, installing plugins, and customizing the look with CSS are just a few of the options available.
Color schemes allow you to alter the look and feel of your admin dashboard even when you're logged in. Change the order in which widgets are displayed or hidden.
When you look at the broad picture, the possibilities are unlimited, and you only need a little bit of determination, creativity, and vivid imagination to come up with something truly magical.
Let's go back to the login screen and see what's happening.
Isn't it nice to see a fashionable logo, a gorgeous background image, lively colors, or even a video when you log into your WordPress site?
It's also possible to brand and customize your login screen to your company's specific needs. White-label and rebrand the login screen and even the dashboard if you deal with clients and create a unique and memorable appearance.
Look at the below image. Anyone can identify that this is the default WordPress login screen.
Now, look at this image.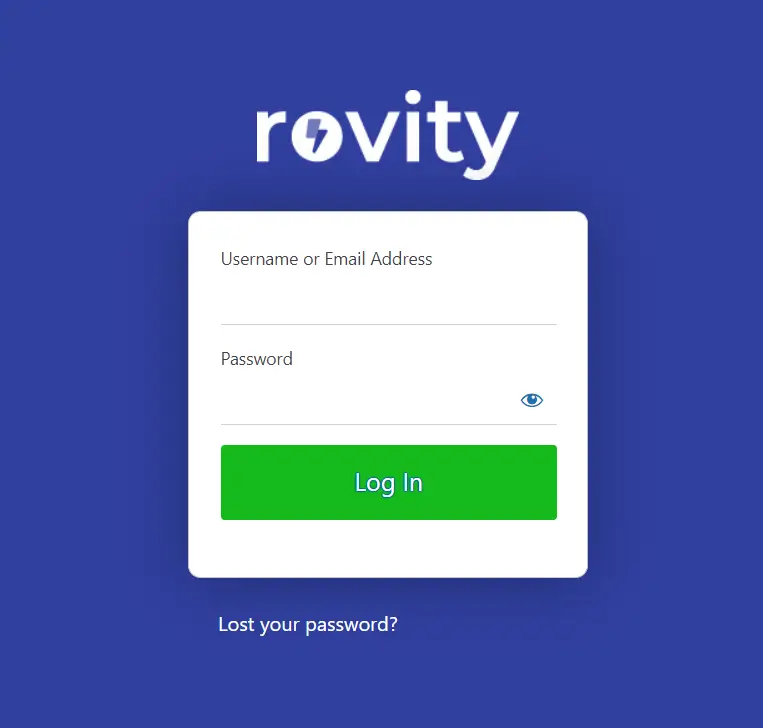 I don't think you will recognize it as a WordPress default login screen. You will indeed believe this is something else, some other content management system or web application.
Do you see the beautiful customization power and branding value here? I am talking about this, and I ask you to try.
When it comes to design, it's hard not to think of a memorable line by Dieter Rams:
Good design is making something intelligible and memorable. Great design is making something memorable and meaningful.
3 Free WordPress Plugins for Customizing the Login Page
The following free plugins may interest you if you want a personalized login page. Test different alternatives and play with the WordPress login plugins to find and design your striking login page.
1 – Custom Login Page Customizer
The first free plugin with a simple interface is Custom Login Page Customizer. Hardeep Asrani designed and built this plugin.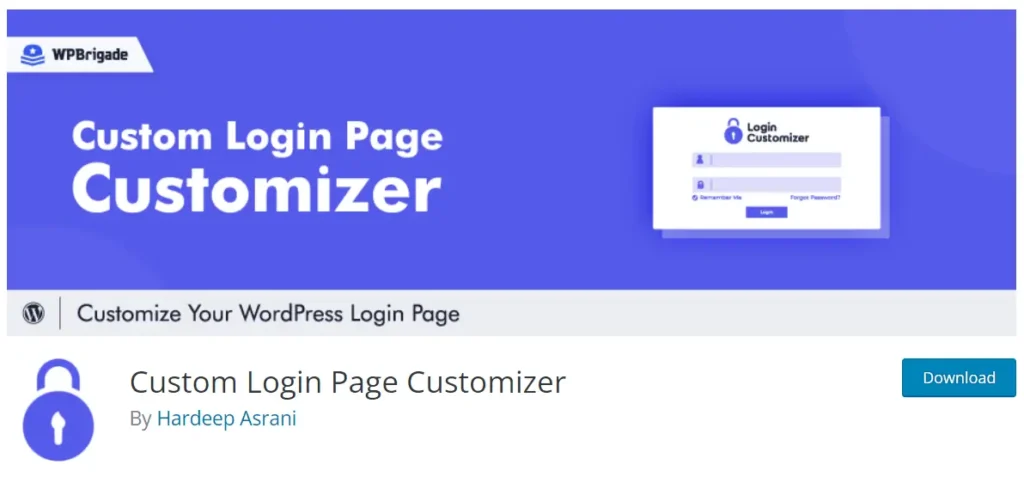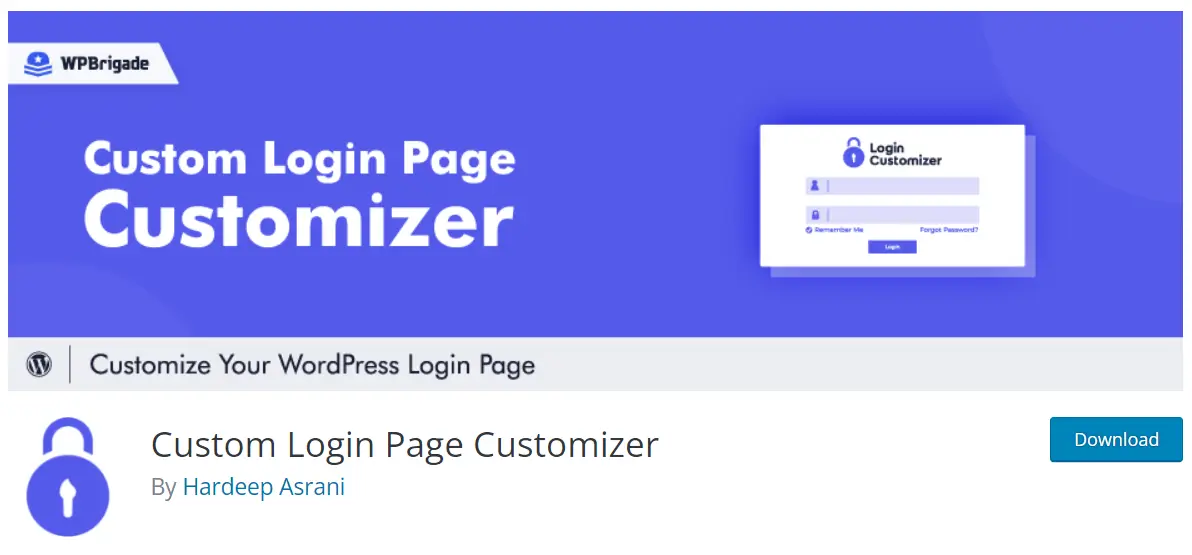 To see how this plugin works, click on the Customizer button.
Then you'll see that the plugin uses the WordPress customizer function, and in a few minutes, you will have a custom login screen.
Real-time adjustments and modifications are shown in real-time in the live preview. In addition to these features, the plugin includes a color picker, a unique CSS editor, and the ability to add your custom logo.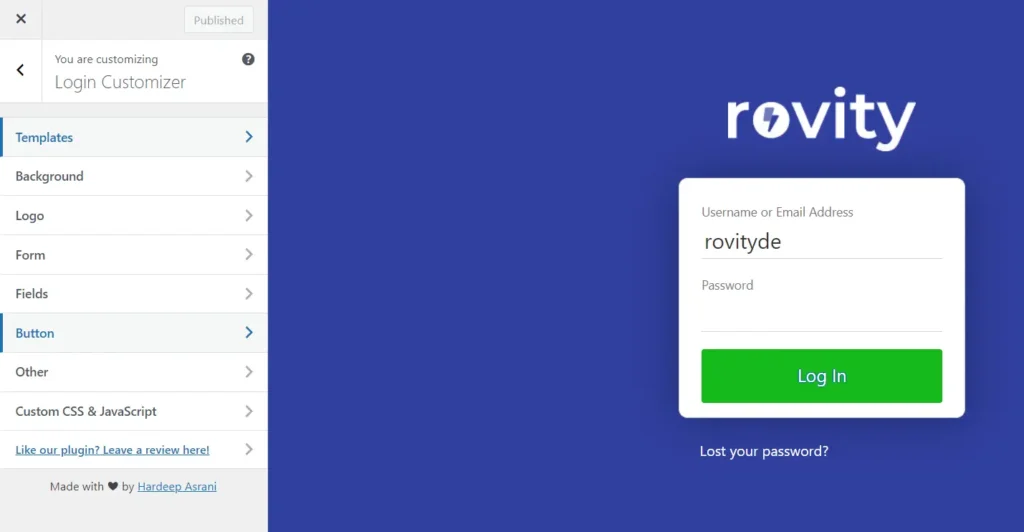 Using this WordPress login plugin, you won't have a problem creating a colorful or unique login page.
2 – Admin Custom Login
With Weblizar's Admin Custom Login plugin, you can completely personalize your login page. The plugin's dashboard is aesthetically pleasing and unique.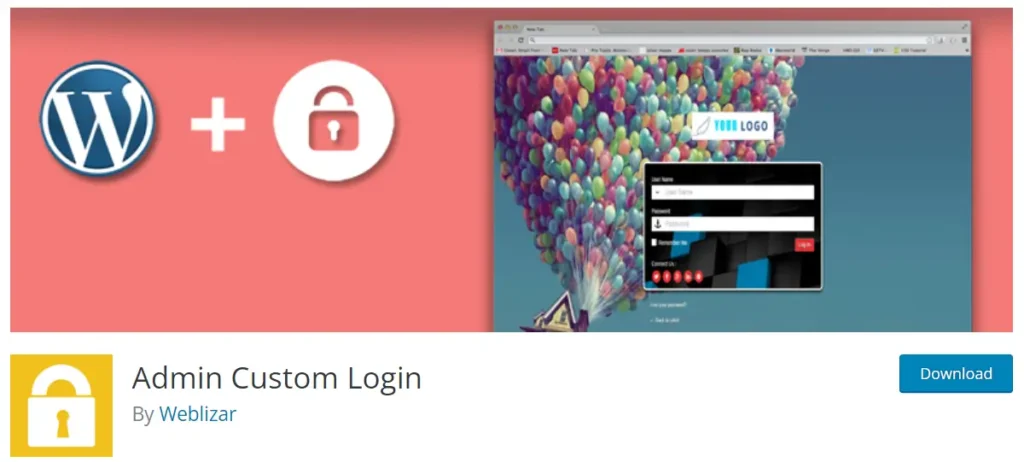 The features are self-explanatory, making them straightforward to use. And designing a stylish login screen doesn't take long at all. You've got three options for the background: a solid background color, a still image, or a slideshow.
One of this plugin's most valuable features, the background slideshow, comes highly recommended by many. This results in a login page that is visually stunning, remarkable, and simply awesome.
Add social icons to link your social profiles, slideshow animation, responsive design, Google fonts, and much more are all included in this plugin.
3 – Custom Login
Custom Login is a plugin that makes it simple to tweak the login page for your administrator account. Personalize your login page by adding your company's logo or your own to the login screen.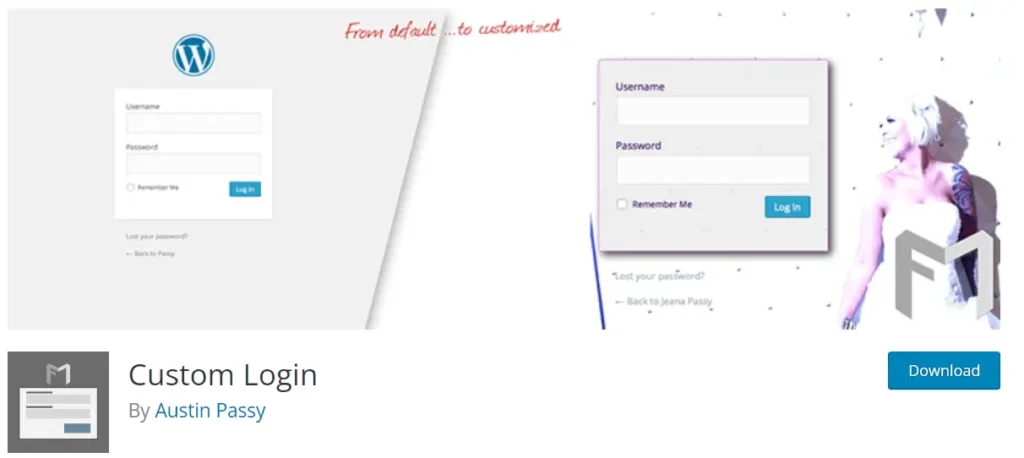 A few clicks are all it takes to get the Custom Login plugin set up, and once it's done, you'll have a far more spectacular login screen.
The plugin's features are custom HTML, CSS, and jQuery and the power to modify the background color and add a background image or logo. Additional extensions are available for purchase if you feel that the default functionality is inadequate for your needs.
Conclusion
In addition to the ones I've listed here, there are plenty of other free WordPress login plugins to choose from. For your WordPress website's login screen and page, perhaps they are just as good and helpful as those I've compared today.
If you don't like any of the plugins in the list, you can always try something else.
However, is a personalized login page essential? As far as I can tell, it's all about the details, and if you're going to make changes to your website, why not update your login page as well?
Additionally, your co-writer or clients will see a cleaner login screen when they login to your dashboard because you've customized it. These three free WordPress login plugins will help you improve your login experience and save time.
Leave a comment if you have queries regarding these plugins or if you know of any other useful tools.
If you are looking for WordPress hosting designed for performance, Rovity is a good option. When combined with a perfectly tuned server infrastructure, Rovity can provide many premium features right out of the box.
Please try it; I am sure you will enjoy it!