Here are the most popular Chrome extensions for WordPress users. These plugins can help you improve your site's functionality.
We all know that Chrome is the most popular web browser made by Google, but what else do we know? The fact is, we probably don't know that it's not just because it has a simple design or is easy to use. It also has a wide range of WordPress Chrome extensions and other useful tools that users can integrate. This makes it the best choice for internet users.
Chrome has the most practical yet excellent free add-ons for everyone. And this is perhaps the most compelling Unique Selling Point (USP) right now to convince internet users to install Google Chrome and use it as their primary browser.
Furthermore, over the years, WordPress-related Chrome extensions have contributed significantly to developing the most incredible possible user experience for both ordinary WordPress users and its developers.
With a vast repository of Chrome extensions that help us with our daily tasks, we can easily manage our WordPress multisite, blogging, SEO, and developer customization. Furthermore, the new features allow users to be more flexible and productive, making them more outstanding.
I've compiled a list of the best and most popular Chrome extensions for WordPress users. If you want to improve the functionality of your site while surfing the web from one platform, like Chrome, then you're going to love this list. Today, I will show you some of the Best Chrome Extensions for WordPress used by developers and people who want to use the site.
So, let's get started.
1 – Grammarly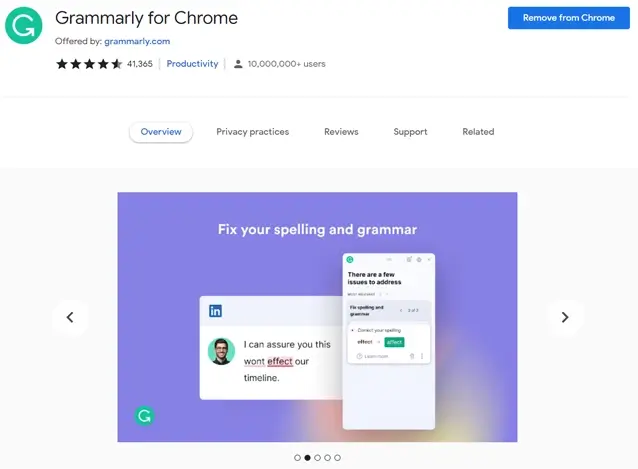 This excellent plugin is one that I enjoy using daily. There is no better plugin than Grammarly if you want to write and improve your writing abilities on any site. It also has a premium edition with more powerful sentence-creation features.
Truly an extension for the best proofreading experience for your on-site writings, emails, social media content, and more. It highlights frequent grammar mistakes and recommends the most acceptable correction to replace them as you write on your WordPress site or other writing platforms from Chrome.
So use it if you want to write better and error-free articles for your WordPress blogging site and beyond. And all you'll need to do is sign up and start working on improving your writing skills.
Download Grammarly Chrome Extensions Here
2 – WP Hive
WP Hive is a one-of-a-kind extension, an excellent addition to the official repository for WordPress plugins. It gives its customers unique insight and vital metrics that allow anyone to see a complete picture of a plugin available on WordPress.org. Once you add it to your Chrome browser, you'll be able to access crucial information and data about more than 60k plugins when you search for them on the official site.
You will be able to examine all of the helpful validation findings directly from your WordPress.org page. Several other things will also be shown when you install the extension. These include how much memory your site has and how quickly your site loads. It will also indicate how often the viewed plugin is updated, if any problems were found while testing it, or if it has a small database footprint.
This plugin is handy for anyone looking for some detailed and preliminary information on a plugin before deciding to download it.
Download WP Hive Chrome Extensions Here
3 – Google PageSpeed Insights API Extension
Google PageSpeed Insights API Extension is a helpful extension that allows you to test the performance of any page by clicking an icon in your Chrome toolbar. You can use it to evaluate and optimize the performance of your WordPress site.
When you click the icon, the extension will run a PageSpeed Insights test and display the results as a popup directly in your browser. There's no need to leave the page you're on.
However, one thing to keep in mind is that it only shows the performance data from PageSpeed Insights. It doesn't show other metrics like Cumulative Layout Shift, but the 4th extension that I'll show you can do that.
It provides results for both desktop and mobile devices. If you require more information, there is also a link to the entire report on the PageSpeed Insights website.
Download Google PageSpeed Insights API Extension Chrome Extensions Here
4 – CLS Checker
Google launched its new Core Web Vitals program in 2020, consisting of three user experience-focused indicators.
When you look at Core Web Vitals, many people pay attention to how long it takes your website to load. Another critical metric is Cumulative Layout Shift (CLS), which shows how often your website's layout shifts.
As an example of a layout shift, your text could be moved down as a late-loading ad appears. However, it might be challenging to pinpoint precisely what issues a page is experiencing because of style changes.
This is where the CLS Checker Chrome add-on comes in handy. This plugin tracks every layout shift on a page and displays the location where it occurred. You can use this information to troubleshoot layout shift issues on your WordPress site and increase your CLS score.
Download CLS Checker Chrome Extensions Here
5 – ColorZilla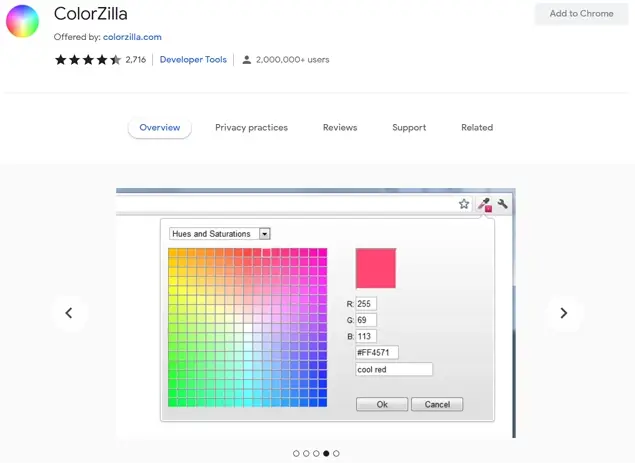 This Chrome extension is popular among designers and developers because of its ability to read color from any location in the browser. A user can change the color and utilize it in another program. Furthermore, the tool's eyedropper feature allows you to read any color coding on and off a WordPress site.
Some of the unique features of the extension include a history of the recently selected color, automatic copying of colors to the clipboard, keyboard shortcuts, gradient generation through CSS, Photoshop-like great color picker, seven pre-installed palettes with palette viewer, and much more.
It was initially only available for the Firefox browser. And, it is now also available for Chrome, which has already been a major hit with its users. So Chrome users can now do a lot more than picking the color of their choice right from their browsers.
Download ColorZilla Chrome Extensions Here
6 – Responsive Viewer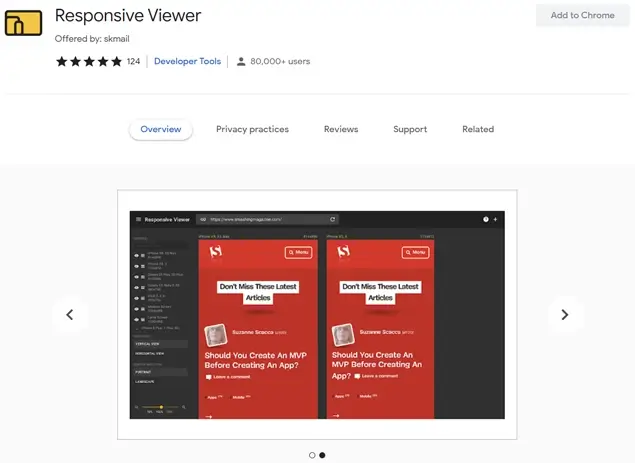 The Responsive Viewer add-on is a fantastic tool for testing your WordPress site's looks on various devices. You can already try responsive previews in Chrome's Developer Tools, but you can only preview one device at a time.
The Responsive Viewer add-on differentiates itself by allowing you to display many devices in a single view. For example, you might evaluate how your site looks on the iPhone 13 Pro Max, iPhone 13 Mini, Samsung Galaxy S21, and other devices on a single screen.
It also has an excellent function that allows you to sync scrolling amongst all of your previews. As a result, if you scroll down in one preview, all the other previews will also scroll down by the same amount.
Overall, this is an excellent tool to have when designing WordPress sites. It allows you to guarantee that your site looks impressive and operates appropriately on all devices.
Download Responsive Viewer Chrome Extensions Here
7 – Window Resizer
A helpful add-on allows users to adjust their browser window to simulate different screen resolutions effortlessly. It will enable designers and developers to test their layout at various screen browser resolutions.
If you add it to Chrome, you can navigate its menu bar, which looks to have a drop-down menu with variable window sizes.
What's even better about this extension is that it displays the option of window resizing in a popup. This feature allows users to quickly switch between different resolutions to test if media breakpoints are working as expected.
Above all, you can change the presets and rotate the screen whenever you want. Furthermore, there is a programmable global shortcut key that displays the option of exporting and importing settings to another computer, among other things.
Download Window Resizer Chrome Extensions Here
8 – Session Buddy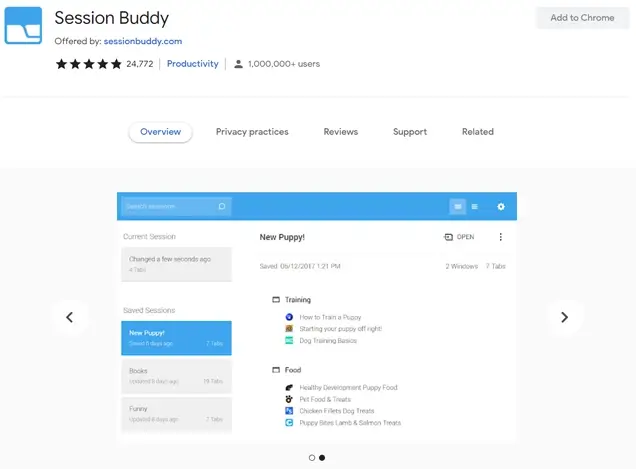 Session Buddy is a helpful Chrome plugin for organizing your browser tabs. It saves open tabs as "collections," allowing you to quickly open a complete collection in the future. You can also view and manage all of your open tabs in one place, as well as search your open tabs and collections.
The "collections" feature is the most beneficial option for WordPress users. Assume you usually have one tab for your main WordPress dashboard, another for the live chat software, another for your site's Google Analytics dashboard, and so on.
All of those tabs might be saved as a "collection." Then, when you want to manage your site, you don't have to open each tab separately. Instead, you may open the collection and begin working right away.
Download Session Buddy Chrome Extensions Here
9 – Checkbot
This Checkbot is a helpful Chrome plugin that allows you to rapidly examine your WordPress site's SEO, speed, and security.
This extension is known for two features:
1 – It tests many pages at once, allowing you to receive a comprehensive picture of your complete WordPress site without having to test each page individually.
2 – It looks at various factors, including SEO, speed, and security, as previously discussed. However, it organizes all of this data into a simple dashboard to not feel overwhelmed.
Overall, this add-on is worth considering if you want to rapidly inspect your WordPress site for common errors in critical places.
Download Checkbot Chrome Extensions Here
10 – Clear Cache Shortcut
When making changes to a WordPress website, Chrome's browser cache can be a headache.
The browser cache saves static files from your WordPress site locally to increase performance. As a result, Chrome will load the local file rather than download it from your WordPress site's server on each page load.
This is normal in most cases. That can be annoying when you're making changes to your site. Sometimes Chrome will load an old file from the local cache instead of downloading a new one from the server.
This can result in your site looking strange or not seeing the changes you've made straight away.
The Clear Cache Shortcut extension makes removing the Chrome browser cache to avoid these concerns extremely simple. You can use keyboard commands or click the extension's icon.
Download Clear Cache Shortcut Chrome Extensions Here
11 – ACF Tools
ACF Tools is a helpful add-on for working with the Advanced Custom Fields WordPress plugin (ACF).
However, if you're creating custom, dynamic WordPress sites, there's a strong chance you're utilizing ACF. And in that situation, this add-on might come in handy.
The plugin has four primary functions:
1 – Copy the code for a field with the relevant settings and field name.
2 – Copy a field's name by simply clicking on it — no need to select it and then use Ctrl + C.
3 – Click on the field type name in the ACF interface to see the documentation for that field type.
4 – When working in the WordPress editor, double-check the name of a field.
So, if you frequently work with ACF, you should certainly consider this plugin.
Download ACF Tools Chrome Extensions Here
12 – Web Developer
It is an excellent tool for developers who have toolbar buttons added to the browser. This Firefox extension has now been officially ported to Chrome for web developers. It creates a simple toolbar for it with the various available tools.
This dedicated developers-oriented plugin provides many valuable tools for programmers and designers to work on daily tasks. It does a lot more than act as a regular Chrome inspector. It will help add outlines to elements with a single click, identify all broken images, display rulers, and much more.
Download Web Developer Chrome Extensions Here
13 – WhatRuns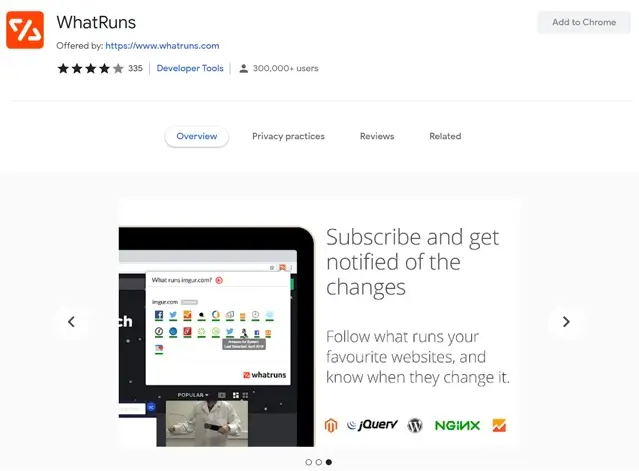 Suppose you need to learn more about a website's core system, analytics tools, WordPress plugins, Fonts, and other features. In that case, this is the extension to use. Furthermore, you can use this add-on if you are browsing a blog or website and need to extract a specific technical detail from it straight immediately for further research.
From WordPress themes/plugins to developer tools to ad networks, you'll discover all the crucial insights from this single application. The best feature is its notification system, which alerts you whenever new technology is installed or withdrawn from previously audited sites.
Download WhatRuns Chrome Extensions Here
14 – WordPress Theme Detector and Plugin Detector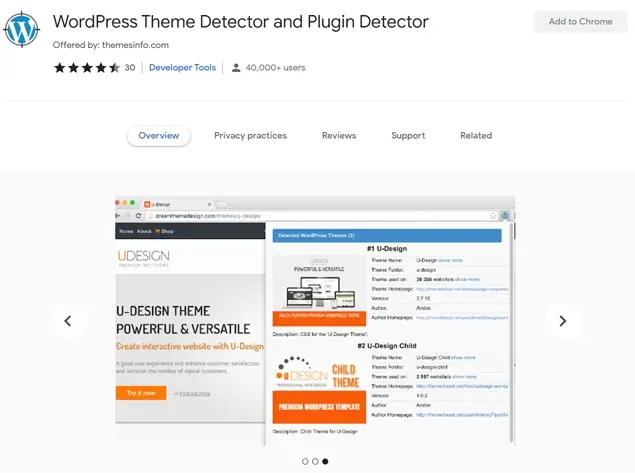 This is a handy add-on for detecting WordPress plugins and themes installed on the site you're browsing. The tool is extremely fast because it is not dependent on the performance of the Chrome browser. It uses a high-speed server-end API to provide a speedy detection response for all linked themes and plugins.
So you won't have to worry about what themes or plugins your favorite websites are using.
Suppose you like any of the themes on any website or want to discover what plugins it uses to operate its website. In that case, this is the extension you should install from the Chrome web store.
Download WordPress Theme Plugin Detector Chrome Extensions Here
15 – Lighthouse
Do you want to make your web browser an automatic SEO hub? Then Lighthouse is the right extension for you. This is an advanced website audit and review tool that anyone wishing to build a cutting-edge website report should have. As a user, you will provide the statistics necessary by the website to anyone who requires them.
The report that it creates on its dashboard displays your website's score in each category, with a margin of error ranging from 0 to 100. Create a website performance report that includes five critical categories: Performance, Progressive Web App, Accessibility, SEO, and Best Practices.
Download Lighthouse Chrome Extensions Here
16 – JSONVue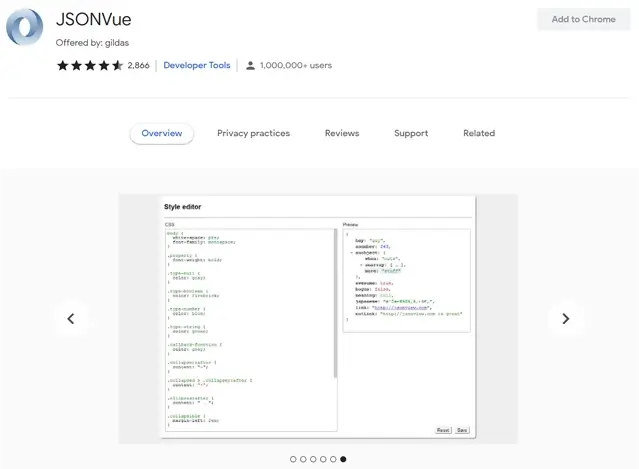 JSONVue is a fantastic Chrome add-on for developers that need to browse and validate JSON-formatted documents. The original design was for Firefox, but it quickly became a popular development tool as a Chrome plugin for extracting JSON content from displayed pages.
The developer can configure the JSON parsing technique on the settings page using the extension. Although, in rare situations, the parsing of the JSON content may fail or change within the default method. In addition, if you want to extract the content of the HTTP response with complete confidence, the developer will need to add an XML HTTP Request.
Download JSONVue Chrome Extensions Here
17 – CSS Peeper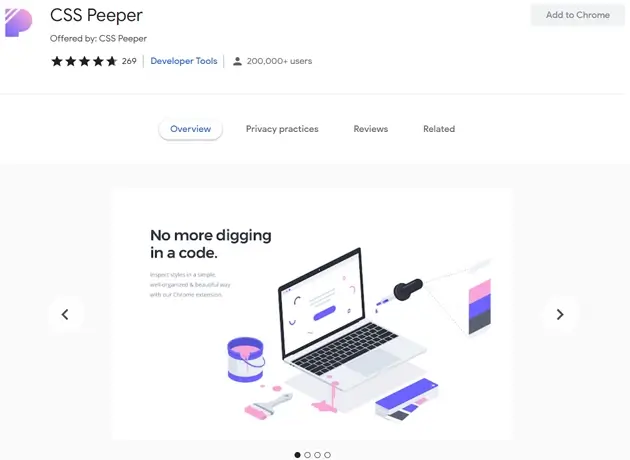 This clever CSS viewer Chrome plugin has never been easier to inspect color styles. It allows its users to examine CSS code in an easy-to-understand and well-organized manner. Instantly check items on any website. You can obtain all of the specifications and properties of any object to use in Photoshop and Sketch.
Furthermore, on any page, you can examine the entire color palette. It typically lists in the most aesthetically pleasing way possible so that you may find it fast. If you need to extract deeply embedded assets in code, this plugin will likely come in handy. In every way, this is a designer's best friend.
Download CSS Peeper Chrome Extensions Here
18 – Wappalyzer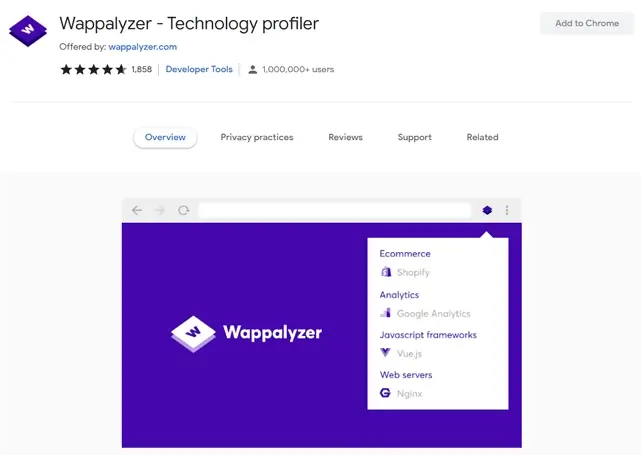 Ideally beneficial for determining the technology used to build your website. It is famous for informing its users about the applications or software installed on any website. More specifically, it allows developers to determine what the backend of the WordPress website is built of.
It is an entirely open-source add-on that offers a fantastic cross-platform utility capability. As a result, detecting a wide range of different technologies is simple.
The add-on recognizes thousands of technologies, including e-Commerce systems, various web frameworks, server applications, and more.
It detects the WordPress website's CMS platform. These are classified as marketing tools, payment processors, CRM, CDN, Analytical, programming languages, and other similar regularly used category keywords.
Download Wappalyzer Chrome Extensions Here
19 – WPSNIFFER
You visit a website and fall in love with the theme used in it, and you want to utilize it on your WordPress site but don't know what theme it is.
So, how can you discover the details of the theme utilized in it? It's as simple as using the Chrome add-on WPSNIFFER to retrieve the theme name on each WordPress site you visit.
This WordPress Chrome add-on is straightforward to use; install the extension and begin identifying active WordPress themes on the current page. Discover the convenience of locating the theme's name used on the WordPress site in a single tab. Not only that, but this fantastic tool detects current plugins and any customized work on the WordPress site.
Never again will you be puzzled by the names of any themes used on any WordPress site you visit.
Download WPSNIFFER Chrome Extensions Here
20 – FireShot
This is a helpful add-on for anyone who needs to save a screenshot of a webpage as a PDF with shareable links (Pro feature). This Chrome add-on is most likely the best way to capture a full-page screenshot with annotations.
Its easy-to-use and intuitive user interface make work more accessible and convenient than ever before. It has a built-in picture editor to edit the captured image rapidly.
After taking the screenshot, the user can save it locally on their PC for future use. More importantly, FireShot works flawlessly in your browser even when you are not connected to the internet. You can also use arrows, shapes, and text annotations to draw attention to your screenshots.
Save and print screenshots captured in popular formats such as JPEG, PNG, BMP, and GIF. Sharing screenshots has never been easier because it allows FTP and custom uploads. When it comes to collecting full webpage screenshots and doing more with them in your chosen browser, this is a handy tool.
Download FireShot Chrome Extensions Here
21 – Ahrefs SEO Toolbar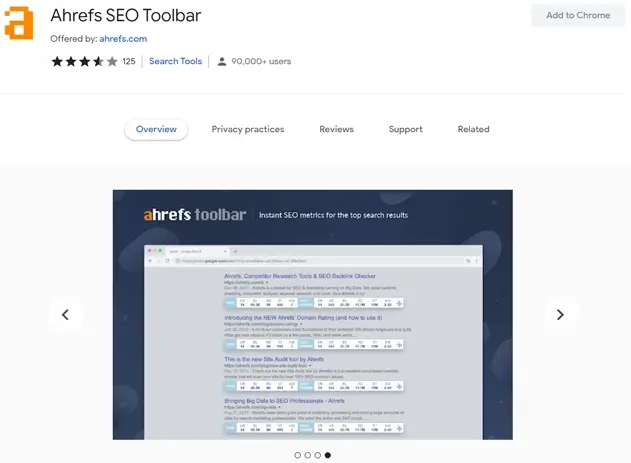 If you want to position yourself in the search results, this plugin could be helpful. This tool provides essential SEO indicators such as URL and domain rating, search volume, organic search traffic estimation, keyword difficulty, number of ranked keywords & backlinks, etc.
You must have an Ahrefs account to get all its SEO insights and information within your Chrome browser. Get a quick look at the on-page SEO report for any page you visit. It provides features and functionalities such as Title and Description to assist in comparing them in HTML and rendered versions, Canonical URL, Word Count, Social Tags, Localisations, and more.
This SEO Toolbar add-on also includes a broken link checker, which can scan and detect websites for any outgoing broken links.
Download Ahrefs SEO Toolbar Chrome Extensions Here
Conclusion
Some beneficial Chrome extensions for WordPress users can help you streamline your WordPress workflows and optimize your website if you use Chrome.
I've done my best to narrow down the 21 top options in this post. However, you may have discovered another extension that works perfectly. If this is the case, please share it in the comments so that everyone can benefit!
Suppose you are looking for powerful and easy-to-use WordPress hosting servers. In that case, I recommend you try Rovity. You will love our cloud-based, cutting-edge WordPress technology.