Your website's comments section is an excellent way to engage with your readers. You need to know that opening up your website for comments will eventually lead to spam.
You will have to deal with feedback via comments and trackbacks/pingbacks in the blogosphere unless you don't solicit feedback.
But how do you do that?
The more sophisticated the spam bots become, the harder it becomes to keep your blog free of spam and irrelevant content.
Fortunately, WordPress has some built-in features and free plugins to combat and prevent spam. There are numerous third-party plugins for additional spam protection, which are even more beneficial.
Today I will explain the issue of spam in WordPress blogs, how it can negatively affect your site if it is left unchecked, how to prevent it, and how to manage it. This article will also look at what WordPress offers to combat this problem.
Lastly, I will suggest a few plugins to help you take spam moderation to the next level.
Let's dive in!
What Is WordPress Comment Spam?
I've experienced the thrill of seeing new comments on my blog. I am sure that you will too find joy.
This initial excitement usually goes away when you encounter inappropriate replies to your blog content. They are, of course, considered spam.
A simple definition of spam is "irrelevant or inappropriate messages sent over the Internet to a large number of users."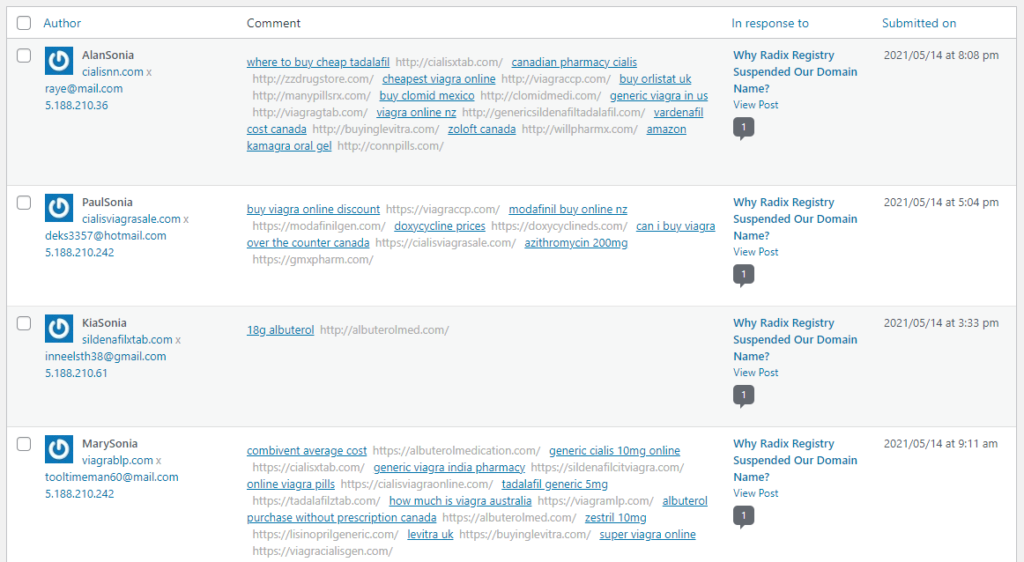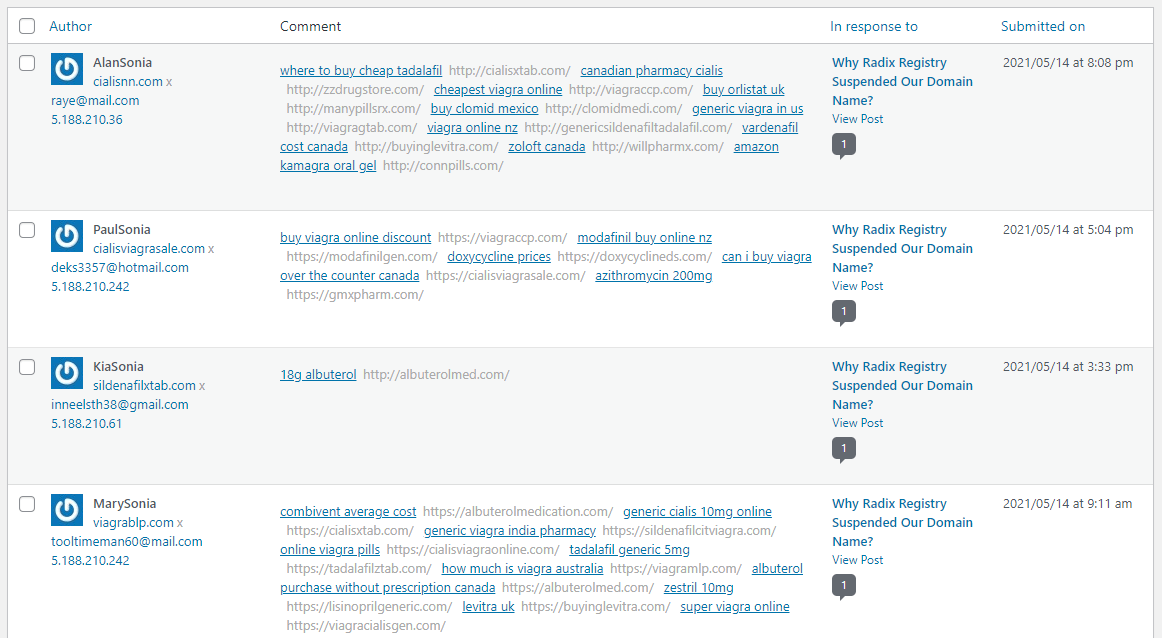 Blogger spam is similar to email spam, but the goal is different: to get backlinks.
Spam on blogs is a way to publish a link on your site that points back to an external site, whether via blog comment, trackback, or pingback. These sites are usually not relevant to your niche and often are of poor quality.
This is a problem if you allow others to comment on your posts. The good news is that identifying it is relatively simple since it typically has one of three primary forms.
1 – Spambots
These are comments posted using a script or bot that searches the web to find a target and floods it with junk comments.
This is a machine-generated comment, so it is easy for anyone to spot. Most of the irrelevant comments are caused by spambots.
2 – Manual Comments
The process is carried out manually by humans employed to comment on websites. There are many different quality levels between these comments, ranging from the blatantly obvious to the debatable. That, of course, makes it difficult for anybody to get rid of spam from their site.
Comments from human spammers almost always contain links and can be trickier than spambots. There have been cases where questionable links have been added to empty spaces in the comments.
3 – Pingbacks & Trackbacks
According to Google, a trackback is one of the three ways that website authors can request notification when a third party links to their document. We will treat pingbacks the same for our purposes.
Perhaps you've already seen trackbacks. You find them below or within the blog posts comments section as a list of links. For a spammer, it's straightforward – they will mention your post in their post and get a link back from your website.
Each of these types of spam is problematic, and you'll usually get far more than one. All of these problems together can cause clogging of your comments section.
How Spam Comments Hurt Your WordPress Website
Spam may seem like nothing more than an irritation. Unfortunately, if you left it unchecked, it may lead to adverse effects for your website.
Comment spam is not only an inconvenience for your readers, but it can also do serious harm to your site, such as:
Loss in search engine rankings. Google knows how people employ blackhat SEO strategies, and they spot wrong links within these comments.
Your readers may be at risk. Spam comments may contain links that lead to malicious sites.
Load time and site speed issues. If there are too many comments, your WordPress database gets overloaded and can slow your site down.
Spam is a concern with any blog that allows comments. Protecting your readers and your site with a plan of action for reducing attacks is one of the ways to protect them.
Combating WordPress Comment Spam
Spam comments can't be avoided, but there is good news, too. Moderating your comments and making use of WordPress's built-in tools will help mitigate this problem.
Be sure to turn on comment moderation first. You can then approve any comments before they are published on your website.
If you cannot review all your comments individually, you can adjust the parameters according to several factors. Under the Settings > Discussion, you can:
Blacklist commenters based on previous spamming.
Mark a comment as spam based on the number of links.
Restrict commenting that is only available to registered users.
Turn off trackbacks and pingbacks.
WordPress plugins are one of the most potent weapons in your default arsenal. You can add free and open-source plugins to your WordPress installation to filter out any comments that look spammy.
The Best Plugins to Reduce Comment Spam on Your WordPress Site
You can customize WordPress very quickly, which is one of the best things about it. If the comments you receive are spammy, you can use an anti-spam WordPress plugin to provide extra security.
Here is a list of six free plugins to help you stop comment spam.
1 – Forget Spam Comment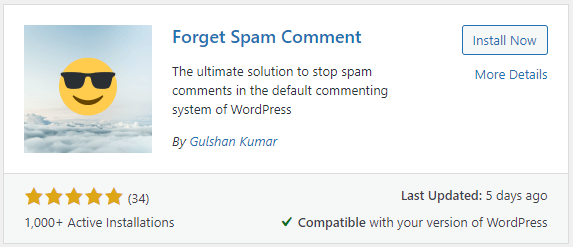 A fast and GDPR compliant anti-spam plugin designed for WordPress comments, Forget Spam Comment takes care of unwanted spam comments. You don't have to worry about affecting the user experience. This plugin does all the magic with just 217 bytes of JS.
The admin can avoid having to moderate false-positive comments when using this plugin.
This anti-spam plugin drastically cuts down on the amount of time spent managing spam comments for busy site admins, even after having an anti-spam plugin.
Getting started is easy, and no signup is required. Your visitors will not have to enter a captcha. There will be no advertisement or upselling. It simply allows humans to make comments, not bots.
Key Features:
This plugin is a Captcha-Free solution.
100% effective with zero settings are required.
All page caching and performance-optimizing plugins are compatible.
2 – Akismet Spam Protection
Akismet is a great tool! The plugin is automatically installed on WordPress, and it's free for you to use. For advanced users, paid plans are available.
Akismet is a catch-all spam tool, which means that some legitimate comments may get flagged as spam.
Almost no spam gets through to your blog, with only occasional legitimate comments getting through. It will also take care of trackback spam, which is a huge benefit.
Key Features:
Stops spam from comments and trackbacks.
Automated check of all comments.
Include a Discard setting to block the worst spam.
The plugin lets you see all the comments that are blocked by moderators or the plugin.
3 – Antispam Bee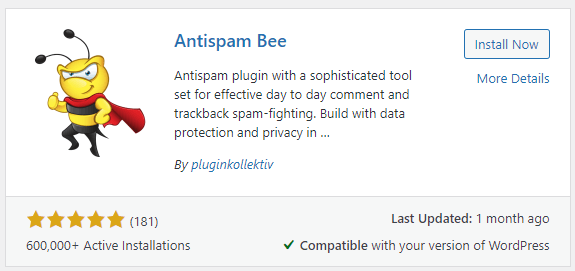 Using the Honeypot technique, this plugin can catch bots invisibly. Its likely humans won't notice captchas, but bots will, and they'll be flagged as spam.
Acting as an anti-spam firewall, Antispam Bee helps block automated spam as well as targeted spam. Because it stops these comments before reaching your database, you can never worry about your site becoming slow.
Key Features:
It supports all main form builder tools.
It prevents spam from entering the site, so it never enters the WordPress database.
Stops trackbacks and pingbacks spam.
4 – Titan Anti-Spam & Security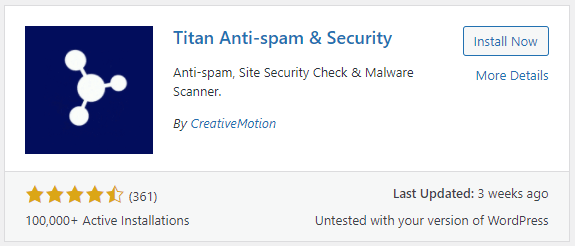 Titan Anti-Spam uses invisible captchas to prevent spammers from commenting on your posts. Additionally, the pro version blocks spam entered manually.
Although this plugin works well when detecting unwanted comments, it doesn't work well with other form types.
That means you'll probably want to combine this plugin with something else to get enhanced security for forms. But it's still an excellent lightweight choice.
Key Features:
Blocks automated spam from entering WordPress databases.
Trackbacks are blocked by default.
It blocks manual spam in the Pro version.
5 – WPBruiser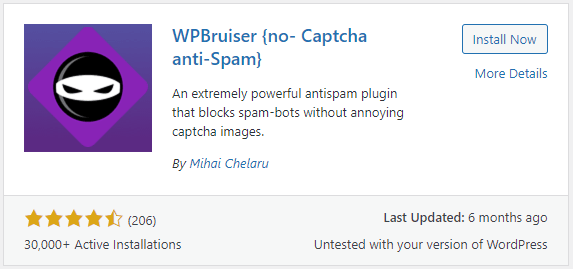 Install WPBruiser, and it'll start working immediately. The plugin protects against brute force attacks in combination with comment spam blocking.
Your readers will never need to use a captcha with this, and you can protect all of your forms with it. The overall experience is very comprehensive and friendly.
Key Features:
It provides extensions for most major form tools.
You can block malicious IP addresses.
WordPress Multisite compatible.
It includes protection against brute force attacks.
Conclusion
It is almost impossible to get rid of comment spam entirely on the Internet unless you disable it altogether. Your site's overall health and performance depend on removing inappropriate comments.
Removing spam comments will keep your database clear, improve engagement, and maintain a solid user experience.
You can protect your WordPress website from massive spam attacks by using another super cool trick along with implementing any one of the plugins I listed above.
That is to remove the website URL field from the WordPress comment form section, and this process is quite simple. You can read more about quickly removing the website URL field from the comment form here.
How do you take control of spam on your WordPress site? Any tips to add? Please share your thoughts with us below in the comments section!
If you enjoyed this tutorial, then you'll love Rovity and our fast-growing premium shared hosting on the cloud. Check our subscription plans.