WordPress tags are a great way to group your posts based on similar details. This can make it easier for you and your readers to find the information they're looking for.
Tags make it easier to find specific posts and documents. WordPress indexes all posts and custom post types with the same tags, so it's easy to find what you're looking for. You'll usually find tags under a post or in the sidebar.
You need to take advantage of tags to help organize your content and improve your user experience and SEO. Tags play a vital role in both areas, so make sure you use them effectively!
WordPress tags are a great way to improve your SEO, and in this guide, you'll learn everything you need to know about them. Plus, I've included some tips to help you get the most out of your tag pages. Enjoy!
Tags vs. Categories in WordPress
Both categories and tags help classify your posts in WordPress. They make it easy to keep your content organized and find what you need quickly.
Don't worry – we use tags and categories slightly differently here. The main differences are:
1 – Specific vs. Broad
Categories and tags are integral aspects of your blog, but they have different purposes. Categories group broad topics together, while tags describe specific details in your content. Use both to help people find what they're looking for on your blog!
Let's assume you are a food blogger. It's essential to make your blog easy to navigate for your readers. That means organizing your content into categories like Culinary Trip, Yummy Recipes, Dining Etiquette, and Food News. This way, your readers can quickly find the information they're looking for.
You will include this article in the Recipes category if you have a delicious recipe for Hyderabadi Biryani. And you can use Dum Biryani, Basmati Rice, Biryani, etc. as the tags.
2 – Optional vs. Necessary
If you're looking to organize your content, it's helpful to know the difference between categories and tags. Categories are mandatory for your post, while tags are optional.
Categories help readers quickly find what they're looking for on your blog. Tags are a great way to add more detail to your posts and help people find them through search.
Suppose you don't assign any category to a post. In that case, WordPress will automatically set it into the default category, Uncategorized.
3 – Parent-Child Relationships vs. Standalone Entities
Finally, let's talk about the hierarchical relationship between categories and tags. Categories are hierarchical; you can put child categories or subcategories under the parent.
Creating subcategories under the Recipes category is a great way to organize your recipes. You can add subcategories such as Starters, Main Course, Desserts, and Diet Food Plan. This will make it easier for your readers to find the recipes they're looking for.
You may also include other subcategories within Diet Food Plan, such as Low Carb Food, Low Sugar Food, and Low Fat Food.
Adding tags is a great way to organize your content and make it easier to find. Each tag you add is a standalone item, unlike categories with a parent-child relationship. This makes it easy to create custom lists of content that match your specific needs.
If you want to see the difference between categories and tags, be sure to enable a custom permalink structure. Your base prefix will then look something like this:
https://yummy-foodie.com/category/recipes/
or
https://yummy-foodie.com/tags/recipes/
You can use both taxonomies in your posts – one or two categories and multiple tags. You can easily tailor posts to your needs this way!
You tried all those expensive WordPress caching plugins and subscribed to highly-priced managed WordPress or managed VPS services. Still, you can't see your WordPress website loading within a few milliseconds? Have you lost all hope?
I have written How to Turbocharge Your WordPress Site in 4 Easy Steps guide to help you cut down your hosting subscription cost and make your WordPress website fly like a rocket.
Take these 4 easy steps and boost your WordPress website performance that it deserves. Then cut down on your hosting costs and see your SEO skyrocket.
Adding Tags to WordPress
Adding tags to your posts is a breeze! There are two ways to add tags to your WordPress site: manually or by using the post editor.
Let's take a look at how to add tags to your posts. This can be a new post or a blog post that you have already published.
Go to Posts > Add New in your WordPress admin dashboard.
Find the tags box on the right side of your visual editor.
Then type in the tags you want to add, separating each with a comma.
This is the place you add tags in your WordPress admin dashboard.
Once you've added tags, WordPress will display them in the posts based on the active theme configuration or your chosen area.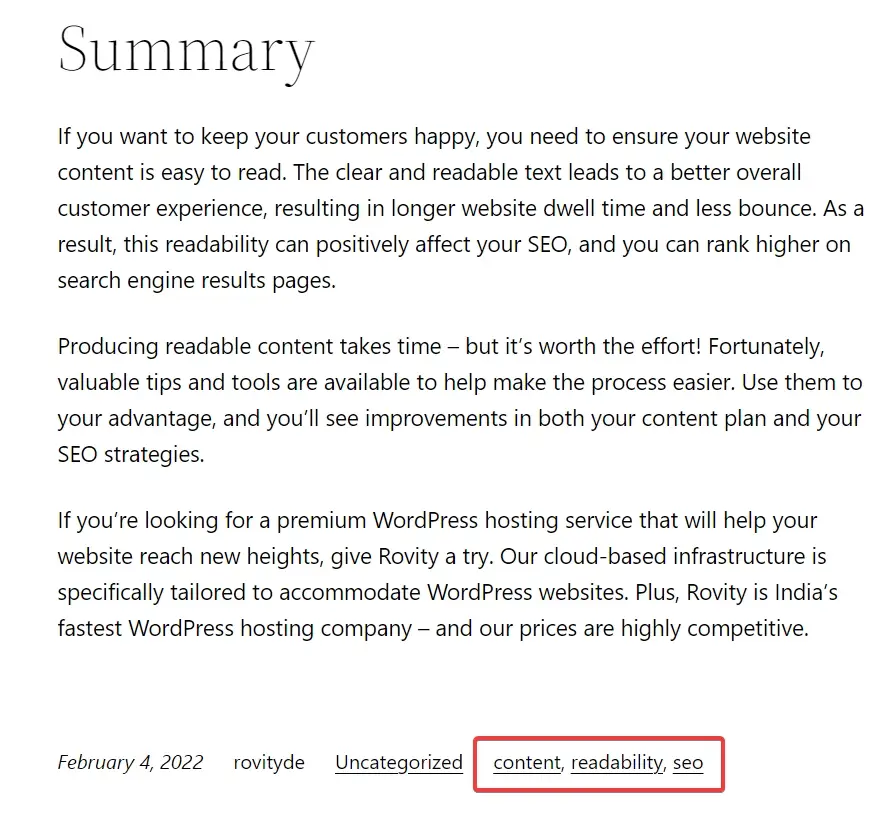 Search Engine Optimization (SEO) And WordPress Tags
SEO-wise, WordPress is one of the best CMS on the market today. Once it's installed, WordPress comes with built-in SEO features to deal with search engines. Tags are also significant for your SEO. A well-managed taxonomy like tags will positively impact your SEO rank when you do it right. But you have to keep in mind that tags could be harmful to your SEO if not used correctly.
Make sure you use tags correctly on your website – this will help the search engines index your content and make it easier for people to find. However, if you make a mistake, don't worry – we can help you fix it.
First of all, it's essential to make sure that you're using different names for your category and tag pages. This will help ensure that search engines correctly index both pages. Search engine rankings algorithms might be confused if you have "Recipes" as a category and a tag.
Choosing one and using it consistently is vital when tagging your recipes. "Recipes" and "Recipe" are similar, so make sure you pick one and stick with it!
However, tag pages do not have any unique content on their own – they only include excerpts of posts. This is why search engines prefer to crawl through different post pages rather than tag pages.
Remember that WordPress automatically creates a tag page when you set a new tag. This is a great way to keep track of all your tags and their associated blog posts.
Conclusion
If you're looking for an easy way to help your readers find the content they're interested in, WordPress tags are a great option. With well-used tags, your website visitors can quickly and easily find the information they're looking for – without running into any roadblocks.
However, it's important to use tags correctly to avoid harming your SEO efforts. We have shared some tips to ensure that you get the most out of your tags while keeping your SEO ranking intact.
If you're looking for a premium WordPress hosting service that will help your website reach new heights, give Rovity a try. Our cloud-based infrastructure is specifically tailored to accommodate WordPress websites. Plus, Rovity is India's fastest WordPress hosting company – and our prices are highly competitive.